Fill Out Your Holiday Sales Report Card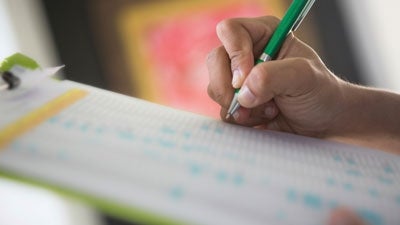 In the spirit of "there's nothing new under the sun" and don't try to "reinvent the wheel," let's look at what merchants, on average, did to boost sales over the holiday buying season. Consider this a report card against which you can judge your efforts this year and then use it to plan for other major shopping seasons.
You participated in "Small Business Saturday." (10 points for a "yes" answer.) While I don't believe this event increased sales overall for the season, I think it demonstrates your commitment to supporting local businesses and that serves to spread the notion through your community.
You participated in a town-wide "holiday stroll," "Shop Local" or other type of town event designed to draw more people to your area. (10 points for a "yes" answer.) This is the local version of American Express' "Small Business Saturday." It's a little more beneficial because it also helps you build a local framework for staging events.
You did a cross-promotion with one or more local businesses. (20 points for a "yes" answer.) Now we're talking! If you did this you really got aggressive and creative. Find more ways to support one another in the coming year. Learn to value cooperation at least as much competition.
You offered discounts and specials. (10 points for a "yes" answer.) This is the "go-to" strategy for the Christmas season. How well did you monitor your pricing? When stock got low, did you hike prices a bit? Websites, entertainment venues, airlines and others use variable pricing based on supply and demand. When almost all the seats are sold for an event, prices go up. You can do the same with some planning.
You offered unique or hard-to-find products. (15 points for a "yes" answer.) If you did this, it means that you were alert throughout the year looking for those special items that no one else offered that you knew your customers would love. Keep up the good work!
You extended your holiday hours. (10 points for a "yes" answer.) This is a standard tactic around the holidays. However, did you keep good enough records to be sure that the move was cost effective?
You held some special events. (15 points for a "yes" answer.) If you managed to pull off one or more special events, how was attendance? How would you do things differently next year? Talk to your customers after the season is over and see if your programming met their needs and ask what they would have like to have seen.
You offered your products online. (10 points for a "yes" answer.) If you're retail, you should have an online presence by now.
If you answered yes to each of these, you will have scored 100 points. You're a holiday shopping season star.
By the way, all of these strategies come from a
survey that Alignable conducted
. They asked 50,000 Alignable B2C users about their plans and these are their answers. If you're interested in connecting with other small business owners through social media, check out Alignable. It can make a difference.
Published: January 14, 2015