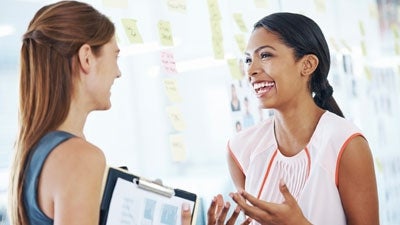 Impressing a client is not just about landing a single sale, it is about turning them into a long-term customer that becomes a walking, talking advertisement for your business. The following are five simple ways that you can impress your clients before, during, and after you get their business.
The world of business is riddled with bland and monotonous interactions, so why not spice it up with a little bit of humor? Some tasteful humor sprinkled into phone conversations, emails, and even throughout your website is a great way to personalize your company. It will also help you stand out from the competition and put a smile on the face of every customer you come into contact with.
There are few things as frustrating for a client as not being able to reach the company that they are employing. Everyone has been in the situation of sending out multiple urgent e-mails and leaving countless voicemails, only to find out that the business was closed for the day. If you will be out of reach, make sure every one of your clients knows exactly when you will leave and when you will be back.
Sometimes the best way to impress a client is to wow them with your lifestyle, your company's success, and your own personal taste. There is practically no better way to do this than to meet them with a luxury vehicle. Showing up to a meeting or presentation in a stylish car may give you the confidence that you need to make that sale.
Instead of offering cookie-cutter answers or generic tips, take a few moments to think of some personalized suggestions that could actually help your client utilize your product or service more effectively. A graphic designer can suggest a few ways that their customers can optimize their website while a salesman may want to tell their clients about some upcoming sales on other goods or services that they might need.
A thank-you email is a standard operating procedure now, and this means that a company needs to improve the manner in which they keep in touch. A handwritten or personally-addressed letter immediately after the sale or during the holidays can go a long ways. A quick call or e-mail to see how the client is doing with your product or services in the following weeks is also a plus.
Impressing a potential client may mean that you have already won half the battle. Remember that personalizing your interactions, adding some humor, and showing off your style is a great way to make you and your company memorable.
Author: Emma Sturgis is a freelance writer living in Boston, MA. She writes most often on small business and education. Informational Credit to Airflight Services
Published: February 18, 2015