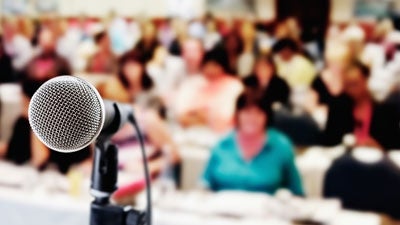 I frequently hear distributors say that they can not justify the cost of attending national conference. There are LOTS of reasons to attend a conference both regionally or nationally. The answer is simple: Meeting Makers Make MORE Money!
Top 10 Reasons To Attend Conference
So, in no special order these are the top 10 reasons why YOU NEED to at your corporate sponsored annual convention!
1. Meeting Makers Make More Money!
Studies have shown that convention attendees:
have a higher show average
get more bookings at shows
are better recruiters
In most cases the studies have shown that bookings, recruiting, sales and even promotions increase in conference attendees by 20–30%. (Thank you Belinda Ellsworth for the stats) Conference attendees are more likely than non-attendees to move up the ladder to the next level in the 6 months after going to national events.
2. Inspiration
Rub elbows with celebrities and corporate founders. Some people never get to meet the brains and inspiration behind the brand. This alone is inspiring and motivating. Learning and feeling the passion that is behind your brand and all of the processes that go on around you—this alone makes you a better seller, sharer and recruiter. Saying at your party, "I met MyFantasticCompany's owner and founder at our National Conference and she truly cares about everyone in our team!" is powerful.
3. Motivation
The annual conference is the best place to get motivated! Need some motivation in your business? Go to the annual conference. You will see lots of people just like you who are making a success of their direct sales businesses. You can learn what they did to get where they are and what there doing to stay on top. Meeting the top achievers and realizing that you are just like them (or maybe even better than they are) will give you the drive you need. You will coming home with an attitude that if they can do it, so can I! This is a huge take away.
4. Collaboration and Friendship
The camaraderie of national events is an experience all its own. Everyone attending the annual conference has something in common with you. You will make new friends and possibly even meet a new mentor or role model. Every meal will be an opportunity to meet and talk to someone new!
One of the most exciting aspects of a national conference is the chance to network with others. The friendship aspect is so important—I am still friends with people I met at conferences I attended 15 years ago.
5. Education
You get training from top notch training from industry professionals (like ME!) and sales leaders in your company at convention.
6. Exciting Announcements & New Products!
There are always exciting company announcements and products. Being first to hear about them will certainly justify attending conference!
7. FREE Products
If that is not enough they always give you some of them for FREE!
8. Learn The Trends – Share With Party Plan Professionals
Part of the networking aspect of attending these events is the ability to share and hear about new ideas within the industry directly from professionals. You immediately get to talk about them and hear feedback from dozens of different people. Conference is like a huge think tank where new and exciting ideas and developments flow freely from one professional to another. Being there to gather this info for your own use is great but also being a contributor to the dialog is critical to the growth and development of your company.
9. The Momentum Pays For The Event!
When you get back from the annual conference you will be full of energy, passion, excitement, motivation that the momentum is unstoppable! Your excitement will rub off on your team, your customers and your future potential recruits. The momentum is the most important of all the reasons to attend a conference.
10. You Can Not Afford NOT To Go To National Conference!
You will network with other distributors, get a lots of new ideas, receive cutting edge training, and experience the newest and greatest products, rub elbows with company execs, and so much MORE!
Next time someone asks you to justify conference attendance send them here!