Great Business Phone Systems and the Magic of Teleworking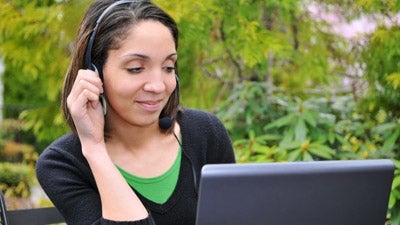 Teleworking, or the process of working from a remote location, is becoming an increasingly popular career option, and it's not hard to understand why. When companies give their employees the option to work remotely, there can be numerous benefits for everyone involved. With fewer employees in the central office location, companies often enjoy increased productivity and lower operational costs.
For employees, teleworking often leads to higher levels of job satisfaction and increased success in achieving a positive work life balance. In the same way their employers stand to reduce costs, employees can also save money by eliminating commutes and relocation expenses.
With all that companies and employees stand to gain from teleworking, it's no surprise that more managers are making this an option for their workforce. However, if you're thinking of introducing or expanding this method of working, it's essential for you to implement the proper technology to create successful methods of communication for your employees.
There are several advanced business phone systems that can help teleworking employees remain connected and enjoy the full functionality that they would've experienced from the office. Take a look at some of the ways a strong business phone system can help your company make teleworking easier and more effective.
Organizing and Participating in Meetings
One of the biggest concerns managers have about teleworking is that their remote employees won't be able to fully participate in important meetings and conferences. While many organizations have conference lines, these can be difficult to use and they often pose a variety of limits for the person who's dialing in.
If you're looking for business phone systems, an NEC VoIP phone system is one example of a type of technology that can solve this issue by giving teleworking employees the flexibility to conduct phone meetings and conferences with anywhere from a large number of team members. There's no need for the conference to be limited to the phone conversation, either. With this system, the conference can be delivered online and connected to a webinar.
Customer Confidence Enhanced
Small business phone lines play a critical role in enhancing customer confidence, a key factor in establishing successful long-term relationships. Small business phone lines act as reliable points of contact for clients, giving them direct access to the business for inquiries, concerns, or issues. They ensure immediate and personalized communication, which digital methods may sometimes lack. Moreover, the existence of a dedicated business phone line often communicates professionalism and stability, indicating that the company is well-established and serious about its operations. The knowledge that customers can reach out and speak to a real person at any time builds trust, and consequently, confidence in the brand. Therefore, despite the increasing digitization of communication, the importance of small business phone lines for enhancing customer confidence cannot be underestimated.
Enhancing Efficiency
A high quality enterprise phone system can make teleworking easier and more seamless by giving off-site employees additional options and organizational techniques that most traditional remote phone systems don't provide. In addition to simply speaking with clients, colleagues and other business contacts, teleworking employees can also create appointment reminders that help eliminate any confusion about meeting and appointment times. For remote employees who speak with large numbers of clients or coworkers, an advanced digital phone system can also provide mass-messaging features that deliver important or time-sensitive information to multiple people at once via voice message.
Directing Calls
It's a common misconception that administrative professionals can't enjoy the benefits of teleworking. If a manager's primary concern is that an administrative professional needs to remain in the office to transfer calls, this is an issue that can be easily handled by certain phone systems. The NEC VoIP phone system gives professionals the option of automatically routing phone calls to the correct person. Fast and accurate, these routing systems work by taking into account a set of criteria you can program in advance, giving you the flexibility to customize the routing system to fit your unique needs.
Maintaining Consistency
Teleworking employees value flexibility, so while they may primarily conduct business from their home, they may also hold meetings via their cell phones when they're between locations or traveling. To maintain consistency, you can use an NEC VoIP phone system and add a mobile extension to your phone package. This gives an employee's cell phone the ability to function in the same way her business line operates. As an added bonus, you'll be able to maintain a level of professionalism and consistency by ensuring that outgoing calls from mobile devices appear just as they would if an employee were calling from the office.
If your company is interested in implementing or improving teleworking procedures, there are top quality business phone systems that can help get the job done. Securing the right technology gives employees the ability to be just as efficient and productive as they would while working onsite.
This article was originally published by TTI Houston
Published: August 2, 2013