Business Phone Solutions for SMBs and Large Enterprises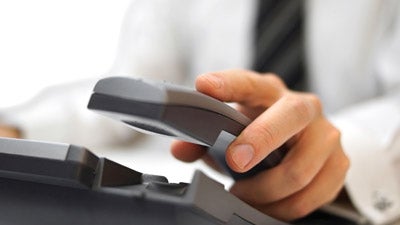 In a free market economy, only the strong survive, while the weak continue to get weaker. Businesses, large and small try to address the same market, but to do this they use different strategies. For instance, small businesses may opt for niche-focused products with competitive pricing models, while large enterprises try to fight for market leadership and brand recognition.
Nonetheless, when it comes to operations, communication synergies are always at the center of every strategy, regardless of the size of the business. To achieve synergies in communications, the companies require effective business phone solutions that allow seamless communication. Businesses would want to have the best internal communication between departments and employees. Customers and vendors are also likely to have a better relationship with the organization if accorded with efficient support, which is ensured by having effective communication systems.
Business Phone Solutions for SMBs
Many factors come into play when evaluating the effectiveness of a business phone solution. Cost is one of them. Small and medium-sized businesses "SMBs" are thrifty in nature when it comes to spending cash. They try to limit their operational expenses as much as possible, to channel some cash to business expansion. Therefore, when it comes to communication solutions, the best option would be the one with the least cost implications. However, that does not mean that the company should compromise on the quality of business phone solution.
Technological advances have made it possible for SMBs to have access to cost effective and reliable business phone solutions. There are several companies offering unified communications at affordable prices, which are available both on hosted services and on cloud. For hosted services, SMBs would require business phone solutions that are easy to deploy and manage. Additionally, SMBs are likely to get a better return on investment from an all-in-one business phone solution.
Therefore, the phone solution should be able to connect employees and departments seamlessly as well as provide excellent transmission between the organization and its customers. An all-inclusive business phone solution that offers a complete suite of services such as a business phone number (local or toll-free number) a voice mailbox, a telephone service as well as a text messaging service and internet repository is the way to go.
Voice over Internet Protocol "VoIP" communication solutions
are growing in popularity along with cloud computing. Businesses are now ditching the traditional landline phones as they continue to switch to VoIP phones, which are more cost effective. With cloud-based VoIP systems, businesses are able to select a package that meets their needs. They do not have to spend a lot on initial investments or worry about future expansions.
In a traditional communication system setup, businesses would have to factor in future expansion in hardware acquisition. This scales up the initial investment cost. However, with cloud-based VoIP systems, this is not necessary, as businesses can subscribe to plans that match their current needs, and then scale up later in tandem with expansion. Additionally cloud-based VoIP systems could also help SMBs focus attention on doing businesses rather than worrying about IT related issues. In fact, some businesses barely have an IT department to do that kind of work.
Today, it is possible to integrate various communication solutions to personal mobile devices, like smartphones and tablets such that employees can use their personal devices to communicate. Unified communication systems like Microsoft's Lync, are rendering desktop phones obsolete. Other companies like ShoreTel and Ring central also have similar services that seek to seize the telecommunications market from traditional desktop phone service providers. This is good for the SMBs as it helps them transition to modern forms of communication at affordable costs. Nonetheless, this is not to suggest that Public Switched Telephone Network "PSTN" services are completely useless. Very small enterprises with about one to ten employees tend to find these types of phone solution very effective.
Business Phone Solutions for Large Enterprises
Large enterprises do not face the obstacle of initial investment cost. They have already invested a lot of money in network infrastructure and virtualization. A majority of large enterprises still use private branch exchanges, while others have already switched to Microsoft's Lync. Most large enterprises are multinational while others have several branches. Just like SMBs, large enterprises need seamless communication systems that provide quality services.
However, they are capable of managing their own communication systems without feeling the pain of the costs involved. Large enterprises have their own fully equipped IT department that takes care of all the needs of the company's IT issues including communication systems. Most SMBs do not have that luxury. Additionally, many VoIP communication solutions offer software solutions including; advanced voicemail to email, automated attendants, find me/follow me capabilities and online management, among others.
Nonetheless, they still have to rely on hardware, software and related applications from third parties like Cisco Systems and ADTRAN among others. The providers of these applications also offer technical support to IT administrators with regard to their products.
Business phone solutions are integral to a company's strategy. This is because, without effective communication, businesses run in the danger of losing customers, internal communication breakdown, as well as huge cost implications on communication expenses. However, with
unified communication solutions
and cloud computing, enterprises can now choose the best business phone solutions to deploy. Even with the shifting trend to mobility, there are business phone solutions that easily integrate personal mobile devices to the companies' unified communication systems.
Author: Nicholas Kitonyi is a financial analyst by profession currently working at QuantShare.Com, a trading software provider. He is a tech enthusiast with a specific interest in trading software, business applications and gadgets.
Published: November 11, 2014
2106 Views