6 Steps to Create the Best Auto Attendant Phone System Intro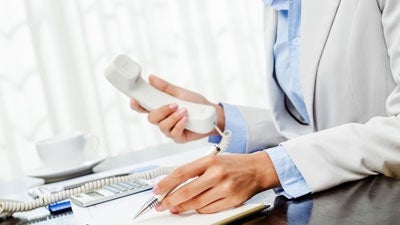 An auto attendant phone system is an integral part of any corporate or organizational communication strategy. And when an auto attendant phone system leverages a system of best practices the technology can improve the ability of the public to easily get in touch with you, upsell, cross sell additional products, and present a strong brand to your clients and partners.
With the following steps you will be well on your way to implementing a productive phone system. Your customers—and your bottom line—will thank you.
1. Carefully Sculpt your Welcome Message
Your welcome message is often your first impression with a potential client. As with any first impression, you'll want to showcase your company spirit and put your best foot forward—starting with your most critical information. An ideal welcome message will let the caller know who you are, a brief message about your company or how the phone system works, and how to find the appropriate person or department. Keep it simple, so that you don't over inundate the caller with information.
If there's department- or caller-specific information you need to relay, put that information on the secondary step in the phone system architecture.
2. Create an Easy-to-Use Architecture
The most important element of a high-functioning auto attendant phone system is the ability of the user to find the information they need. To accomplish this without delaying the brevity with which your caller can reach their desired destination, implement system architecture. For example, if you have company information your users commonly want to know—like office hours, services, support, etc.—add a selection to the main menu for office or service information. Design your architecture with as few steps as possible (and as quick as possible—without sacrificing information quality) to get people to their destination.
To increase the call-to-destination time, structure your phone system architecture by placing the most popular selections first.
Every auto attendant phone system has a purpose beyond a simple phone tree. Decide what yours is early on. Do you want it purely informational about your company? Do you want to highlight a popular or innovative product/service? Do you want it to promote a special offer?
In the interest of brevity, it is difficult to do all of the above. So select one—then do it well. If you're going to promote a limited-time offer on your phone system, be sure that you have the available time to sculpt a new message once the promotion is over.
4. Hold Time Notification
Anyone who has spent time on hold (and we all have) knows the frustration of the unknown—so consider adding a hold queue notification. Something as simple as saying "you're 3rd in queue and we'll be with you in a few minutes" can mean the difference between a hang up—and a sale. Or offer a call back option to give your customer a ring when its their turn in line.
Now that you've honed your focus, sculpted your welcome message, and designed your architecture—go back and trim any fat. If the content isn't 100% necessary, or if it can be stated more simply, then do without it.
6. Test the Effectiveness of your System
After you've implemented your system, be sure to test its effectiveness. Measure via sales stats if your special promotion had a positive effect. Ask established clients if there is anything they feel you could do to improve the system. Ask your employees if they have heard any complaints (or compliments!) about the system.
Having an affective auto attendant phone system is crticial for the success of your business. Having the right tools is a start but knowing how to use them is even better. With these best practices you will be one your way to installation an auto attendant that will increase leads, boost customer service, and improve efficiency.
Published: February 27, 2015