6 Enterprise Phone Systems Trends and Predictions for 2015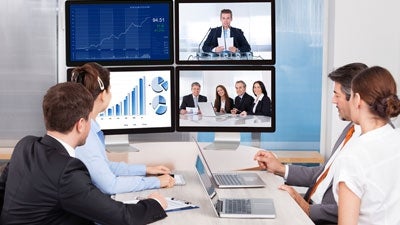 Every year we renew our excitement about VoIP and Unified Communications technology and capabilities. Year after year we're continually impressed with the advances made in the industry, but we predict 2015 will truly be a remarkable year thanks to a number of enterprise phone systems trends.
To help keep you ahead of the technology curve, here are our six predictions for 2015 enterprise phone system communication trends:
1. Rising Use of Video Conferencing in the Cloud
Teleconferencing has been a popular enterprise tool for decades now—but it is steadily losing market share to the more visual video communications. Not only is this on trend, it's also a powerful tool for relationship building—especially when you consider that 83% of communication is visual. Innovation leader—and always-on-trend—Google has invested millions in the technology through the acquisitions that brought us Google Hangouts. Video technology will only grow in use and importance in 2015.
2. Increased Collaboration Technologies
We've entered the age of collaboration. From businesses to your home —people are using collaboration to foster innovation and productivity. We can expect to see further integrations between existing communications technologies—such as company intranets and VoIP systems. These integrations will help foster an environment of easy-to-use interfaces for consistent collaboration. We recently heard of a VoIP application that connects your phone to your refrigerator for grocery updates. Hello 2015! More applications like this will continue to grow in number and relevancy.
3. Technology Empowering the Mobile World
Historically, companies could expect to encounter difficulty when incorporating mobile devices into an existing enterprise communications system. What will gain ground this year though are applications and software that empowers the enterprise to incorporate these devices into their existing infrastructure. These apps aimed at closing security soft spots caused by a BYOD (Bring Your Own Device) culture will help IT departments standardize and monitor services and operations. Device-adjustment strategies have become of critical importance to the enterprise space given that there will be over a
billion mobile VoIP users by 2017
.
4. VoIP Grows in the Enterprise Space
VoIP technology has been popular in the small-to-mid-size business space for over a decade, but the enterprise has had the staff and knowledge to run complex, on-site enterprise phone systems. This however is changing, as VoIP technologies begin to overtake the features available through physical systems—and as the price point becomes competitive on a larger scale. This enterprise-level uptake is visible given that year over year there's been a steady
12.9% upward growth pattern
from 2009 to 2014. 2015 may be the biggest year yet though.
5. An Increase in VoIP Attacks
An increased reliance on any data-driven solution will inevitably result in an increase in malicious attacks—and VoIP is no less vulnerable. Enterprises phone systems need to be in-tune with ongoing security issues. IT departments, which may be familiar with computers only, need to expand their purview and expertise to include protecting and updating all networked devices.
6. Increased Use of Analytics
The enterprise space may be experiencing an uptake in VoIP phone system solutions due to the advanced backend analytics that these systems are capable of. These analytics allow them to better measure future growth costs, reduce their TCO and have more communication-system agility than ever before.
2014 was a big year for 2014 but 2015 will be even brighter! This list of trends and predictions for 2015 is by no means offer an exhaustive look at changes to the VoIP phone system landscape. Dont fall behind. Start the year off with the right VoIP knowledge and the right tools.
Published: February 4, 2015