The Legacy Exercise: To Find the Courage to Succeed, Reflect on Your Role Models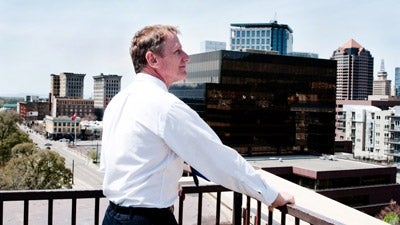 Although it can be lonely running your own business, you must always remember that you are never alone. Take time periodically to remember and honor those who have made it possible for you to have this amazing opportunity. Recalling the important lessons your role models have taught you about
character, values, love, and perseverance
can give you the confidence to get back on your feet when you stumble and fall.
In my Success Class at the Wharton School of Business, I ask students to do what I call The Legacy Exercise. You will find the survey I use below. Take the Legacy Exercise at least once a year—you will be surprised at the results. Each year's new experiences will help you remember someone you may have forgotten to fully acknowledge and honor. And then do something even more important: reach out and thank them. If they have passed away, contact someone who was close to them and
express your gratitude
for their life. Every time you do this you will redouble your energy and confidence to succeed, both in your business and in life.
The Legacy Exercise is thousands of years old. I base it on the private diary of the ancient Roman Emperor Marcus Aurelius. He titled his diary To Myself. It was a journal he kept between 170 and 180 A.D. while he was fighting against barbarian tribes along the northern borders of the Roman Empire. After the fall of Rome, the diary was lost for more than one thousand years, but was rediscovered and published in Zurich in 1558. It is now known as The Meditations and is considered a masterpiece of Roman writing.
On the day Marcus Aurelius sat down in his tent near the Danube River to make his first notes about what was important in his life and how best to achieve success, he began by listing what he had learned from the people who cared most about him. The Meditations thus begins: "From my grandfather Verus, I learned good morals and the government of my temper." He goes on to thank his biological father (who died when he was three) for leaving a reputation for "modesty and manly character," and his adoptive father for teaching him "mildness of temper," how to resist "vanity for public honors," and "a love of labor and perseverance." From his mother, he took his taste for "simplicity in my way of living, far removed from the habits of the rich."
As you do your own Legacy Exercise below, realize that lessons may come in the form how not to live, as well as how to live well. For example, television journalist Mark Whitaker published a memoir called My Long Trip Home, in which he describes his turbulent childhood in a dysfunctional home dominated by his gifted, alcoholic, and erratic African-American father and his half-French, half-American mother. His mother, Whitaker writes, taught him how to persevere under enormous stress. As for his father? He taught two kinds of lessons. First, Whitaker writes, he showed how to be "a black man who was proud of his racial identity but determined never to be confined to it." Second, and in some ways more important, his father served as a role model "by offering so many cautionary tales about how not to behave" in the way he treated those closest to him.
To get you started, here are some possible legacies from four areas of your life that I suggest you consider. You should, of course, add your own life categories if you like. For someone who was especially important, write a short paragraph about an event, conversation, or example of how they lived that inspires you. You can re-read these many times in future years.
Start with your family members, but feel free to radiate out to other important people who have influenced you—coaches, teachers, teammates, mentors, etc. Most researchers agree that your social and cultural environment outside the family influence you as much or more than the one inside a home.
My Emotional Well-Being
__________ How to love and be loved
__________ The importance of family
__________ The love of learning
__________ How to relax or have fun
__________ The value of community
__________ Maintaining my physical health
__________ Learning to be aware of my own and others' feelings
Achievement
__________ The importance of hard work
__________ How to think clearly and carefully
__________ How to stay positive in the face of obstacles
__________ Taking responsibility for my actions
__________ How to set and reach challenging goals
__________ The importance of careful planning
__________ How to deal with or envision change
Dealing with Other People
__________ How to forgive or seek forgiveness
__________ How to listen
__________ The importance of valuing and praising others
__________ How to lead
__________ Being an effective member of a team
__________ How to assert myself effectively
__________ How to be tactful
My Spiritual Life
__________ The importance of faith in a higher power
__________ Love of art, music, or literature
__________ Living a moral life
__________ The value of imagination
__________ How to pray or meditate
__________ The role of organized religion in my life
__________ Appreciation of the natural world
What would you include in your own list of Legacies and Sources?
Published: September 13, 2013
7793 Views