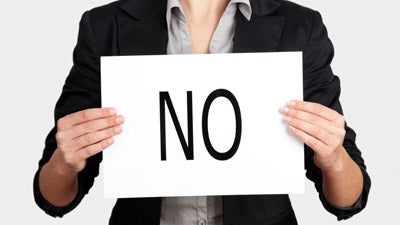 One thing that keeps a potentially great entrepreneur or salesperson from succeeding is the word "no." Hearing that word endlessly when just starting out can be debilitating—but, not necessarily for the reason we might think.
I believe the biggest problem about hearing "no" isn't hearing the word itself but rather thinking that…
"I'm the

only

person who is hearing so many "no's".
That's the killer. You see the others receiving monthly sales awards or read about the massive successes of some well-known people and it's easy to feel as though you're the
only one who gets told "no."
The others must have only heard "yeses!"
But that's simply not true. Those who've achieved success in any worthwhile endeavor
have been told no
. And, they've been told "no" many more times than you have. Actually, a key reason they have received more "yeses" than you have is because they've been told "no" more times than you have been.
"Yes is the destination. No is how you get there."
This doesn't mean that hearing "no" is supposed to be fun. Only that it is a natural and necessary part of the success process.
If you are in business, you are in
sales
. If you are in sales, you will hear "no." You'll hear "no" far more often than you will hear "yes." And, that's okay. Don't let it discourage you. Know that it is simply part of the journey. You're not the only one who hears it.
How do you do in that regard?
This article was originally published by Bob Burg
Published: December 3, 2013
1790 Views