Architecture is a unique field that combines artistry with mathematical precision; it requires long days of bouncing between loosened up creativity and buttoned up exactness. Design too requires a similar blend of left and right brain skills—on the one hand, you need to find the right solution for your client at the right price, and on the other, you need that solution to be aesthetically inspired. Together, the two fields are all about how humans interact with and perceive the space around them.
Stephen Conte and Carolina Escobar know the struggles of being innovative while maintaining the day-to-day realities of running a small business—especially when that business is operating in the context of one of the most sought-after real estate markets in the world. StudiosC, a Brooklyn-based architecture and design company, was an honoree of this year's NYCxDesign Awards. The firm is young but starting to make a name for itself with residential and commercial projects in New York and Medellin, Colombia. Stephen and Carolina, the principals of StudiosC, have known and worked with each other for a long time. On the foundation of their friendship and working relationship, they've built the studio from scratch.
The challenges of the architecture and design practice are many—add on top of that the fact that they are highly competitive fields and the result is a high pressure environment. However, with the right team in place, this pressure can be converted into innovation (and revenue, of course). Below, Stephen and Carolina discuss the way that their working experience organically led to the creation of a small business, the challenges of management in a creative field, and the value of having an international perspective.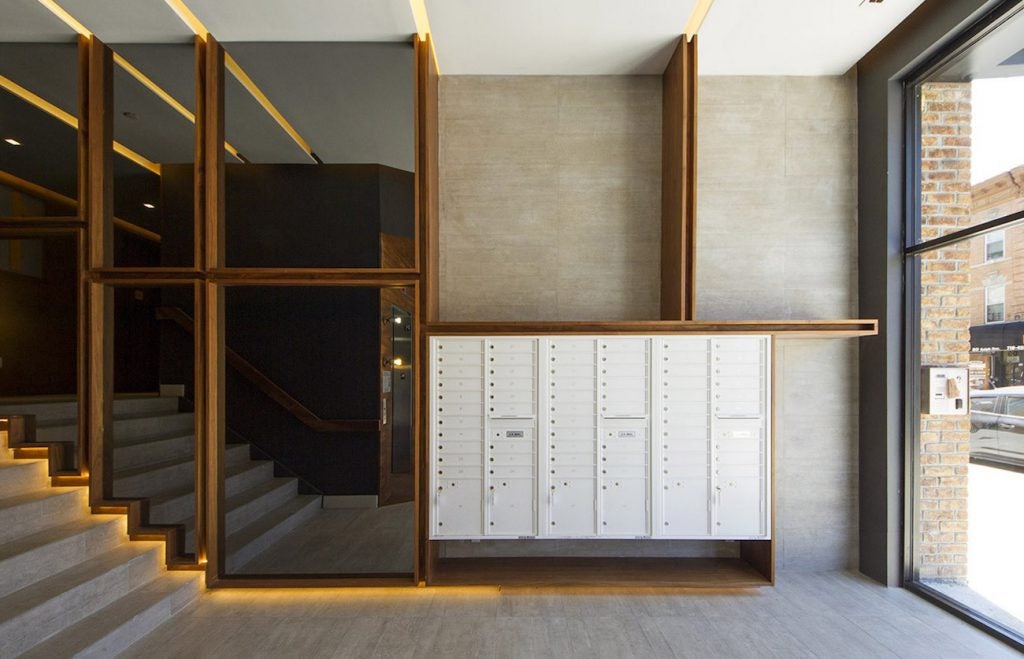 BOND STREET: How did you get into architecture in the first place?
STEPHEN CONTE AND CAROLINA ESCOBAR: Stephen Conte: It was from an early age really—as early as high school. Building and constructing was always an interest, and thankfully I had a good art teacher in high school who recognized to give me some direction about architecture school, and I took it from there. I went on to do a Bachelor of Art program at Pratt.
Carolina Escobar: I studied in Colombia; there was a very close family friend that studied architecture and I really liked it every time I'd see the work. When I was in school I was really interested in places and developing small scenarios, and it was then that I realized that studying architecture would make me happy—but the interest in smaller spaces led me to design.
BOND STREET: Stephen, does anyone in your family come from an architecture or entrepreneurial background?
STEPHEN CONTE AND CAROLINA ESCOBAR: SC: My dad always had a job but also started companies. My older brother has his own business as well, so yea, I think there's definitely a background there. I think that helped a lot when we decided to start the company. I remembered things from when my dad was starting companies—to be brave first of all, and other lessons about what you were supposed to do.
BOND STREET: What's the origin story of StudiosC? When and how did the practice get its start?
STEPHEN CONTE AND CAROLINA ESCOBAR: SC: Carolina and I have known each other for a long time; we're very good friends. Carolina's husband is my best friend, I worked with him 10 or 12 years ago. He's also an architect. Carolina was working at an interior design studio and I was at an architecture firm, and we worked on a project together. In 2012, when I left my job and decided to start StudiosC, I called Carolina because I knew and liked her work. We started working back and forth, and Carolina was thinking about leaving her studio. She had some clients that wanted her to work some individual jobs. At the beginning it was very organic, we were passing work back and forth. Then we decided to get a co-working space in Greenpoint. From there it quickly blossomed and took off a lot faster than we thought, around 2013. At first I was more of a freelancer picking up jobs, but 2013 is when we decided to go in 50-50.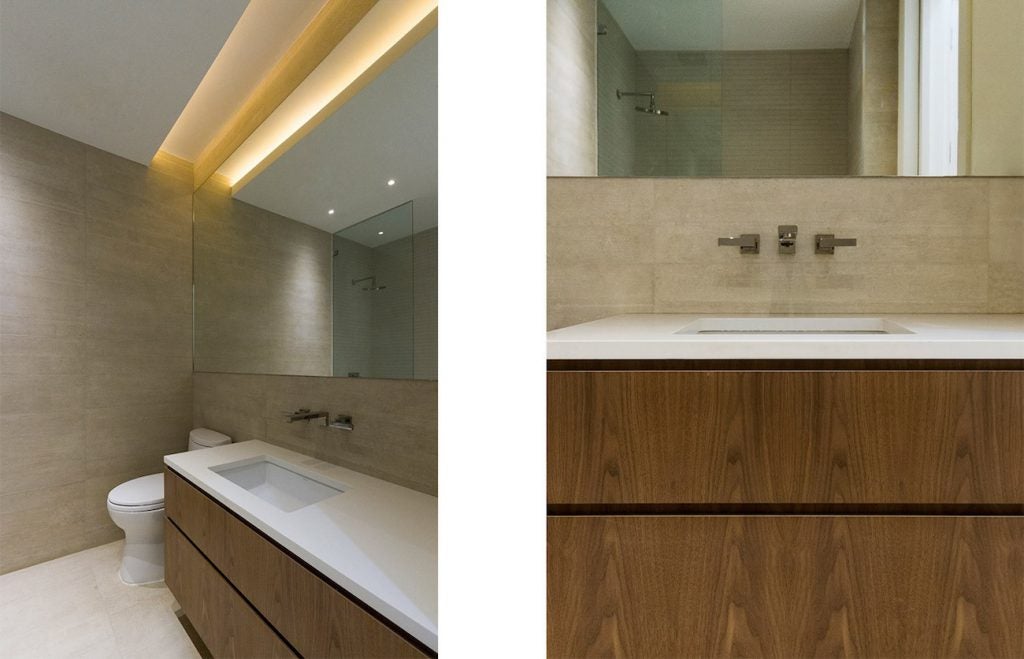 BOND STREET: How was the business bootstrapped originally?
STEPHEN CONTE AND CAROLINA ESCOBAR: SC: It was basically through clients' word of mouth. It was about taking on all types of projects to get our footing and doing what we were capable of. It was through these small projects that we were able to form a platform and launch the work we have now. At the moment, we haven't needed to take on any outside investment. Not yet.
BOND STREET: What was an early business challenge in starting StudiosC?
STEPHEN CONTE AND CAROLINA ESCOBAR: CE: Everything is a challenge. I think we managed it pretty well, but hiring people was the biggest challenge. Hiring our first employee, figuring out payroll, and all the other small details about how a business functions, that was the biggest challenge. We're a creative profession, but there's a completely different side of it. You can be incredibly creative but if you're not on top of the day-to-day that a business needs in order to be profitable, things fall apart.
SC: For Carolina and myself this was our first company, so that was definitely the biggest challenge: getting into the groove of both being creative and managing the business and all the challenges that come with it.
BOND STREET: You work with an international team. How does this impact your practice?
STEPHEN CONTE AND CAROLINA ESCOBAR: SC: From a business side, it adds a lot of different cultural perspectives to architecture and interior design. Everyone has seen their own education and journey, so I think it brings a lot. I think it reflects in the work too, in that it blends different ideas. I think this works especially in the architectural context of New York. It's not a traditionally-based design, and I think that's really advantageous to us.
CE: When you have an international perspective, everyone also thinks about their own country and how things are done there, which is very important.
BOND STREET: What does your portfolio look like?
STEPHEN CONTE AND CAROLINA ESCOBAR: SC: We do both residential and commercial projects. We do ground-up construction, and when we take on a project like that we like to do everything—we'll design the exterior and the interior ofthe building. We believe everything should be cohesive. There's a lot of cases in our industry where the interior and exterior are done by different studios, and that's very successful in many cases, but for us, we like to make it cohesive and do it ourselves. We like to tell a story with the building, and make sure that everything works together and is a seamless experience.
CE: We do have a lot of interior design projects at the moment, and a handful of small and medium-sized buildings as well. A couple brownstone renovations too.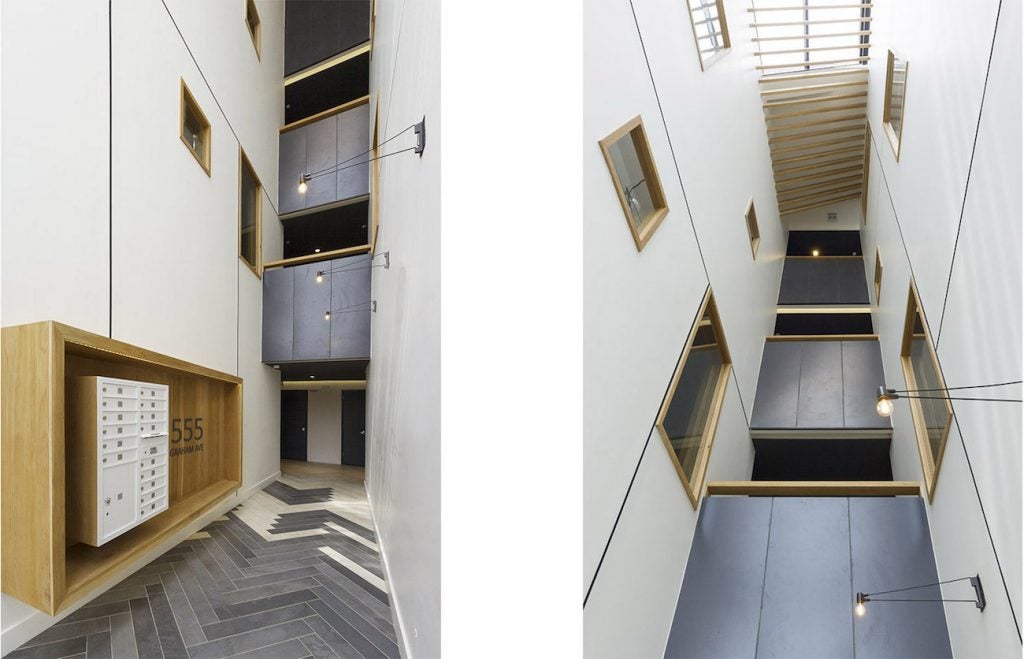 BOND STREET: What architects inspired you originally? And what about today?
STEPHEN CONTE AND CAROLINA ESCOBAR: SC: There's quite a few for me. When I really started looking into it and going to college for it, some of my original inspirations were Louis Khan, Renzo Piano, and countless others. A lot of my professors weren't as well known but were doing some really amazing work. Currently, I think the list hasn't changed, but there are more small and medium-sized studios that we see doing really nice work in New York and all over the world. There's some really good architecture and design happening right now. The list keeps growing.
BOND STREET: How does the architecture business landscape look now, compared to the past?
STEPHEN CONTE AND CAROLINA ESCOBAR: SC: I think it's more design focused. If we go back 15 years, there was always the small handful of really amazing projects, and a lot of mediocre projects going up. Design was kind of depending on the client. Design could have been secondary at the time. I think today people realize the value of design, and whether you're designing a rental or a condo or a retail store, the value of design is real and tangible now. People want to have a experience in a well-designed space. The level of design in New York has really increased over the past 10 to 15 years.
BOND STREET: You do a lot of projects in Brooklyn, but some work in Medellin too.
STEPHEN CONTE AND CAROLINA ESCOBAR: CE: We've done some residential projects in Medellin. It's very different from New York, because there's a lot of land to work with.
SC: We haven't done too many projects in South America, our focus really has to be New York. But every once in awhile something will come along, and if we think it's a good fit, we'll take it on. We can't really take on too much work—we usually take on one project at a time. Maybe in the future if we have the ability to expand there, and if there's a market there, it would be great since we already have the connections and foothold in Medellin. It could be really interesting.
BOND STREET: So the whole team focuses on one project at a time?
STEPHEN CONTE AND CAROLINA ESCOBAR: SC: No, Carolina and I both have our hands on everything, but then we have project managers who deal with the day-to-day. We set up a small team for each project, depending on the project. A lot of times though, we get input from people who are not working on that specific project. We ask for ideas from everyone at some point depending on the work.
BOND STREET: How do you utilize marketing channels?
STEPHEN CONTE AND CAROLINA ESCOBAR: SC: That's something that's constantly developing. We haven't done too much marketing. We did work with a PR person for a few months as an initial push for work. I think we've been fortunate though: a lot of our clients come from referrals. It's hard though because we do want to break into new markets, and we've got some work coming up that could help us get into them. For that, I think it's really about submitting for publications and awards and trying to keep your work out there, and showing potential clients what you're capable of. There's a lot of talented architects and designers in this city, so for clients to choose one firm over the other, they're gonna have their reasons. It's a very specific type of marketing—it doesn't really help if 100,000 people see your marketing since so few of them are looking to hire an architecture firm. It needs to be the right people. The marketing has to be very focused.
BOND STREET: What's your biggest business challenge currently?
STEPHEN CONTE AND CAROLINA ESCOBAR: CE: Quality is the most important thing in the profession. When we have multiple deadlines, it can be difficult to do everything 100%. The biggest challenge is definitely time management.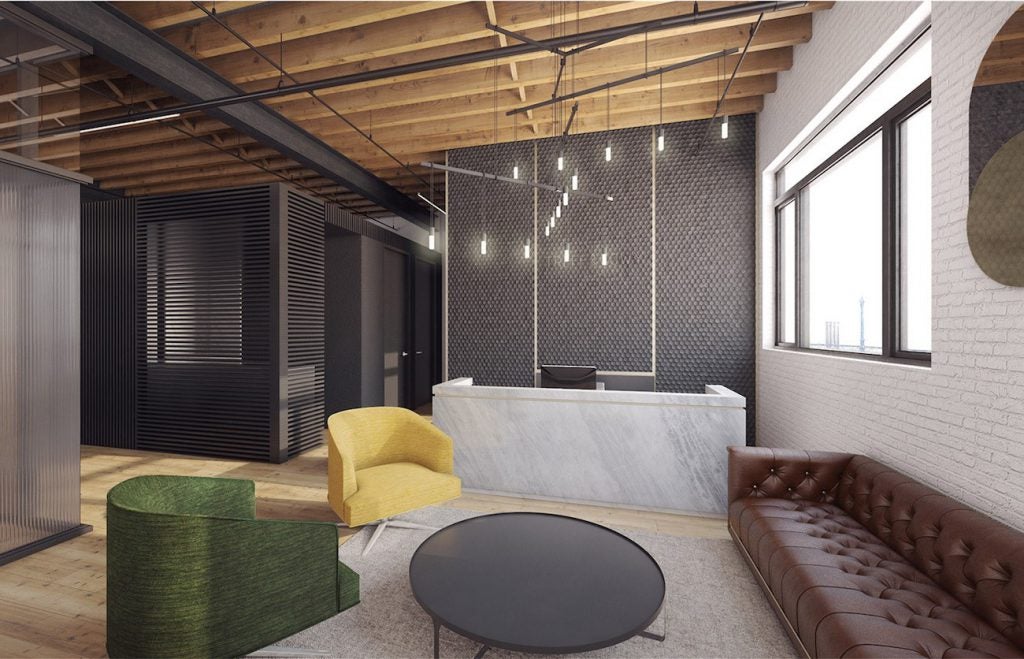 BOND STREET: What's the 5-year vision for StudiosC?
STEPHEN CONTE AND CAROLINA ESCOBAR: SC: There isn't a specific goal, it's more of an idea. We want to continue to create a really good studio environment. It's important that everyone who works here is happy and content with what they're doing. I think the idea is just to continue doing good work and deliver a high quality service to our clients. We're constantly focusing on the day and the hour. Like Carolina said, we have to keep a very high level of quality, and I think as long as we keep focusing on that, good things will come. Whichever direction that leads us, we'll be very okay with that.
CE: I think part of the goal is also to be able to enter more into the commercial markets.
SC: Definitely. We've done 3 office spaces, a wine bar, and have a restaurant project that we have on the board right now. Breaking into those markets is very important. It'll help diversify our portfolio, and it's really interesting work.
BOND STREET: What's your dream project?
STEPHEN CONTE AND CAROLINA ESCOBAR: SC: Personally, for me, it would be a cultural institution, like a library or museum. Something with a lasting impact that the public could really appreciate and enjoy.
CE: I was thinking the same thing! Something that would really help support a community of people.
Quickfire:
BOND STREET: What's one book every entrepreneur should read?
STEPHEN CONTE AND CAROLINA ESCOBAR: 23 Things They Don't Tell You About Capitalism, by Ha-Joon Chang
BOND STREET: One brand that you admire:
STEPHEN CONTE AND CAROLINA ESCOBAR: Bower
BOND STREET: 5 favorite independent businesses in New York?
STEPHEN CONTE AND CAROLINA ESCOBAR: