Crista Freeman, an entrepreneur with an art degree and background in e-commerce, started making ice cream with her partner Jess Eddy in their kitchen. Now, it's sold across the country.
The ice cream market is tougher than it seems. Making it and shipping it to suppliers requires a large-scale operation: the product demands unique industrial machines, and, as you can imagine, shipping is serious business, since melting is a risk. When Crista Freeman and her partner Jess Eddy started making creamy concoctions in their kitchen as a fun hobby, they didn't know that it would grow into something formidable.
But grow it did. Friends raved and food fairs agreed. Crista, who took on the business full time, worked tirelessly to develop the company's unique flavors, brand identity, and distribution networks. Scrappily and creatively, she tackled the challenges of making small batches of ice cream before Phin & Phebes was able to scale up—an essential move for ambitious ice creameries.
Luckily, her background as an entrepreneur—from her time weeding lawns in Florida as a kid to her experience in e-commerce as an adult—laid the groundwork for running the company. Crista also acknowledges that her art degree has a great deal to do with her abilities to solve problems quickly, though most people don't think of an art studio as an incubator for things like math, science, and business skills.
Below, Crista discusses the challenges of bringing something new to the ice cream game and the ins and outs of rapidly scaling up a fast-growing company. She makes clear that when growth is fast, cash is king.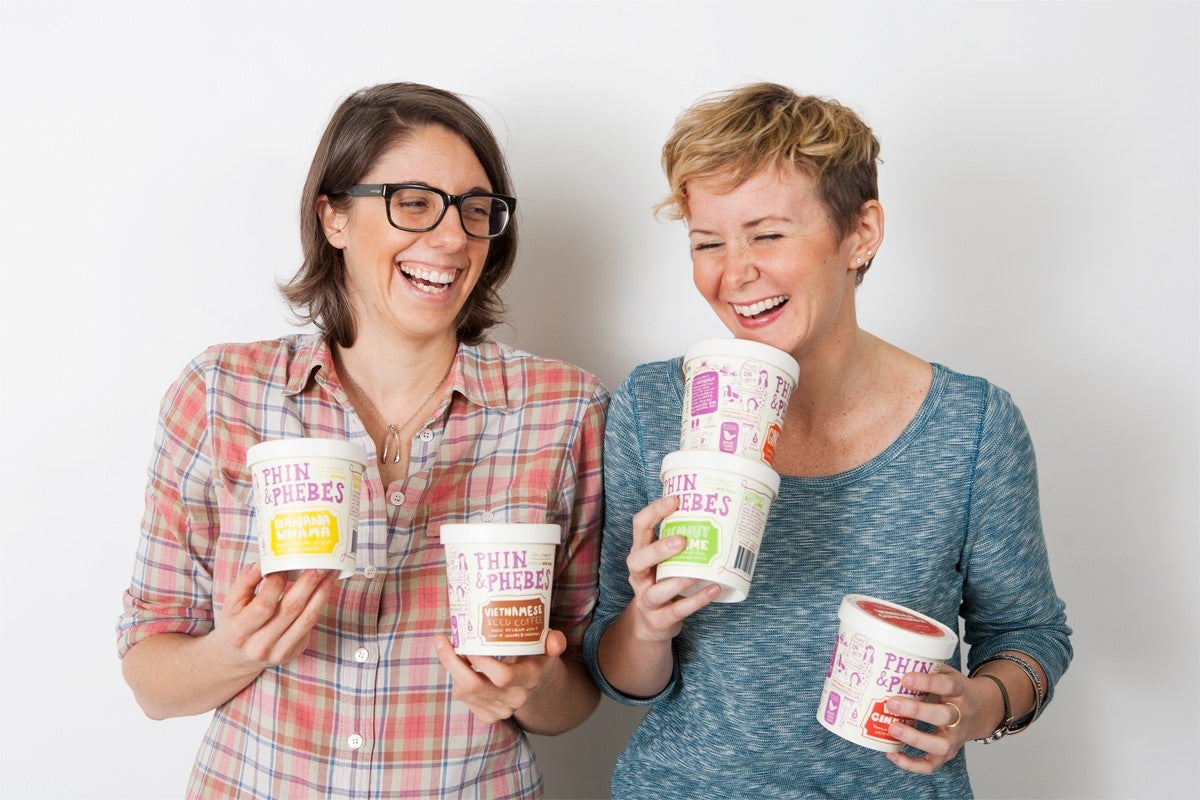 BOND STREET: Where does the name Phin & Phebes come from?
CRISTA FREEMAN: Phin is short for Phinnissey, which is a family name of mine, and Phebes is Jess' middle name. When we were starting out, we were calling it Phinizy and Phebes, and my friend Laura at the Penn State ice cream course, who's one of my best friends from growing up, she said, "Why don't you call it Phin & Phebes? The other one is so hard to say!" So, that was the easiest business decision we ever made.
BOND STREET: You and Jess started experimenting with ice cream in your kitchen in 2010. You were selling it on weekends and still working full-time jobs. When did you two commit fully to running Phin & Phebes?
CRISTA FREEMAN: We quit our jobs in 2011 to go to the Penn State ice cream course, to write a business plan, reformulate the recipes, and launch the business. Jess never came full-time onto the business; she works as a freelance consultant and spends about 10% of her time on the business. Now she's on the Board of Directors.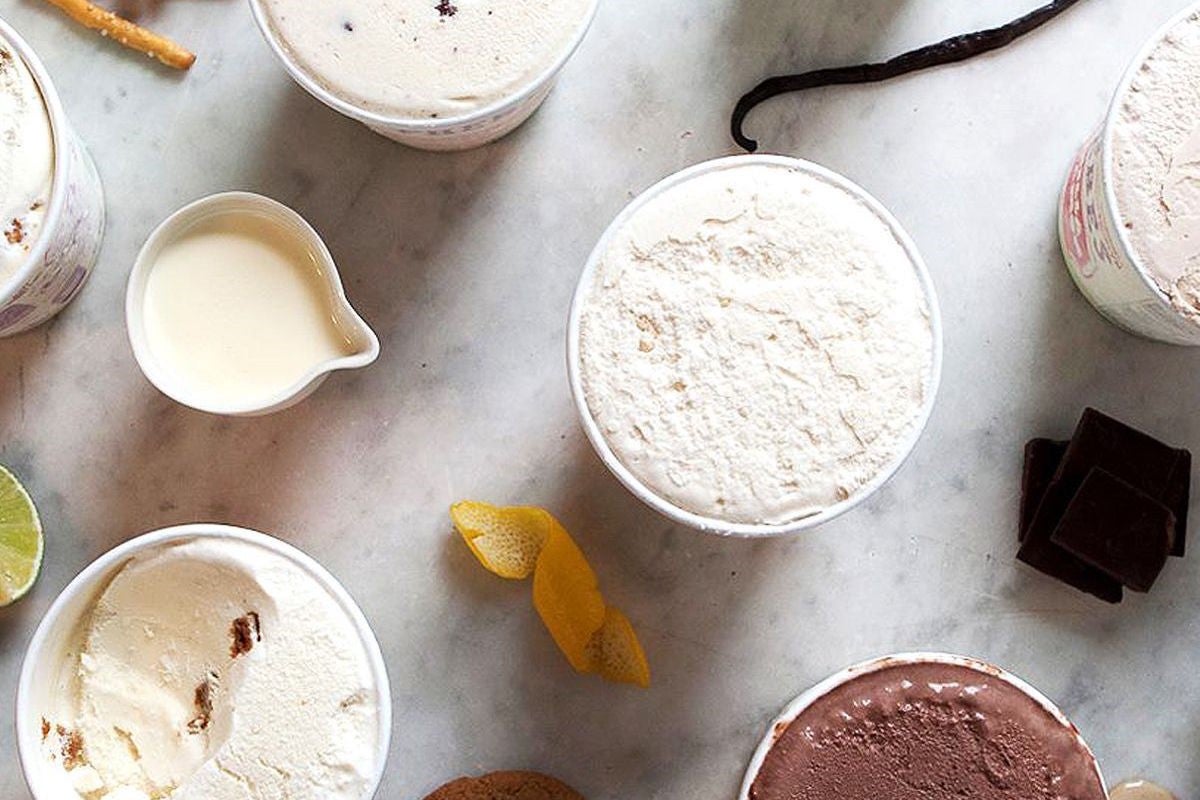 BOND STREET: How did you make the transition from making ice cream for your friends to selling in stores? What helped you to scale up?
CRISTA FREEMAN: We were making ice cream and thought we had a really good product. We started selling it at markets and fairs to test it and validate it and we were giving it away for free in return for surveys, asking people about their preferences. We realized pretty quickly that ice cream and certain other food products couldn't be done at a small scale. There's a lot of equipment that's very specific to ice cream: a blast freezer for right after you make the product, homogenizers and pasteurization units. We realized we needed to make a much larger leap rather than a gradual one. We had already received interest from stores reaching out to us saying they wanted to carry our product.
BOND STREET: So, the process for making, shipping, and packaging ice cream is complicated—how did you conquer these supply chain issues?
CRISTA FREEMAN: It was really hard to find a co-packer in the beginning. We were manufacturing at such a small scale that we couldn't afford to pay to ship ice cream. When you ship ice cream, it can't be less than a full truckload. It has to be 22 pallets of product—so it's really expensive. At first I found a guy who had an ice cream business that had a freezer truck, who happened to need some side work, so I worked out a deal with him. He would pick up the ice cream for us and we'd give him a percentage of sales. That was our initial supply chain. We just figured it out as we grew. At that time we were self-distributing. But now we have distributors and we sell directly to Walmart. It becomes easier as you grow when it comes to ice cream.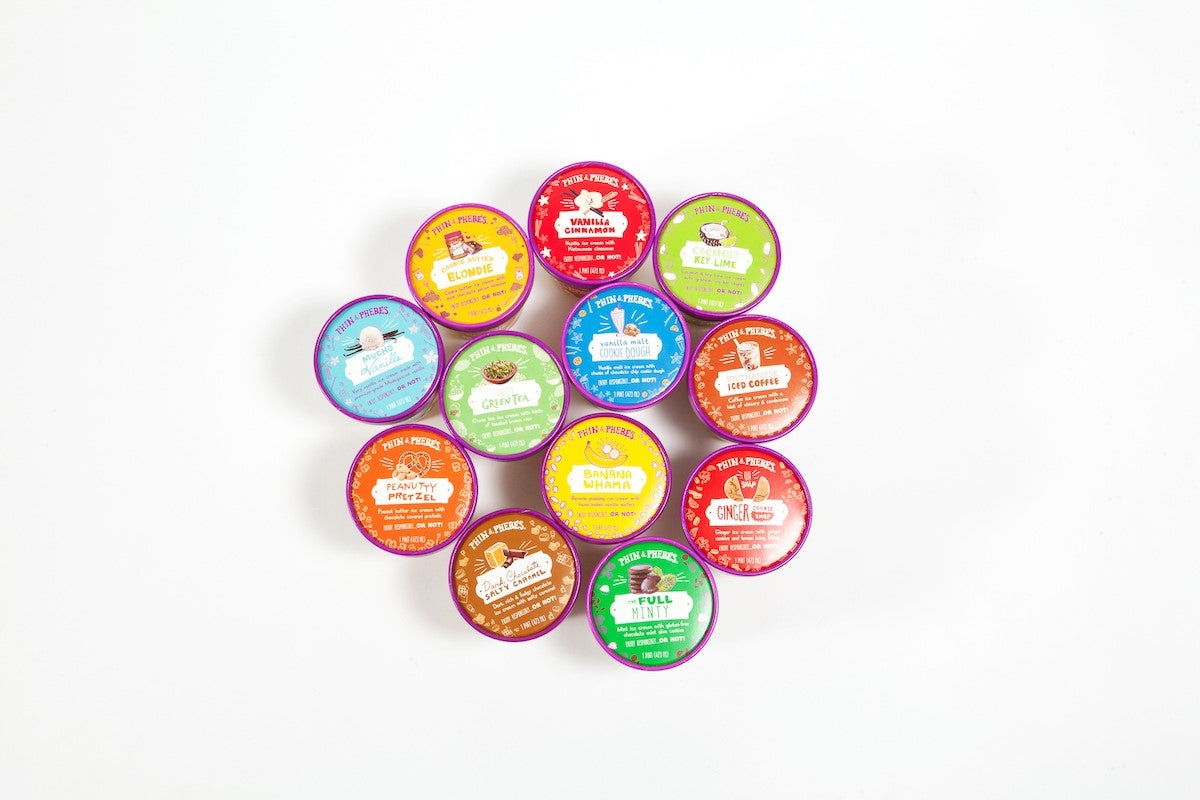 BOND STREET: How much has the company grown in terms of ice cream made?
CRISTA FREEMAN: To give you an idea, our first production run was around 30 cases of each flavor. Now we produce about 20,000 pints of a flavor at a time.
BOND STREET: How many stores is Phin & Phebes currently carried in?
CRISTA FREEMAN: Around 1,800 currently in 39 states.
BOND STREET: Where does your entrepreneurial spirit come from?
CRISTA FREEMAN: Ever since an early age I've been an entrepreneur. I was constantly thinking of ways to make money and sell things. When I was a kid I would knock on people's doors and ask to weed their yards. This was in Florida, so, there's a lot of weeds. I would sell my Halloween candy to kids and sell water to runners. I was obsessed with saving gourds of money.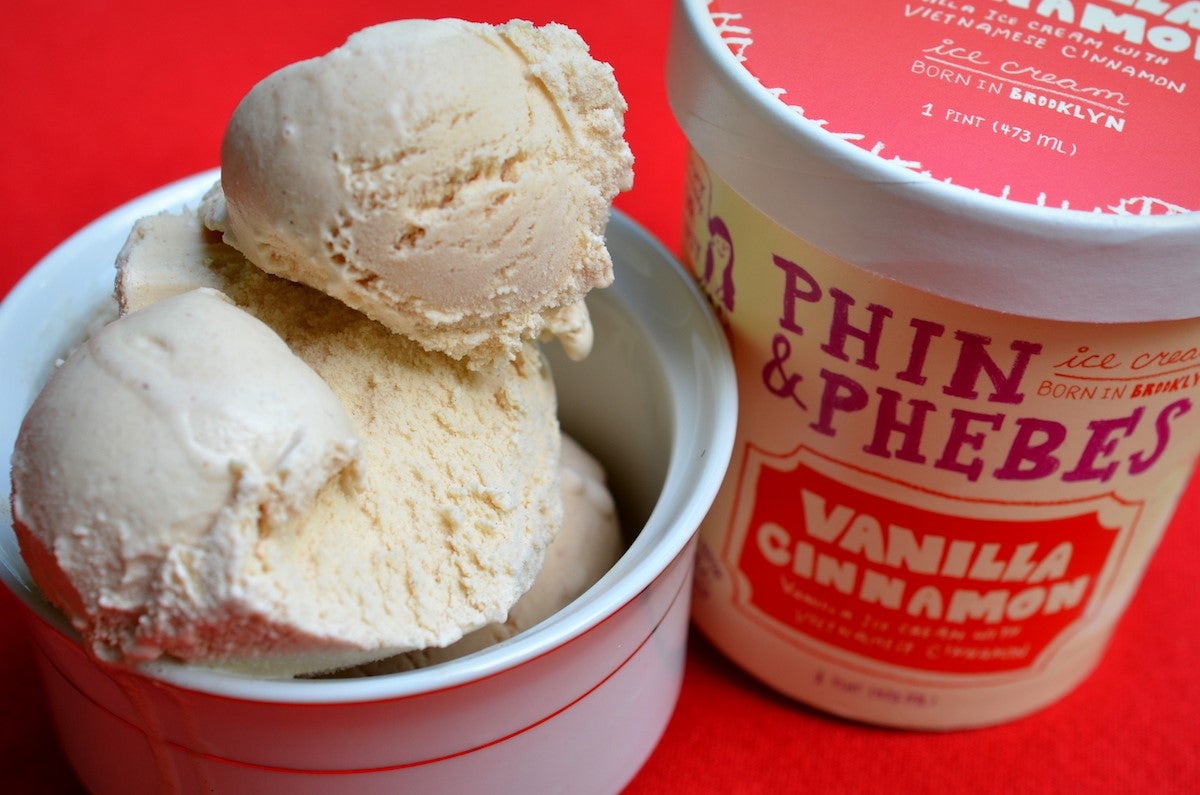 BOND STREET: What about your professional and educational background?
CRISTA FREEMAN: My background is e-commerce, and prior to that, I have an art degree. I think that I've always just figured stuff out. I kinda just dive headfirst into things. Because I went to art school, the studio prepares you to do that kind of thing, even though many people think that artists aren't good at math and science. I think that's been very influential in how we address problems in the business, in the supply chain and manufacturing.
BOND STREET: Looking back on the early days of starting up, what would you do differently?
CRISTA FREEMAN: To be honest, I don't know that I would say that I would do anything differently, because I think that you always learn. There's never such a thing as failing, because you're learning from those things. I think that being able to fail quickly and learn from that, and not be afraid to fail, is a trait that every entrepreneur needs to have. But the one thing I wish I could have done differently is to always make sure that you're making money, even if you don't direly need it. Also, we didn't understand our category as a startup in terms of investment and valuation. For our first round of investment, we were severely undervalued. We also had an investor that was pretty predatory, and I recently bought them out.
BOND STREET: You were also doing a lot of the work early on.
CRISTA FREEMAN: I think that at the time, I was doing everything, and that made it hard.
BOND STREET: Who are your employees now?
CRISTA FREEMAN: We have a VP of sales that I hired in June that works for a couple other brands. We also have a national broker network—brokers are people that deal with buyers at grocery stores, work on the relationships—and my VP of sales manages those brokers. I have an external controller as well, who does the accounting.
BOND STREET: What's the biggest challenge you currently face as a business?
CRISTA FREEMAN: We're growing so rapidly and it's going to be hard to make sure that we're not taking on too much, that we actually are able to handle the growth. After all, we're a small team, but we're growing at around 1,000% this year, and we're projecting growing around 400% next year. It's about making sure we can handle the pace in terms of team and infrastructure and having the proper cash runway to fund that growth. When it comes down to it, it's always about cash and making sure we have the proper funding to meet what we're growing into.
BOND STREET: What's your most effective marketing channel?
CRISTA FREEMAN: In consumer-packaged goods, really the first ten years of a brand lifecycle, marketing is mostly all done at the trade level. You don't really want to invest in external marketing, like advertisements in magazines. We mostly market to consumers that are in the stores. That means doing promotions such as circulars and coupons and in-store tastings. But tastings are very expensive, since doing them in thousands of stores is very expensive and requires a lot of manpower. Ice cream is a highly promotional category.
BOND STREET: Your package design and branding stands out too.
CRISTA FREEMAN: Our packaging is pretty bright and colorful—the brand "blocks the shelf" as we call it. Each flavor tells a story too, told with the illustrations on the packaging. The purple band on the lid really brings the consumer in. We did a lot of tests and refreshings of our packaging.
BOND STREET: What's your personal favorite flavor?
CRISTA FREEMAN: Of our ice cream, it changes. But our dark chocolate salted caramel will always be my go-to. I love dark chocolate. But I also really love our banana-whama flavor—I like to combine the two.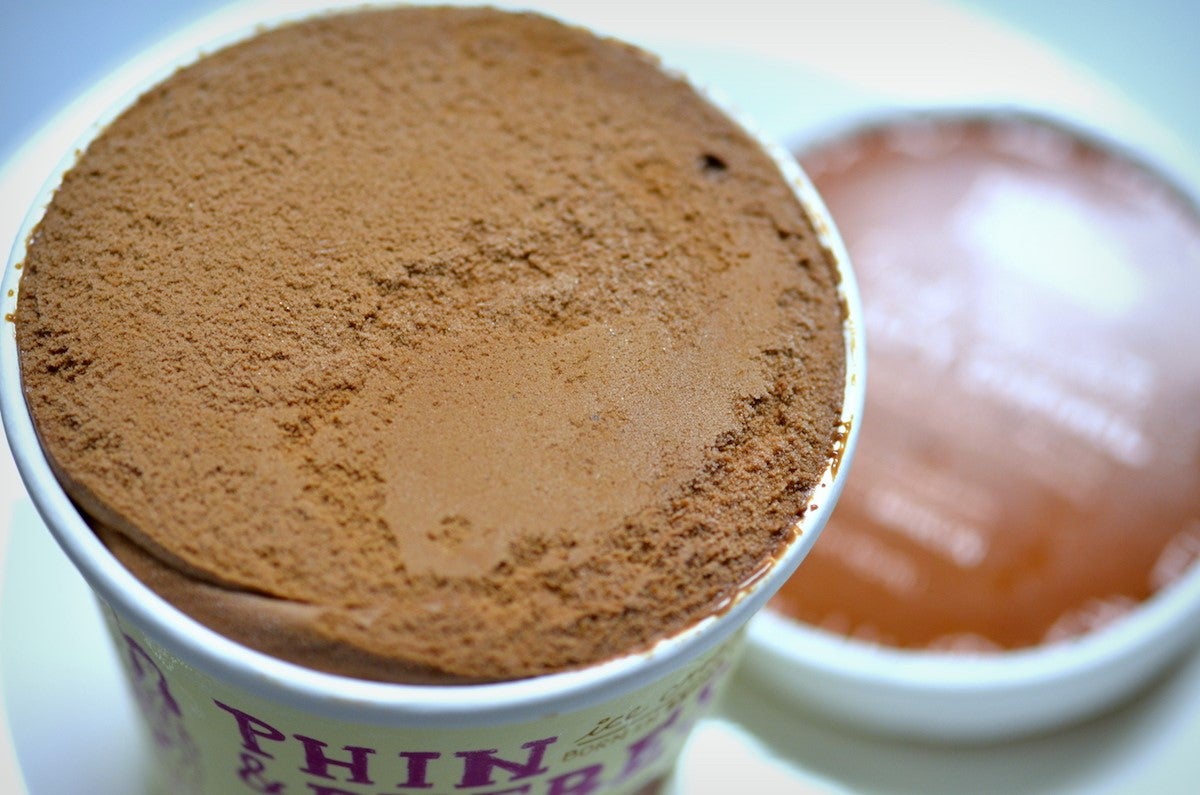 BOND STREET: What about your favorite classic flavor?
CRISTA FREEMAN: When I was growing up, I loved going to sushi restaurants because I loved green tea ice cream.
BOND STREET: Do you see Phin & Phebes expanding into new products aside from the pint game?
CRISTA FREEMAN: Yes, we are currently working on something.
BOND STREET: Can you tell me what it is?
CRISTA FREEMAN: I can't tell you, it's secret. But it launches in 2017. It's still in the world of frozen desserts but it's not a pint of ice cream.
BOND STREET: What's one book every entrepreneur should read?
CRISTA FREEMAN: Any entrepreneur when they're starting out should read is The E-Myth Revisited: Why Most Small Businesses Don't Work and What To Do About It. Any of Jim Collins' books are really great too, such as Built to Last. It depends on what stage the entrepreneur is at.
BOND STREET: What's one brand that your admire?
CRISTA FREEMAN: I admire Everlane, their whole thing is that they break down how much it costs to make something and are very transparent. Because it's not coming from a fancy designer, and they're telling you how their products are being made. They cut out the middleman and offer affordable designer clothing.
BOND STREET: 5 Favorite independent businesses in NYC?
CRISTA FREEMAN:
Ovenly
The Green Grape
Baggu
Madwell
W. Basics