All In: When is the Right Time for Entrepreneurs to Take the Jump?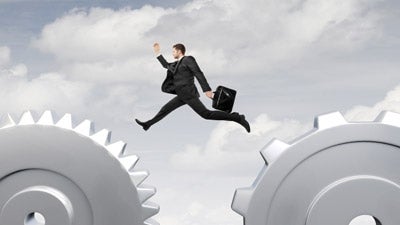 When you're looking to transition your company from being a garage-based weekend project to a full-time venture, it can be difficult to know what transition points to look for. Based on my experience working with dozens of founders who took their ventures
from ideas to fully operational and funded companies
, I've compiled a list of key transition questions to ask yourself when considering the leap. Is it high time to quit your day job and commit full-time to launching your company, or time to stay put right where you are? Read on to find out.
You might have a great idea, a slick website and a box full of pamphlets about how your company is going to change the world. But if you don't have customers who agree that
your product has value and are willing to pay for that value
, your product isn't ready. Customer development is just as important as product development. If people don't know that your idea exists, they can't buy it, support your company and allow you to build the revenue base necessary to continue.
You need a strong list of customers and a clear characterization of the market problem you're addressing. Instead of quitting your job before that point, devote some time and resources to talk to potential customers and gain a solid understanding of what problem you are solving for them, what solution they need, and what they are willing to pay.
Do you know what you can handle?
You're not going to make money as fast as you think you are. Before taking the jump to pursue your venture full-time, make sure you have an honest assessment of what your personal runway is. Know how long your savings will last. Being pragmatic about how you will support your family is an important step. Rash decisions and a lack of concrete planning are recipes for disaster for yourself and those who rely upon you.
If you look at the facts of your situation and full-time work on your business isn't realistic yet, don't give up. If your idea is good, the market is there, and you put in the work to meet that market, your company can still be a success. Just proceed with some level of caution to ensure you are healthy through the process of building a revenue base.
Are you ready to go to market?
Before going without a paycheck to make your company a reality, make sure you are ready to go to market with your idea. You should
have a minimum viable product
. If you are in the web space, build a simple mock-up to walk potential users through the experience on paper before you build the physical site. If you are in the product space, build a basic prototype to get customer feedback. If you are in the service space, try the service on test customers before you roll-out the full suite of services. Put in the time in the early stages to make a product that people can react to, go through many rounds of improvements, and ensure it's something that meets the needs of the market well. Then, and only then, take your product to development and get it into the market for further validation.
Do you know what's next?
Make sure that after your last Friday at your day job, you don't run out of things to do on Monday.
Have a plan in place for what your next several phases, steps, and projects will be after you become a full-time CEO. When you make the jump, make sure your momentum is going to continue.
Consider joining a local incubator who can connect you with training, development, mentors, and other entrepreneurs at the same stage in their company.
Set up a series of meetings with contacts who can help you refine your product, brand, business plan, and market strategy.
Sign up for a major industry conference where you can showcase your minimum viable product, get feedback, and bring awareness to your project.
Make sure you have a timeline of progress and short-term goals.
Are you prepared to burn the dock?
The idea is the easy part. If you're wavering about whether to go full-time with your idea, don't do it. Passion has to be a huge piece of what keeps you going, because it's not going to be all funding announcements and keynote speeches. You have to take your venture very seriously—no backup plans allowed. Once you set sail on the ship of entrepreneurship, you have to burn the dock back to the shore. There's no going back.
When you're out there on the open market trying to make it work, you have to be ready, mentally, financially, emotionally and spiritually. If any of this scares you, then you aren't ready to make the jump. Even if you feel the idea is ready, you might not be; put in the time to know why you're putting in the work and what you personally can handle.
Published: October 15, 2013
1947 Views