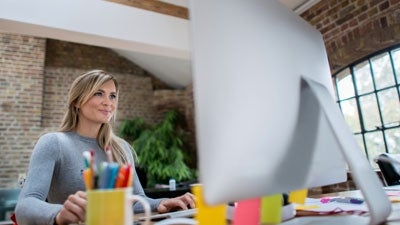 While it may be hard to believe, yes, the calendar actually does read 2015. With that in mind, is this the year that you either start a new business or rebrand what you have been doing in order to better achieve success?
Even though the idea of starting a new small business may in fact not seem so daunting, anyone who has ever run a small company can tell you that getting it right the first time around can be all too challenging. From deciding what in fact your new business will be to finding the needed funds for everything from office supplies to potential employees to advertising, a small business can consume one 24/7/365.
So, where do you start and how do you keep your small business train on the right tracks?
First and foremost, what are some good small business ideas to throw your weight behind in 2015? When looking at small business information providers like
Franchise Expo
or other similar providers, know where your interests are. Face it: if you don't have your heart in a small business venture, how long do you truly think it will last?
While there are countless small business franchise opportunities out there these days, look to areas where consumers most need products and service. Yes, many consumers are struggling to make ends meet, but there will always be a need for things like medical services, technology (especially along the lines of computers and mobile devices), accounting (doing taxes), retirement plans and wills, transportation and much more.
Once you have that first and most important priority out of the way, here are 5 tips to making it work:
Finances – Make sure you have the proper funding available to start your new small business. If you find yourself having to tap into savings and/or turn to a loan, you could find yourself behind the eight ball sooner rather than later;
Message – Another important facet to making this work is being on message. How will you target consumers? Is mobile marketing part of your game plan? Will you be doing advertising and marketing work yourself or outsourcing it? Never take for granted the power of the message, especially in the early going;
Assistance – This can be the biggest question to tackle in your new small business venture. Will I need help? While you may be a man or woman who feels like you can never run out of gas, that is not the case for most people. For those small business owners with families, the challenge can be even greater. If you feel like help will be necessary, look for the best and brightest, be they full-time or part-time;
Flexibility – Any business is going to need to adjust to the things that come its way. While you definitely need a strategy and should not veer from it often, be willing and able to adjust as needed. This can include everything from bringing on help (see above) to adjusting how you market your brand (see above);
Reality – Last but not least, don't overstate/set your goals in the first year. Keep the aspirations reasonable and avoid becoming frustrated when things do not go according to plan. Many small businesses fail for one reason or another, but oftentimes it is not the result of setting realistic goals.
As a small business owner, what advice would you give to someone who is opening their doors in 2015?
Author: Dave Thomas writes for a variety of websites on topics such as marketing and small business.
Published: January 30, 2015