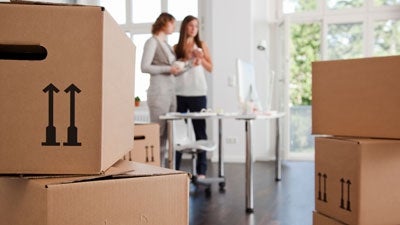 This week two people asked me how to move a business to a new location. When you are successful in one location you will be a success in your new town too. Take a few steps before and after moving your business and it will not be long until you are back up to speed.
Moving Your Business Can Be Scary!
Don't stress!! Take action!!
Your primary goal in thinking about moving your home business to a new town should be on finding new friends and acquaintances in the new town.
The first thing you should do is to start talking it up where you live now. Asking for referrals from friends, family and show attendees can be as simple as saying: "I am moving in a couple of months and would love to have a show schedule in place before we settle in…. Do you know anyone in MyNewTown?" This technique works especially well when you offer a small gift of some sort.
I often used this technique when I had a show scheduled in a town that was a long drive. I would ask for referrals at all my parties leading up to the show so that I could perform two events in the long distance town.
Make a plan, write out your word choices and just start sprinkling everywhere you go! Ask everyone for a referral! Then follow up with the referral quickly with an offer that they cannot refuse. You may also want to announce your move in your client newsletter several times in advance of your move. Ask for referrals and share the same gift offer with them.
Move Home Business To New Town
Most likely you will be visiting your new town a few times before the actual moving day so schedule some time to proactively seek out new friends and expand your connections.
What was the most effective way that you filled your calendar where you live now? When moving your business to a new state or town, just use the techniques that have worked in the past again!
There are over 80 direct sales bookings ideas that would work in this situation but the most powerful ones are these:
Join Referral & Meetup Groups: Go to MeetUp.com and start subscribing to updates in niches that relate to your products or recreational events that you enjoy. When you are visiting the town ahead of time and after you move, start going to events. When I moved to Virginia the very first Meetup I attended I met a client that hired me for a series of 12 consulting gigs.
Use The Get To Know The Neighbors Strategy: You can do this in the neighborhood you are moving into just by walking around one nice afternoon and saying hi either before you move or after you move. After you move you could use the technique to tap into other neighborhoods.
Schedule A New Town Launch Show: This is great in conjunction with the get to know the neighbors. You could hold your own 'launch your business' open house-type show in your new home but call it a practice show so that they do not feel obligated to buy or book. Or if you prefer, just hold an open house and have a small display of your products off to the side.
Go To Vendor Events As A Guest: When you visit your new hometown before and after the move the quickest way to get into the business scene is by attending vendor events. Going as a guest is a great way to meet local businesses with minimal financial or time investments.
Access Public Records Of New Home Sales: All home sales records are public records. You could go down to the courthouse with your laptop and gather leads, then send (or visit) them a welcome gift and follow up with a phone call.
I recommend that you make it a point to use all of the above ideas to find business in the area before you move. Then after you are settled into your new home pick one of the over 80 direct sales booking ideas each week and add it to your repertoire of lead generation to expand your connections in your new town!
Moving a business is the same as starting a business…. use every lead generation technique available to you and you WILL succeed!