Make Your Home Office a Launch Pad to Success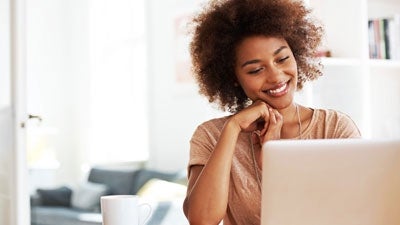 The boom in freelancers, virtual assistants, micro-and-mom-preneurs, fully online businesses and other new strategies for working and being a small business owner has cause an equally large boom in home offices.
However, the fact is that in many cases people back into these businesses and careers and their home office ends up reflecting a certain haphazardness—it can be not much more than an afterthought.
While this may not be a big deal in the very beginning, eventually it's a problem, and not one that is immediately identifiable. You may find it a little more difficult to "go" to work or be excited about what you are doing and not really understand why. Let's call it boredom. The fact is that your work space may be turning you off and limiting your enthusiasm for building your business.
The first thing that needs a major redo is your attitude. Determine that you will make your home office a place where you want to spend time. Transform it into an area that you will be proud to show off to your friends, family members and business associates. Make it a real place of business.
Business owners who open retail or commercial locations like to stand back and look at their places of business and admire how they reflect what they have accomplished. They probably have a sign in front with the name of their business or their name is on the door.
If I can put a modern twist on this, I'd say that they are admiring their "branding." Frankly, signage at a business location is almost the very first step in branding. I suggest branding your home office. If you don't, how is it any different from where your kids do their homework?
Create the best environment
There is a lot of science that goes into workspace design. Of course, we all know about ergonomics, but how a space is organized and beautified is also important. Spaces can feel warm and welcoming or cold. Colors are important. Potted plants and fish tanks are included in some businesses for a reason, not because the owners love watching tetras swim around…well at least, not usually.
Think about your sense of style. Do you admire the sleek modern look or a more homey vintage atmosphere. Pull these design notes into your home office. Don't overlook the addition of art. In business today, ideas and creativity are keys to success. Bring in art that inspires you, it will add a few octane to the stimulus that fuels your brain.
I mentioned ergonomics earlier and you certainly want to keep this in mind when you create your workstation. Further, you want to be comfortable, so don't skimp on a chair. It's a good investment; as a small business owner you're going to be spending a lot of time in it. Don't discover that the cushioning in cheap desk chairs breaks down quickly the hard way (no pun intended).
Don't leave the design and equipping of your home office to chance. Think of it as your launch pad to great success. Investing in your home office is investing in yourself. If you take care in how you design and organize your home office, that attitude will carry over to how you conduct business, and that can only be excellent for your long-term results.
Published: April 9, 2015
1977 Views