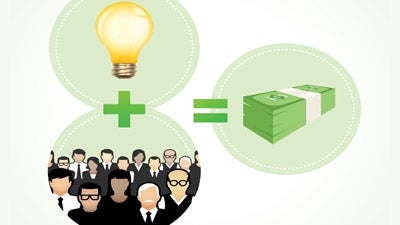 Finding a way to fund a tech startup can seem like a never-ending cycle. After all, you want to start a business so that you can make money, but getting a business going requires money. All this talk about money can leave you overwhelmed and out of touch with your passion. Instead of becoming distracted, opt for one of these innovative ways to bring in a buck or a million.
1. Go Crowd-Source Surfing
According to
Forbes
, crowd-sourcing has exploded in the fundraising world, bringing in figures estimated at $5.1 billion in 2013 alone. Using crowd funding sites, such as
Kickstarter
,
Indiegogo
,
SoMoLend
and
Invested.in
, business startups can rake in funding with little more than a video advertising their business. These websites allow businesses to post fundraising campaigns along with incremental goals with rewards for donors willing to shell out cash. It doesn't cost a thing to post a campaign. Keep in mind that if a campaign fails to reach its monetary goal, donors are not held responsible for their pledged funds.
Check out contests set up for your industry or niche market, or for your level of entrepreneurship. For example, you may find contests at local universities that are targeted at first-time business owners in the tech industry. Such contests typically involve an award-winning business plan and innovative idea. If you win a contest, not only can you earn some serious funds, your company receives recognition on a massive level.
If you want to make the most of your tech startup, then put your money where your mouth is, in a good way. By putting forth your own saved money you can prevent venture capitalists from coming into your fold, which is almost always a good idea. Additionally, you are standing behind your idea 100 percent, and proving to your employees and potential investors that you are fully committed to the business.
Want to find funds for your business? Start by selling something, whether you are offering a service or a product. Making sales is the point of any business. Even if you are like Steve Jobs in selling computers that haven't yet been built, you are making sales that will generate the funds needed to push your startup to the next level.
5. Provide Knowledge via MOOCs
So you don't have a product or service to sell. Don't ignore the possibility of earning funds through revenue. Instead, look for new services you can offer through your startup. For instance, if you are not yet creating the computer programs that are going to be produced via your startup, you most likely have the knowledge needed to do so. Consider hosting MOOCs online at sites like
Udemy
or through your local university system. You can set up a tech course or two for students while earning cash for your educational efforts.
6. Angel Investors on Social Media
An angel investor is someone who is excited about your tech startup, so much so that they are willing to support you financially. Social media is a great place to start in your quest for finding the angels among you. Facebook followers, including those on your family and friends' pages, are a great place to start. If you don't have a Facebook page for your business, you are a step behind. Create a page and get the good word out about your business needs. Be honest and personable by putting your heart into your sales pitch on social media in order to capture the hearts of potential angel investors.
Get sociable by courting possible investors. Start by listing all of the potential investors in your circle. Next, contact friends, family members and angel investors to learn if they know of any investors in your industry. When you've found a potential match, court them by introducing yourself and your business. Suggest a business dinner in which you can go further into detail about your funding needs. The key ingredient here is honesty, as investors who truly want to invest in a business need to be able to trust you as the business owner.
When you are in a pinch and unable to find funders, it's time to go to your favorite banker. In order to get a business loan, you'll need to have a clear-cut business plan, as well as information regarding all financial dealings associated with your business. Be prepared to negotiate with the interest rate, and expect to pay fees for loans.
If you are a minority or a woman, or starting a business in a rural area, you may be eligible for a grant via the U.S. government.
Grants.gov
provides grants for a variety of business ideas with a special focus on innovative ideas. Note that most traditional grants require you to have a nonprofit status for eligibility. This isn't the case at Grants.gov, where you will find grants that are geared at small businesses, for-profit organizations and individuals.
Hosting a charitable event helps your community while helping your startup, too. For starters, the recognition your business will receive through advertising for the charitable event is priceless. It places your business in front of more people, who might otherwise not be aware of your tech startup. Additionally, it grants you the opportunity to give back to a community, which incurs feelings of goodwill and positivity. You may find angel investors in such situations, as well as future customers and clients, who are ready to support such a generous business.
Author: Todd Turner is the President of LogoMagnet, a custom design magnet company that produces and distributes magnets for schools, non-profits, sports teams and more.
Published: November 24, 2014
6519 Views