Customers today no longer differentiate between online and offline channels. Many of today's purchases cross multiple channels and the customer considers them all part of the same brand experience.
The new differentiator is providing an omni-channel experience to your customers. Brands with the most solid omni-channel buyer engagement processes retain roughly 89% of their customers. This is why you should learn to address multiple sales & marketing channels holistically.
The omni-channel explained
The omni-channel is a multi-channel view of sales & marketing that provides customers with a seamless experience, whether by desktop, mobile device, local store or over the phone.
Such experiences might include the following:
A customer checks inventory by store on a company's website, purchases the item later with a smartphone or tablet and picks up the product at a chosen location.
A customer "likes" a brand on social media, receives a coupon in email or through a mobile app and redeems the coupon at any outlet—in-store, mobile app or online.
A customer enters a store and a customer service rep quickly accesses the customer's purchasing history and preferences from all sales channels, providing targeted customer service.
Imagine what reaching your customers on all channels could do for your business. How many more real-time meaningful interactions could you create with your audience? The more relevant and personalized your content, the more powerful the interactions and the higher the chances of conversions.
The roots of personalization
Personalization is not new, it's been used by local shops, restaurants, tailors and barbers for decades. In the old days, business owners knew each and every one of their customers personally. This degree of intimacy allowed businesses to understand the real needs and wants of their customers and provide deeper levels of attention and, as a result, retain those customers for life.
Mass-consumption, however, turned customers into anonymous Excel figures and the old-school customer care was gone. What seemed like the lost art of salesmanship is now making its way back into the digital market under a different hat: Personalization.
Here is what you can do today with personalized marketing:
Your customer browses through the latest selection of items added to your online store. The site recognizes the user and it displays a personalized message saying "Welcome back! Buy this lamp in the next 10 minutes and you get 10% off." The coupon code fits perfectly into the context and has great chances of conversion.
How to Create Your Omni-Channel Infrastructure
Implementing omni-channel touchpoints in every stage of the buyer journey means allowing your customers to start and complete their transactions anywhere—begin a purchase in one channel (mobile, TV, etc.) and finish it in another (e.g. in-store).
Creating personalized omni-channel engagement requires:
1) Technology that supports the complexity of today's customer journey
Customers enjoy the freedom to take whatever path to purchase they desire. The idea of a funnel where customers go into the top and come out the bottom no longer exists in the way it once did.
The right technologies to support such customers require the following process:
Identifying customer journeys to understand your customers' interests and behaviors.
Determining what capabilities your company needs in order to serve your customers on their journey.
Comparing required capabilities to your existing systems of engagement to find gaps that can either be filled by existing systems or through new ones.
Once you have identified what capabilities you have, make sure that you have a platform in place that allows you to leverage those capabilities across channels.
2) Agile strategies for process improvement
As the digital landscape and customer needs are constantly evolving, creating a seamless omni-channel experience means embracing Agile strategies that allow for rapid development.
With the customer journey in mind, your businesses should engage in a continuous cycle of identifying customer needs, mapping out an engagement they want to deliver, creating the delivery architecture of that engagement, analyzing the results and fine-tuning solutions.
The inevitability of omni-channel marketing
Today, 80% of internet users own a smartphone, which means they are almost always connected and are interacting with their favorite brands across multiple channels. These users have become no only tech savvy, but they also demand more attention, they expect to be acknowledged and treated well.
Consumers are coming back and forth among multiple devices, from smartphones to desktops and from laptops to tablets to TVs. They can interact with a business in a physical store, on a website or mobile app, through a catalog, or through social media.

Implementing this level of customization has become not only a necessity, but a huge differentiator in how you can get an edge against the competition.
Here are the three main steps to incorporate digital and offline channels into your customer journey and delight your customers with relevant messaging:
1) Create a seamless and consistent messaging across your print, digital, social and mobile marketing channels.
A print ad might offer a QR code to drive viewers to your website or Facebook page. Or, if you're running an online store, you could strive to keep items in the cart across all devices—if the customer adds an item to their mobile shopping cart, it should also show up in their shopping cart when they log in on their PC.
A great example of a brand that has created an effective, seamless physical and digital user experience is Victoria's Secret. Victoria's Secret Angel Card program allows members to share & earn points by shopping in-store and online.
Cardholders receive personalized e-mails with special offers and promotions, free gifts and birthday presents and access to exclusive shopping events. Members also receive extra rewards for syncing their social profiles and sharing the company's news, effectively unifying omni-channel experiences.
Here are a few other ways to bridge the online / offline gap:
Offer a variety of support channels (Twitter, phone, email, text, live chat, in-person store, etc)
Integrate inventory data for online / offline research and purchasing
Experiment with pop-up stores
Use QR codes to encourage online research while shopping in-store
Another example of seamlessly executed omni-channel marketing comes from Bonobos. You can go into their store, browse the inventory, try things on, but you can't buy anything.
The staff is very helpful and they'll order online for you whatever you'd like. Once you order in-store (with your first-timer's 20% discount), they create an account for you and add you to their email list, where they're constantly sending fresh offers in a neatly designed newsletter.
They're a hip brand and they show it by leveraging hot marketing channels and using them both as a distinct network with its own tactics and as a unified extension of their brand. Not only do they use traditional channels like brick and mortar stores and a well-built website, but they're very active o social media and do it extremely well.
2) Map out your audience's path to engagement.
Tracking your customers as they flow through all the channels and capturing all this data from online and offline sources allows you to find multiple touchpoints (physical store, desktop site, email list, social media, TV, mobile site, mobile app, catalog, customer service representative, etc.) on your customers' journey.
Tying these channels together helps you understand which touchpoints are most effective and segment your audience / ad budget accordingly.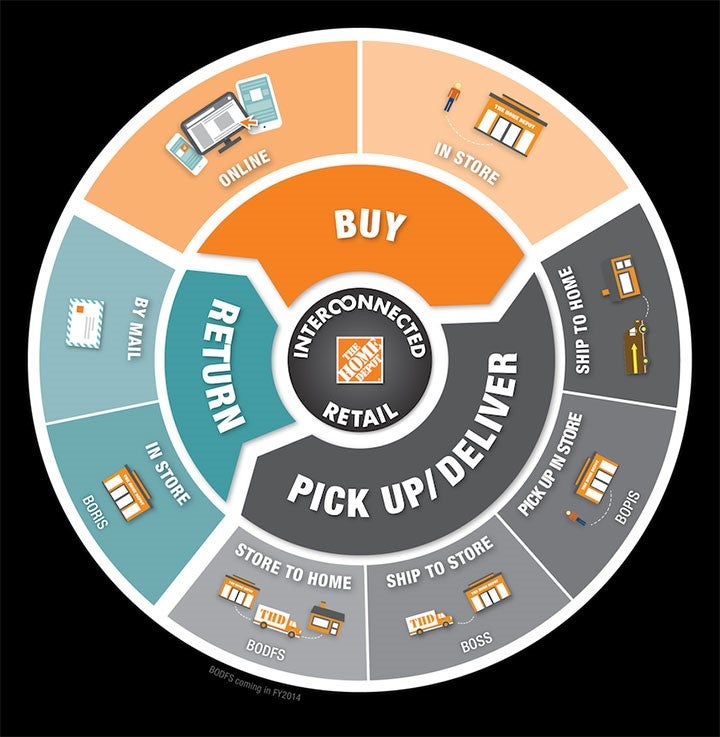 Today's marketing automation systems all have omni-channel marketing automation. Data Management Platforms like HubSpot, Marketo, Pardot, Act-on, or Silverpop unify online and offline data from any source to help you understand customer behavior at all touchpoints, automate your marketing strategy and keep track of your data across multiple channels.
3) Capture attention once you've reached your audience.
Relevance allows you to create personalized content that intensifies the power of your messaging across all channels. For example, you can send recommendations for complimentary products (a shirt to a pair of jeans).
Adding social features like sharing, ratings, reviews and comments to your website allows customers to easily interact with your brand and seamlessly share their actions and opinions with their peers.
Generating an actively engaged user community and nurturing user-generated content boosts your SEO and increases referral traffic, time spent on site, and, ultimately, lifetime customer value.
By focusing on the reason for the interaction and developing processes and systems based on the needs of your customer, you can simplify your omni-channel integration and provide great service that will differentiate your business to your customers.
Click here to see how Macy's uses the omni-channel marketing system.
Final Thoughts
Personalization comes with huge benefits for both customers and brands. This is the beginning of more targeted ad campaigns, improved customer service, more sales and higher rates of retention.
Customers are already starting to look for the royal treatment and are very diligent with their money. The better you can acknowledge your customers, show them appreciation, nurturing and letting them know that their voice is important to you, the easier it will be to stand apart from your competition.
Brands that will build omni-channel experiences for their users and optimize customer interactions across all devices will rise to the top. Adapting to change is the key factor for staying in business and this time change means creating unique customer experiences and personalized journeys throughout the entire sales funnel.
What are your thoughts on the future of real-time personalized marketing? How do you see your business embracing it? What kind of content works best for converting your audience?
We'd love to hear from you and see how you're adapting to real-time personalization to enhance your customers' experiences.
Author: Sarah Williams is an avid old blogger and entrepreneur. In her free time, she loves to observe human interactions. Sarah believes we can take a lesson from every encounter. You can check out Wingman Magazine, her self-development magazine for men.