So you think digital content marketing is an excellent way to reach your audience? Guess what? It may disappoint you.
A new study, Content Trends Report 2018 from Buzzsumo, tells us that content marketing is now 50% less effective than it was three years ago.
If you're shaking your head because you've invested a lot of time, money, and/or energy into online content marketing, this is your wake-up call!
Check out the data: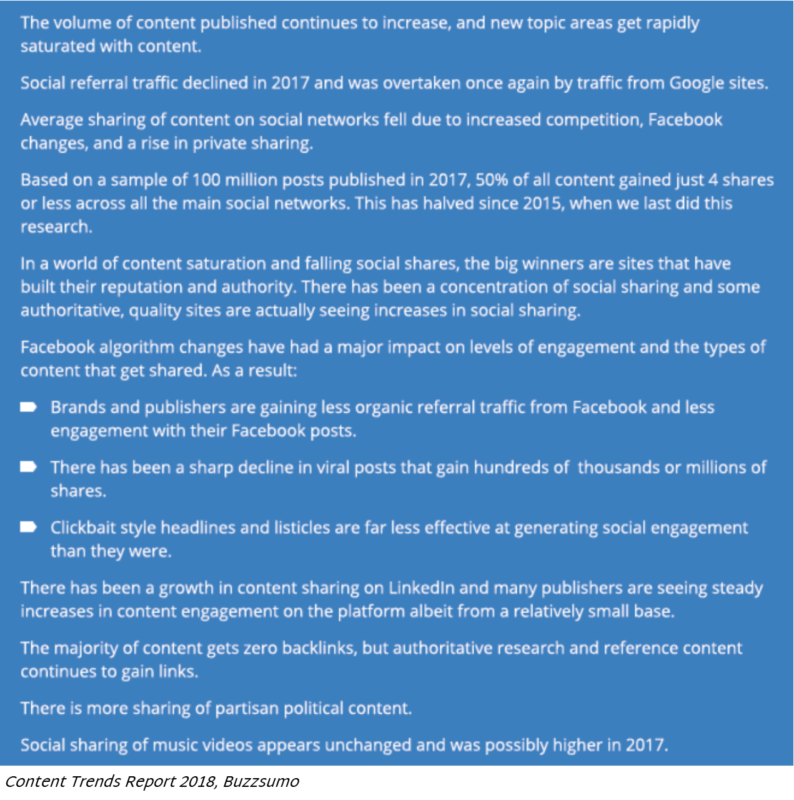 Other important results to note:
Although the number of WordPress posts published on WordPress.com over the last 10 years has grown
strongly and continues to accelerate, the growth has not been matched by growth in engagement.
As topics become popular, there is often an explosion in published content which saturates the topic area.
In 2016, Facebook was driving more referral visitors to publishers than Google sites. In 2017, Google sites are now sending twice as much traffic to publishers.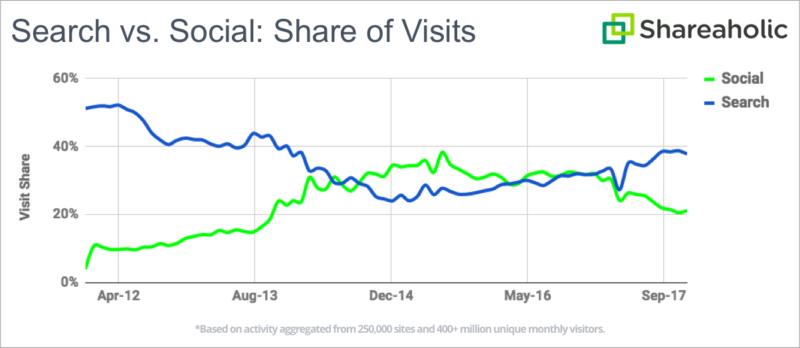 In 2017, search engines drove 34.8% of site visits compared to 25.6% from social.
The data reveals it is getting increasingly harder to gain shares and engagement. Content social sharing is down 50% since 2015. Median shares have fallen from 8 in 2015 to just 4 in 2017. To be in the top 1% of shared content in 2017, you needed 2,409 shares; to be in the top 10% you needed just 62 shares.
Why is this happening???
The study offers several reasons:
The increase in content publication means greater competition for engagement. "As a topic gains traction, publishers and marketers pile in. As a content marketer, if you enter the topic area towards the right of the chart, it is much harder to gain traction and social engagement."
Facebook changes make it harder to see and share publisher content. Its algorithm changes have reduced the organic reach and distribution of brand and publisher content on the platform.
Private sharing is growing with a rise in private messenger groups and in platforms where teams can share content and comment. Research from GetSocial suggests that private sharing in 2017 is twice as large as public sharing.
Content discovery is changing.

A relatively small minority of posts and sites consistently gain the majority of engagement.
A number of major publishers have seen a fall in total shares.
Tips for Your Content Marketing Strategy
The study offers these 10 takeaways:
Be clear on your objectives for content and social media.
Don't chase shares with viral content and headlines.
Build authority and an audience – before the trend.
Find subtopics and own them before others do.
Build your audience and work on direct distribution models. (E.g. email newsletters)
Encourage user generated content.
Don't forget promotion.
Focus on high quality content.
SEO (search engine optimization) is more important than ever.
Less is probably more.
For more details on these tips and other information, read the full report.
My Two Cents:
It's unlikely that you'll find many of these studies or company sponsors discussing alternative content channels, like print.
"In a world that's now inundated with digital content of every size shape and form — in which each and every vendor is pumping out blog posts, tweets, ebooks and webinars, and even your Aunt Kim is pivoting to video — we've reached a tipping point. Some call it 'content shock' — the idea that today's marketing is defined by the exponentially increasing amount of content intersecting with our limited human ability to consume it." (Sam Slaughter, "The Newest Frontier in Branded Content: Print," AdAge)
Last year, the Content Marketing Institute's research indicated that:
"While print is not a particularly popular way to distribute content – approximately one-third of B2B and B2C marketers use print – those who do use print consider it the most important channel after email and LinkedIn (for B2B) and Facebook (for B2C)." (For magazine examples, click here.)
My big takeaway:
If you want to stand out, use less traveled marketing communications channels.
Just make sure you match your channels to your audiences.