Make Them Want More: 7 Tips to Retain Customers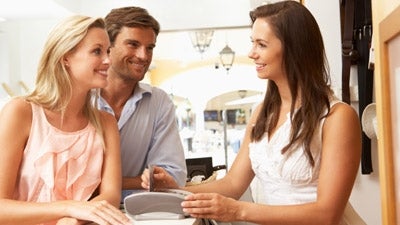 Your customers are one of the main pillars of your business structure. You won't be able to create a sustainable and profit-generating enterprise if you don't have people who will buy and patronize your merchandise. You're an entrepreneur not just because you want to earn money—you're an entrepreneur because there are people who need and want your products and services. It only makes sense that you do everything in your power to keep them satisfied so that they will remain
loyal to your brand
.
In this article, you will learn how to effectively appeal to your clients and how to keep them in your roster of patrons.
One way to befriend your customers is by introducing yourself before you ask for their names; this puts them in a comfortable position, one that says it is okay for both parties to get to know each other because it will help you serve them better. It also helps if you ask them if they're looking for something specific. Keep in mind though that if they say yes, it follows that you should make recommendations and offer relevant product information.
If you're running a store, it pays to be good at names and faces so that when they come back, you can address them properly and ask how they liked the first product they bought from you. But if your business is based online, you can always put up a comprehensive and well-written About Page as well as different ways your customers can reach you. When customers see that you're
making yourself available
to be of service to them, they are likely to respond more.
As they say, people become friends when they share a common passion. When your clients see that you are working to achieve a goal, it will be easier for them to trust you to fulfill of their needs.
It's common among many companies to
deliver quality service while upholding core values
. However, you can embark on more specific attempts in advocacy by sticking to a campaign to resonate your company's goals. You can even partner with civic groups that support different advocacies and create a special line of your products that endorse not just your business, but more importantly, a social message.
One of the greatest factors that influence customer satisfaction is the quality of your products and services. If you and your employees commit to quality and practice it all the time, the benefits that your company will reap will have long-term effects. Keep in mind that customers never forget a stellar performance. However, a disappointing experience is something that is also hard to erase from memory. So at the end of the day, it's up to you how you want your customers to remember you. If you want to be associated with
customer satisfaction and efficiency
, make quality your topmost priority.
Don't Rush the Transactions
There are times when customers prefer fast transactions (this is also one explanation why practically everything has an instant version), but bear in mind that speed isn't tantamount to optimal service. Hence, you have to be able to integrate into your system to deliver quality assistance in a period that is neither too quick nor too slow. Never end a transaction until you're sure that you've given the product or solution that your customer is looking or until you've answered all of your questions.
The growth of your business depends not only on what you're directly offering but also on the brains behind the products and services. This is why you also need to invest in yourself and your team by becoming experts in the industry you are in. You don't necessarily have to go to a formal school, but if that's the way to go, enroll yourself in classes that will benefit your company's management, business processes, and training. If you don't have the means to do the same thing for your employees, make sure that you echo them what you learned from your trainings so that they too will appreciate how valuable these lessons are.
Reward Your Loyal Customers
Everybody likes special treatment and that's not a hasty generalization. Show your loyal customers how grateful you are for their patronage by giving rewards or coming up with an exclusive membership. The rewards can come in form of freebies, rebates, and gifts. But if your business is services-based, you can offer your customers discounted deals for a limited time.
Take Advantage of Social Media
A lot of customers take it out on social media when they had a superb or upsetting experience with a store or service provider. This makes social media a double-edged sword, but if you establish an active online presence, you can extend a pleasant service to your customers.
Hook up with social media and interact with your customers there. Answer their questions, reply to their praises, and address concerns posted in your social dashboards. Participating in social media communicates your eagerness to tend to customer concerns making them feel more valued.
It takes sensible entrepreneurs to see how valuable customers are to their business's success. In the same light, they are also the ones who are willing to do everything to make sure that their clients are given a pleasant customer experience because they know that the satisfaction of their customers will impact their business positively.
Published: September 20, 2013
1886 Views