13 Content Distribution and Promotion Channels and Their Perceived Value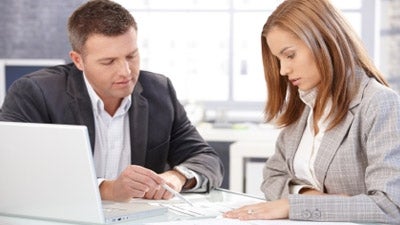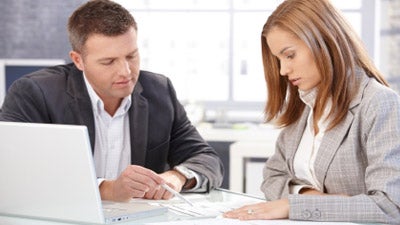 Content marketing
was all the rage last year and will continue to be for the foreseeable future. Adoption rates have skyrocketed among brands around the world.
Every minute of every day
, 100,000 tweets are shared, 571 new websites are created and over 347 blog posts get published.
What marketers are starting to figure out is that creating and publishing content alone usually isn't enough to cut through the noise. Without an existing and established audience, published content in many industries will fall on deaf ears no matter its quality or quantity. The audiences are out there, but they're reading other websites.
To give branded content the visibility it deserves and to expedite audience growth, marketers should focus much more attention on the two types of content distribution and promotion: earned and paid media. Below are 13 of the most commonly used distribution and promotion channels online and what value they potentially can bring to the table.
Earned Promotion Channels
1. News Coverage
— Getting a brand talked about in the news is one of the main tasks of the
public relations industry
. However, in this context there's a twist. It's not just about pitching the media and getting coverage for a brand; it's about getting real news coverage for a brand's content—highly valuable and tough to do.
Perceived Value Score = 19 of 24
2. Editorial Coverage — Similar to news coverage, editorial coverage is typically less objective. It's still very valuable and just as difficult to pitch.
Perceived Value Score = 18 of 24
3. Guest Posting — This type of promotion is quite common and comes in many forms. It can be as simple as reaching out to a social contact who has a simple blog and offering up an article to actively pursuing and being offered a column on a highly traveled industry site. The key here is to prudently link to appropriate landing pages.
Perceived Value Score = 17 of 24
4. Content Syndication — Many websites across a multitude of industries publish original, curated and syndicated content. Many of them have long-term, well-established audiences. Getting editors at these websites to syndicate directly from a current owned blog feed can help marketers substantially increase their content's reach without having to write original content all the time.
Perceived Value Score = 17 of 24
5. Influencer Outreach
— Some
influential folks
can do as little as tweet a comment with a link in it and drive thousands of clickthroughs because they have an established audience. Knowing who these people are in an industry is just the first step. Establishing real relationships that lead to content sharing, citations and reciprocation is the goal.
Perceived Value Score = 13 of 24
6. Content Curation — In this context, curation doesn't refer to organizing and republishing other people's content, but rather ensuring a brand's content is organized and republished by another website. This is different from straight syndication because curation tends to be one and done. An ecosystem of community-driven content curation sites, such as inbound.org and sharebloc.com, are beginning to crop up.
Perceived Value Score = 12 of 24
7. Comment Citation — This has long been synonymous with blog and forum commenting spam and was an early SEO link-building tactic. Today, this is a dangerous SEO tactic. However, people do leave legitimate citations in online comments, and they can influence people to click. Some agencies and applications still provide this as a service, and there's no shortage of buyers. For this reason, it's on the list.
Perceived Value Score = 4 of 24
I = Influence, V = Visibility, Ct = Click-through Rate, Si = Search Influence, Sh = Shareability, C = Control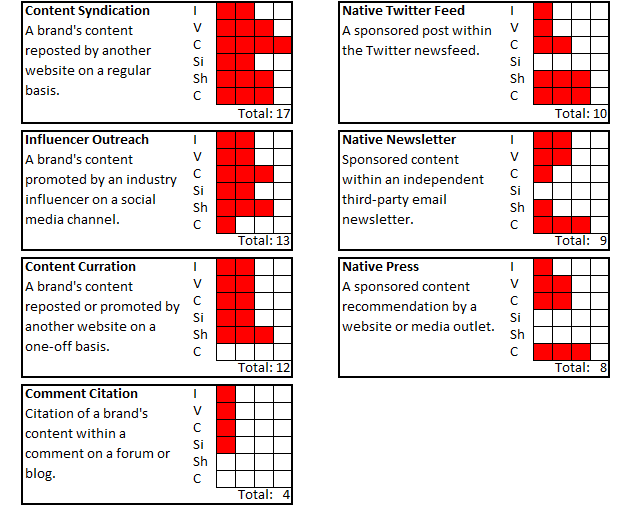 8. Advertorial
— This type of content promotion is being
hotly debated
by publishers, brands and government officials. So far the jury is still out, and
publishers like Forbes
are moving full steam ahead. In the meantime, brands now have access to very large and hungry audiences.
Perceived Value Score = 14 of 24
. . . the less an advertisement looks like an advertisement and the more it looks like an editorial, the more readers stop, look and read.
—David Oglivy, the "father of advertising."
Perceived Value Score = 13 of 24
10. Native LinkedIn Feed
— Last year, LinkedIn figured out the same thing Facebook did and launched its version: sponsored updates. For the first time, it was able to address the
pervasive banner blindness
of its users.
Perceived Value Score = 13 of 24
11. Native Twitter Feed — While this channel is called native, it doesn't look or act like the other social channels mentioned above. Twitter is a fast and furious channel that makes it challenging to stand out in the crowd. Twitter clearly marks paid content as such. Ultimately, marketers need to test this channel to find out if it's right for them.
Perceived Value Score = 10 of 24
12. Native Newsletter — Many media and list companies out there own massive engaged email lists and regularly send newsletters to their subscribers. Some of them allow other brands to present their content in a native way—for a price.
Perceived Value Score = 9 of 24
13. Native Press — Most people refer to this channel as strictly native advertising. Many companies are starting to sprout up around this space. While not as valuable as advertorials, this form of promotion can get branded content recommendations in front of millions of eyeballs in a short amount of time.
Perceived Value Score = 8 of 24
There are major differences in the value earned and paid media channels provide. Paid channels give marketers maximum control over their campaigns but contain no direct search engine influence. Earned media, on the other hand, offers the least amount of control but the greatest amount of influence and shareability. Earned media tends to have greater clickthrough rates, too, because consumers trust most paid media channels the least.
For most marketers and PR pros, a good mix of the above is probably the best recipe for content distribution and promotion success.
Published: January 14, 2014
2160 Views