As the owner or marketing director of a startup, you have to sift through countless marketing opportunities and determine which are the most effective for your business. Trade shows often seem out of place on a marketing to-do list, which is mostly focused on social media campaigns, email blasts and other digital efforts. But, these face-to-face marketing events are still essential, especially for start-ups. Here is a look at why:
Trade shows spark relationships and initiate rapport
Most potential clients are ad weary. They don't want to be on the other side of a direct mail campaign, and they don't want to field marketing phone calls. However, all of that changes when they walk through the door of a trade show.
Prospective clients and customers come to these events with an open mind. They are in shopping or research mode and ready to listen to your pitch. A captivated audience can be rarity, and it is not an opportunity you want to pass up. You want to be there, presenting yourself and your brand in the best light possible.
Trade shows build your brand
Brand building is critical for a startup, and a trade show is the perfect place to showcase your brand and cement it in the minds of your clients and competitors. Making a great impression at a trade show involves a number of elements. You need your A-team of sales reps, you need samples or demos of your product, and you also need a spectacular looking display.
A professionally designed booth introduces your brand to the world and shows your brand is formidable. When you invest in a booth from a respected booth design company, you get a customized display that reflects your brand image and impresses clients and competitors. Most importantly, it entices people to leave the show floor and enter your booth.
If people can see your booth across the floor, they are more likely to walk through the venue to find you. Similarly, if your well designed booth turns their head as they walk past, they are also more likely to stop and inquire about your new company. It doesn't matter whether you are a single guy working on a laptop in your basement or someone who has a huge enterprise with dozens of employees—with the right booth, you present yourself to the world exactly as you want to be seen. Whether you want to create an image of luxury, high-tech possibilities, sophistication, simplicity or any other emotion, you can craft a booth that does just that.
Trade shows create networking opportunities
Meeting and greeting prospective clients while building your brand are not the only benefits of trade shows. You also get the chance to network with other business owners. Trade shows are a great place to connect with business allies and to see what the competition is doing.
Ideally, at a trade show, you should be sharing info and ideas with businesses who offer analogous products and services to yours. For example, if you have just launched a travel app, you may want to network with hotels, resorts and travel companies.
In addition, you can leverage the event as a fact-finding mission. When you visit competitor booths, you can analyze their sales strategies and marketing tactics to see what works, and then, you can pick and choose the techniques you want to embrace.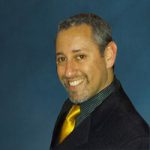 Author: Carlos A. Espitia is a marketing & business consultant with Infinity Exhibits and the self-proclaimed "Chief Human" at CAE Marketing & Consulting. He is a 15-year marketing expert, high-performance driving instructor, founder of Omega Delta Sigma, former U.S. Marine, and University of Florida alumni.