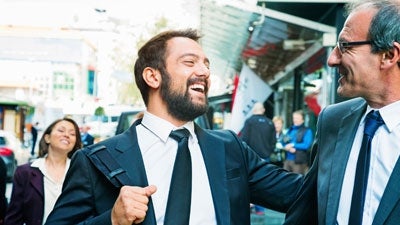 I've been studying David Neagle's amazing book,
The Millions Within
and I think this passage from near the end of the book is one of the most terrific I've ever read:
"Thrivers know that love, security, and self-esteem are available to them on the inside so they don't have to go out and get them. Instead, they go out and give them.
"It's always a pleasure to be around these people because they give their best to everyone in service each day. They give love. They gladly offer recognition to others. They're able to freely express themselves. They know what they want and where they're going. They are filled with purpose that springs forth from the true desire in their heart.
"When you are a thriver, you see the opportunities that the Universe sends you as opportunities to give, not to get. Yet as the saying goes, 'you reap what you sow.' You give to your world and are repaid by the Universe."
Isn't that so true? Whether they are business leaders, top-producing salespeople, or your child's school teacher; whether it's the firefighter, law enforcement officer, the athletic coach, the athlete himself or herself, or the person who always has a listening ear, they are thrivers.
They give of themselves—not because they need the acknowledgement of their worth from others. They already have that within themselves. They do it because it's congruent with their values, they operate out of an abundance mindset, and it simply brings them joy and happiness.
They are always grateful for all of their many blessings, aren't they? And, we are always grateful to them!
Who are the Thrivers in your life?
This article was originally published by Bob Burg
Published: February 26, 2015
1906 Views