5 Ways to Make Your Negotiations Less Painful and More Successful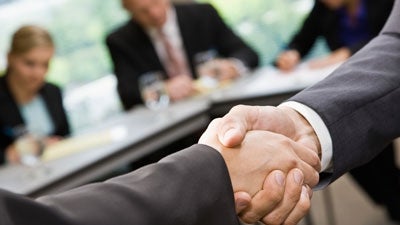 Negotiations can be extremely painful for the inexperienced. Feelings of anxiety, nervousness, and concern usually lead to bad deals. Believe it or not, there are smart techniques you can use to make negotiations less nerve-wracking. First of all, you should never walk into a meeting unprepared. Do your homework, control your body language, and listen. Here are some smart tips to help you succeed in negotiations.
Always walk into a negotiation with a clear goal in mind. What do you want? Without an understandable bottom line there's no way you can win. Opponents will start asking you a bunch of intimidating questions, and they can end up winning if you don't pay enough attention. If you can't speak your mind or you can't state your objective clearly, you will eventually lose.
Specialists advise negotiators to rank their goals in order of importance. Thus, it will be easier to simplify and prioritize objectives before entering the negotiation. It's equally important for business people to know exactly what they can afford to lose and how much they can compromise to finally reach an agreement.
Negotiations can be intimidating, especially for those who lack experience. The easiest way to succeed is to be prepared for anything. Prior to starting the negotiation process, do your research and find out as much as possible about the people with whom you're bargaining. Dig deep into their background to uncover their weaknesses. Solid facts and actual information such as past deals and former customers will help you turn the negotiation to your advantage.
Get to know the people at the negotiation table because sometimes the smallest details will be enough to help you win. Build a relationship, cooperate with them, compromise and find a way to reach an agreement that can benefit everyone.
Money, in its physical form, can neither uphold nor enhance life. We cannot consume checks, cash, money orders, or credit cards in their raw form. We need money to give in exchange for goods. Before entering a negotiation, stop for a second and assess the true value of money. Why do you need it? Is it to help you company's productivity line or is it for your own personal pleasure?
The easiest way of winning negotiations is to ignore the money aspect. Adhere to your goals, bargain for things that can help your company thrive, and let opponents have the money. As long as you can bargain for something your business needs and must have, money doesn't seem that important anymore.
Treat Opponents Like Human Beings
We hate negotiations because they're impersonal, cold, and scheming. Aggressive business people are accustomed to using unethical techniques just to get what they want, and they're not afraid or ashamed to deceit their counterparts. Is it really necessary to make negotiations so painful? No, it's not; as a matter of fact, you have a lot more to win if you treat your opponents like human beings. A win-win solution is sometimes a lot better than winning a bigger share of the pie. Mutual agreements build connections, and they leave room for future collaborations.
Maintain a Professional Attitude
Every negotiation is different. Sometimes you deal with people that you like, sometimes you're forced to accept egotistical, overly confident attitudes from opponents. Keep your cool and try not to lose your temper. Keeping a professional attitude during a negotiation is paramount. If you're feeling uncomfortable or there's no way of reaching an agreement, ask for a recess. There's nothing wrong with saying "no," especially if there's a final deal on the table that doesn't bring you any benefits.
Is there any way we can make negotiations less painful and more successful? Yes, there is. The only way to get rid of your anxiety is to do your homework and treat every deal with poise and respect. Don't let opponents use intimidating techniques to convince you to accept their offer, and always ask for proof each time they make an allegation. Have the courage to make a counteroffer, and if there's literally no way of reaching an agreement, walk away and say "no." Do it respectfully as you never know when you will cross paths again.
Author: Steve Brown regularly writes for many business sites such as TheGappartnership.com, which provides online interactive tool for planning your negotiations and strategies.
Published: December 16, 2014