It seems like millennials have become the mysterious group of individuals that other generations can't seem to figure out. With their horn-rimmed glasses, need to bring back record players and a love for all things '90s, a time when most were still wearing diapers (and no we aren't talking Zubaz), a majority of big brands claim getting millennial attention is the ultimate goal yet ultimate challenge.
While this perplexing generation sits as the potential ticket to massive success for brands, millennials also don the double-edged sword as the pivotal key to big brand demise. Headlines choose to describe the generation's behaviors with destructive words such as "killing" and "endangering."
Are millennials really a disastrous tornado, destroying every market and consumer good in its path, or is this really just a wakeup call for brands that it's time for an inevitable evolution? Perhaps big brands should just meet the millennials in the middle?
Trendsetting Evolution
Trends and consumer buying habits have always changed over time. Hey, don't act like you forgot women wore organ-damaging corsets because it was "trendy." The point is, we can't blame an entire generation for the decline of an industry. The industry needs to adapt to the times.
Let's take the fast casual chain dining experience, a number one culprit of calling out millennials, pointing to a taste change as the cause of their demise.
Casual dining chains grew in popularity due to the ease and accessibility of grabbing either a reasonably-priced steak with the family or a couple beers and half-off apps with the neighborhood gang. The consistency and variety of standard American fare pleased for some time. And as the kids who were dragged along to casual dining chains with their parents grew up, trends and tastes changed.
Trends like healthier options and speed of service are cited as large components as to why casual dining chains do not bode well with millennials. However, there's one underlying component that is the key: experience.
John Antioco, former CEO of TGI Fridays, recently told Business Insider that alternatives in the marketplace are creating more buzz and excitement than casual dining chains can offer.
Purchases Are Saved For Experiences
The big piece of the puzzle isn't a generational gap, it's compromise. Millennials want to feel like their purchases mean something and create a worthwhile experience. Experience is what causes buzz and excitement, which with new technology easily becomes a game of telephone amongst millennials. When every chain offers the same routine food, drinks and service the experience isn't worth of the cost. Same old same old doesn't look great on an Instagram story.
So what can casual dining chains do to light the spark and gain the millennial attention all over again? Provide an experience.
Is it really Sweetgreen's healthier locally-sourced option that makes it more attractive to millennials than Noodles & Company? Or is it because that Sweetgreen looks like an enviable experience that perfectly matches the millennial Instagram aesthetic? We think it's the latter.
Even in other industries, reports have claimed that millennials are more likely to spend more for an experience than a consumer good.
We don't want the fast casual dining chains to fret. We want to be part of the compromise to end the battle against millennials. UPshow incorporates the one thing that has stood the test of time in a multitude of industries- TV screens- and combines new age social media marketing tactics to provide millennials a truly unique experience whether they are at a Buffalo Wild Wings or Fox and Hound.
UPshow allows millennials to interact with the TV screens in the venue to have a new experience every visit. How's that for a compromise, fast casual?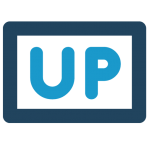 Author: Mandy Durose writes for UPshow, a TV-powered Social Marketing Platform that boosts customer traffic and revenue. UPshow's "jumbotron effect" gives a venue's customers their 15 seconds of fame, while providing the business with a dynamic social media CRM to re-market to customers. Visit www.upshow.tv to learn more. Follow UPshow on Twitter, Instagram, and LinkedIn.