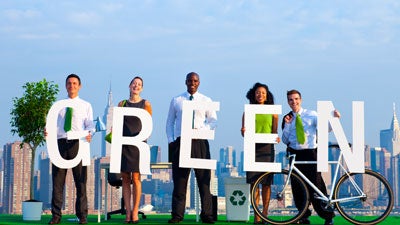 Experts estimate that almost three-fourths of American waste is recyclable, but only one-fourth is recycled. However, more and more consumers are concerned about corporate responsibility. A company's reputation and PR health can be damaged overnight through social media and news agencies. The key is to be proactive and establish environmentally friendly policies and practices now. Below are five easy ways that your business can become more environmentally friendly.
1. Reduce, Reuse, Recycle
Many companies forget that the first step in being environmentally friendly is through reducing, reusing, and recycling. Consider training the purchasing officer on how to buy green products and services. Also consider creating a companywide recycling program. Encourage employees to reduce consumption and recycle everything possible. Keep in mind that some recycling facilities accept commercial recyclable waste for free. Learn more at the EPA's website here:
http://www2.epa.gov/recycle
.
2. Create an Environmental Committee
Consider creating an Environmental Committee composed of both hourly employees and management. An employee driven committee will be more successful than a management mandated policy. That is, employees are more likely to be motivated by and respond to fellow employees when it comes to environmental issues. This will also increase the Environmental Committee member's knowledge and awareness of environmental issues.
3. Encourage Management Education
More companies are offering education reimbursement as an attractive benefit. Consider encouraging management to pursue further education related to the environment. For example, an Environmental Management Bachelor's Degree would be an excellent choice for a young HR professional.
For large companies that want to protect the environment, improve their efficiency and increase their corporate responsibility, consider obtaining ISO 14000 EMS (Environmental Management System) certification. The certification process is lengthy and expensive, but it demonstrates the ultimate commitment to the environment and the community. ISO standards have been proven to increase legal compliance and business value.
For smaller companies that do not have the human and financial resources for an official ISO certification, consider bringing in a consultant to improve efficiency. Many different local and state departments related to the environment will often provide free consultations. In addition to this, a professional expert can also be brought in to review the company facilities, work practices and even internal policies.
Recycling, creating an environmental committee, encouraging management education, ISO certification and external consultation are all excellent ways to become more environmentally friendly. The Small Business Association (SBA) also offers green business practices here:
https://www.sba.gov/content/green-business-practices
.
Author: Rachelle Wilber is a freelance writer living in the San Diego, California area. She graduated from San Diego State University with her Bachelor's Degree in Journalism and Media Studies. She tries to find an interest in all topics and themes, which prompts her writing. She recommends the University of Florida's Environmental Management Bachelor's program to learn more about environmental friendly business practices. Follow her on twitter: @RachelleWilber