With prices rising all the time and pressure to respect the planet, you might look for ways to sustainability grow while cutting costs of business. Being green or eco-friendly doesn't need to cost the earth. You can actually save a lot of money if you implement specific policies.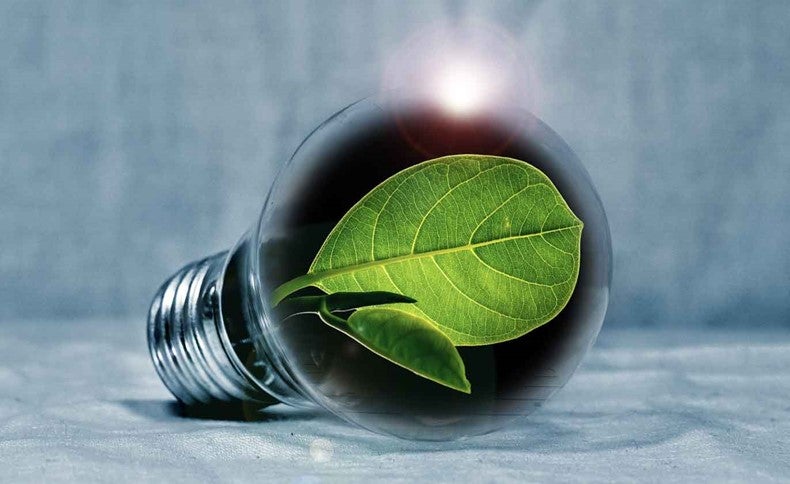 Green energy lightbulb leaf – Image Courtesy of Pixabay
Manage Fuel Consumption of Company Cars
The cost of fuel is becoming almost unaffordable for some businesses. Sure, switching to electric vehicles is one idea. But you still have to pay a lot of money to replace your company cars and charge them. Which, of course, isn't free. So, for now, watching your fuel economy is the better idea. Fleet cards are a popular method of doing this. One of the best features in a small business fuel card is that you can preload a card with money, which you can only use for filling up at designated stations. So you only spend exactly what is needed for your vehicles.
Implement Power-Cutting Policies
In almost every company, employees are the most considerable expense. So you do not want them to waste energy, adding to your costs. Currently, electricity prices are out of control, so you are likely to make the hard decision to pass along more fees to your customers. However, employee education and company policies can help you reduce energy use. For example, you can make it an office policy to turn off computers and devices when they aren't in use. It's better than leaving them on standby, which can use almost as much energy as when switched on.
Sustainably Grow While Cutting Costs with a New Supplier
By switching to an energy supplier that uses renewable energy, you can enhance your company's sustainability and eco-friendliness approach. Examples of renewable energy sources include wind turbines, solar panels, geothermal heating, hydroelectric dams, and reusable biofuel. McDonald's is an example since they use oil from cooking in their company vehicles. Also, you can dramatically reduce the cost of energy. For example, 62% of the available renewable energy sources are cheaper than almost all fossil fuels in use by most companies.
Source Natural Gas for Heating
Your business needs to heat its office for most of the year if it operates in a changing climate with seasonal weather. The state of Washington, for example, experiences extreme weather throughout the year. Cold days are common even during the summer months. Therefore, you need climate control in the office. Most offices in the USA use electricity for heating. But you can save with a natural gas system. Setting this up is an initial expense and takes a professional. But it will cost considerably less in the long-term and will lower your carbon footprint.
Consider Who You Do Business With
Speaking of your carbon footprint, you can save money over time by actively trying to reduce it. You can then offer your customers better deals by lowering your operating costs. Similarly, other companies can do so as well. With a sustainable mindset, suppliers don't have to pass on the cost to the customer. Therefore, a sustainable business operates at a much lower price than others. Therefore, partnering with similar companies offers you a practical advantage since they can also offer you similar services at reduced costs. So everyone benefits from a green system.
Be More Efficient with Energy at the Office
You can reduce your office's utility costs by improving its efficiency. This is more involved than simply reducing energy use and requires actively changing how you use energy. Instead, you need to use utilities only when you need them and insufficient amounts. Here are some tips:
Replace outdated equipment that consumes a lot of electricity.
Make every effort to install energy-efficient LED lighting.
Invest in new appliances to replace older ones that are inefficient.
In seldom-used rooms and bathrooms, install motion sensors for the lighting.
Reduce water consumption in the toilets by installing low-flow plumbing.
Avoid printing and using paper when communicating, and consider email and apps.
Reduce the power consumption of PCs by replacing them with mobile devices.
All of the steps needed for energy efficiency are very simple to implement. The biggest culprits in most cases are your office equipment and appliances. Many of the newer models are more energy-efficient than older ones. So check what needs to go and get rid of power suckers.
Sustainably Grow While Cutting Costs with Remote Work
To cut costs of office operation, it is necessary to have fewer employees. The COVID-19 pandemic has taught us that we can manage a business with a minimal number of employees at the office using apps. We can also communicate and interact without being physically present. Offering remote work to your employees can save you money on utility costs. You'll save water, electricity, and heating and cooling costs when your employees aren't at work. So, you could reduce your costs by allocating a smaller work area to employees in attendance.
Reward the Use of Reusables
Single-use plastics are damaging the environment. Wasted plastic items like food containers, fishing wires, and can rings harm countless animals, fish, and birds. Using reusable items can help reduce plastics in the environment. Plus, you and your employees will save money. For example, most Americans spend unnecessarily on branded water, which can cost thousands of times more than tap water. This is ludicrous since, in most cases, branded water like Coca-Cola's Dasani is re-filtered tap water for sale to a largely unaware public customer base.
Consider Recycled Water Usage
Greywater is an amazing concept that will potentially save you lots of money and significantly reduce your impact on the environment. Greywater is the water used for basins and showers that contains minimal biological material, so it's safe to reuse. This system does not reuse toilet water. Instead, cleaning and filtering systems are used to purify non-contaminated water. Once filtered, it is pumped back into the water system. The initial installation fee will be more than offset by its savings in the long run. For instance, you can save up to 40% on your water bills.
Ditch the Expensive HVAC System
Hotter climates require cool air to keep employees cool, and you have a responsibility for their welfare. The problem is that HVAC systems are pretty expensive to operate and are unreliable. AC systems also lose efficiency over time. Using ceiling fans, however, will save you considerably. In addition, where air conditioning systems use a lot of energy, a ceiling fan uses relatively little, even on the highest settings. So, even with an entire office of ceiling or floor fans, you will use far less energy than a polluting, unreliable, and germ-spreading air conditioner.
Rearrange the Office for Better Airflow
The layout of your office can use more or less energy. For example, bulky desks or filing cabinets can block the heat of radiators, therefore costing more to heat a room when it's cold. Additionally, leaving doors open causes a draft, which is a common cause of heating inefficiency. These factors all lead to increased gas and electricity consumption, costing more and wasting energy. You can ensure that nothing blocks your heating system and maintain a door policy that prevents heat from escaping. Of course, you can do the opposite in Summer.
Summary
Fuel is a significant expense, but you can manage consumption with fleet cards. Yet one of the best ways to cut down energy usage is to make specific policies at the office, such as turning off devices. Yet you can also install efficient systems for lighting, plumbing, and water reuse.