If you are an e-commerce entrepreneur, you already know (or are experiencing) how difficult it is to get the eyeballs of customers. In a veritable ocean of e-commerce sites in the digital sphere, which are in excess of 24 million, you know what you are competing against. To introduce yourself to the masses, you have to spend a mini fortune on marketing and advertising.
One way to effectively increase attention to your online store and eventually sales, you can use price comparison sites. These sites, also known as price engines or shopping comparison sites collect data from various online retailers and organize it on a single page to offer a comprehensive comparison for a particular product to the shopper.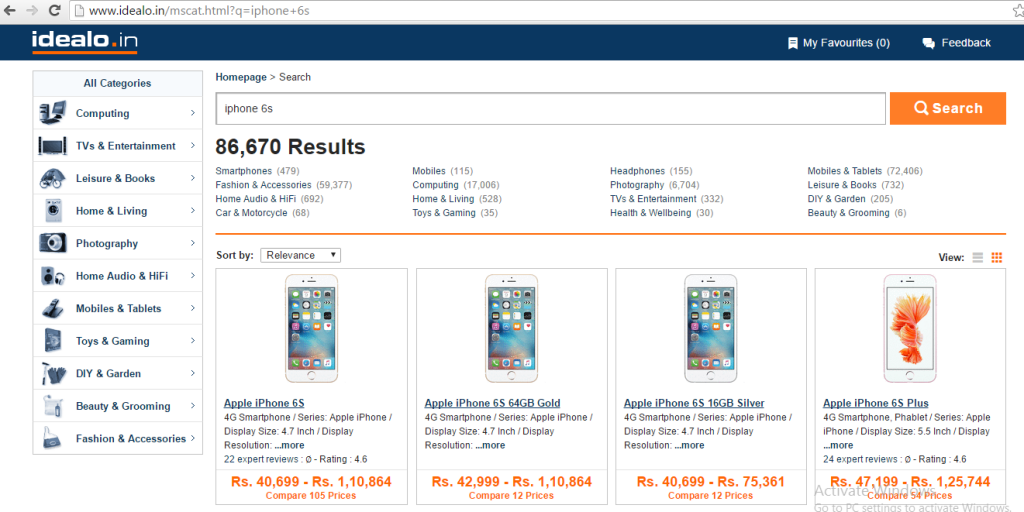 These sites refer buyers to retailers and in turn get paid for it. There are essentially two models by which the price engines make money. In a pure CPC model, the price comparison site earns a few cents for every click the user makes on the retailer's product. Sites like Google Shopping, Smarter.com and Become.com use this model. In a pure CPA model, the price comparison site gets money only when a shopper actually buys the product from the retailer.
Why should you be on a price comparison site?
A visitor on a price comparison site is a qualified lead and is there actively looking for a product with the intent to buy. This means that visitors looking at your product listing on a price engine are more likely to buy it if they like the deal you are offering. Secondly, these sites have done their SEO right and mostly feature very high on Google rankings. By being on these sites, you are benefiting from their high ranking and visibility. Many of these sites have a loyal following and just being on them exposes you to a large audience which you could have found difficult to tap. Idealo, for example, has an Android smartwatch compatible app that lets users compare prices on the go.
Selecting the right price comparison sites
There are literally hundreds of price comparison sites out there. This does not mean that you need to be on all of them. You need to understand that all price comparison sites are not the same and most might not work for your products. A bit of research will tell you which ones are the best suited for the products you offer.
There is really no magic formula. You have to test to find which sites work best for you. Once you have narrowed down to a few sites, you can focus your marketing budgets on them to get the best value.
Also it is best to decide on which products you wish to display on these sites. You can, of course, choose to display your entire catalogue on it or only a few of the hot selling items. You can also choose to target specific periods (for example if you are a clothes retailer, you can target festivals and display your new festival collection).
Best practices while using price comparison services
Now that you've chosen the sites that work for your products best, here are some best practices to follow while using their services.
Avoid the lowest price – If you thought that visitors generally click and buy from the site that offers the lowest price, you couldn't be more wrong. You need to offer the entire package—the best price, awesome and comprehensive product description, great user experience on your site and great customer service. You need to think from the customer's perspective while writing the product description. The customer is more concerned about how the product is going to make his life easy. So focus on this aspect rather than only harping about the features of your product.
Start slow and keep your expectations low – Get on a couple of sites first. Analyze their performance. Set a budget for each site and try not to go beyond it. Don't expect fantastic results in the beginning. Set realistic goals and have a system in place to analyze cost of getting new sales from these sites.
Never list sold-out items – Obvious as it may sound, this is one of the more common mistakes that e-tailers make on price comparison sites. The shopping cart that you use most likely generates a product feed automatically. Many times, it might generate a feed for a product that is either sold out or has only a couple of pieces left. You need to check your products regularly to see that you are not displaying sold out products. What is the point in getting a highly qualified lead to the product page only to tell him that the product is unavailable?

Tag all your links – It is important to know where your clicks are coming from. Google Analytics usually does that for you by giving you the referral source. But some price comparison sites may list your products on many different sites (partner sites) and you wouldn't know where the customers are coming from. To know your exact source, it is better to tag all your links. You can use the Google URL Builder to tag your links.Another advantage of tagging your links is to cross-check the click reports that the price comparison service sends you. If the clicks mentioned in the report don't match with the analytics report, it means that the service is charging you for fraudulent clicks.
Keep monitoring your ROI – This is absolutely essential to help you understand how your products are doing on price comparison sites. You'll find that some sites are giving you great sales and conversions while others aren't. Some products are performing well on one site, while others aren't. These and many other insights could be gained from calculating ROI, which should be done at least once every month. Non-performing products can be removed and the ones that are doing well can be exposed more to get traffic and more customers.
Takeaway
Shopping comparison sites are a great way to increase conversions and entrepreneurs who are just getting their feet wet in the big, murky world of e-commerce should definitely give them a try. By distinguishing your offerings from your competitors' you can stand out from the crowd and get a loyal fan following behind your brand.
Author: Kunjal Panchal is a Digital Marketer at E2M, the fastest growing digital marketing agency in India. She is a social media geek, a complete foodie and enjoys trying varied cuisines. A perfect day for her consists of reading her favorite author with a hot cuppa coffee. Find her on Twitter @KunjalPanchal.