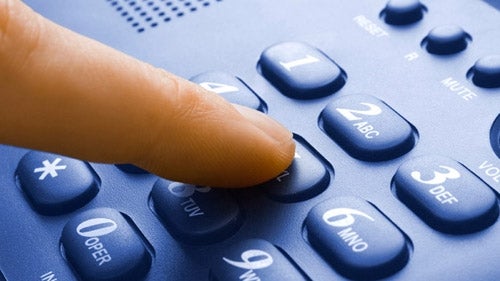 Without the ability to communicate effectively with customers, employees, suppliers, partners, and investors, businesses can't operate. This is especially true for small businesses and entrepreneurs. Although technology is changing rapidly, the telephone is still the most important device today for doing business. As a small business person, how do you determine what business phone system you need? How do you ensure that you are not spending more money than necessary or getting less functionality than is required to keep you competitive and profitable? There are some simple steps that you can take that will help you make informed and effective decisions.
Identify Your Needs Let's start with how you intend to use the phone system:
How many people will you have in your office environment? One? Five? Ten? That makes a difference as to the type of system that you'll need. Some phone systems are designed for larger organizations and may be overkill for an entrepreneurial start-up.
Will everyone be in the same location, or will there be people working from home, other offices, or traveling that need to receive or place calls through the system? Physical phone systems can communicate with one another and have the appearance of one system, but this "networking" must be carefully designed and can have significant costs associated with it.
How heavy is your phone usage? Will it be mostly incoming calls responding to advertisements or other marketing efforts? Will it be largely outgoing telemarketing calls? How many simultaneous calls are you expecting at its maximum? This will directly impact the number of lines you need.
Will your communications be primarily local, domestic, or international? There may be significant savings by knowing what you need and finding the best value for the quality that you desire.
Do you or someone that works for you have the ability to manage a phone system located in your office? Would you rather focus on your core businesses rather than investing time in managing a phone system? This is a hidden cost that many small businesses don't recognize when planning a new phone system.
There are many other questions that you'll need to consider as you acquire a phone system, but answering these will give you a good start. Once you've identified your needs, you're ready to consider potential solutions.
On-Site or In the Cloud
For today's small business, there are two alternatives for a business phone system:
A traditional premises-based phone system that is located in your office, or
A "hosted" system that is located "in the cloud."
For the first choice, there are a variety of equipment providers that would be delighted to sell you a system. In most cases, you'll need the core system (also called a PBX, Private Branch Exchange) and physical telephones. Some of these new systems are capable of using the Internet for external telephone numbers as well as incoming and outgoing calls. The technical term for this is SIP (Session Initiation Protocol) Trunking, but don't let the name throw you. It's a great way to reduce costs as compared to buying telephone lines from your local telephone company.
There are a few disadvantages associated with purchasing a telephone system for a small business:
First, there is an up-front capital cost for the system and phones.
Second, someone will need to be able to manage the system for adds, moves, and changes. It's also important to have someone monitoring and auditing your bills from the phone company. Many businesses simply accept phone bills without really understanding or scrutinizing them. For a small business trying to squeeze out as much profit as possible, this isn't acceptable.
Third, there is the issue of obsolescence. Technology is always evolving, and it's important for your systems to stay current with your needs.
Finally, there is often a hidden cost to purchasing a phone system. Most equipment providers require customers to subscribe to an annual maintenance fee, normally equal to 10 to 20 percent of the purchase price. Say, for example, you purchase a business phone system for $10,000. Each year, you'll need to pay $1,000 to $2,000 for the maintenance agreement. Don't even think about not paying for maintenance!
As with most systems today, these phone systems will likely be connected to the Internet in some way and you want all patches to be available to you for the life of the system to protect you from attackers. It's important to consider all these factors as you make your acquisition decisions.
Another alternative is to acquire service from a "hosted PBX" provider, where all of the core systems are located elsewhere and the only hardware at your location is the phones! Rather than purchasing a system that would need to be expanded as you grow, a cloud-based phone system can deliver exactly what you need, whenever you need it. There's no need to contract with the phone company. Telephone lines, local calling, long distance calling, and international calling are all included for a monthly fee with no capital expenditures. You don't need a telephone person on staff, and there are no surprise annual maintenance fees. These cloud-based phone systems use your Internet connectivity but can be configured with call-forward and queuing features so that no calls are ever lost, even when the Internet connection goes down.
It's Your Business
Finding a phone system that meets the immediate needs of your business, is cost effective, and delivers reliable quality of service is an absolute requirement. On the other hand, if your business is accounting, real estate, investment management, or any one of hundreds of other ventures, you really don't want to be in the telephone business. You want something that works so that you can focus on getting one more customer rather considering a PRI (Primary Rate Interface) and how much you're paying for it. For today's small business, a hosted PBX or Virtual Office service offers the best of all worlds. There's no capital outlay, no long term agreement, no annual maintenance fees, and almost no need for a telephone manager. Virtual Office services grow as your needs grow, and there is no need to buy extra capacity in case of expansion. Hosted PBX phone systems are virtual! Your employees can be anywhere and still be part of a centralized phone system. Not all Hosted PBX service providers are the same. In a future discussion we will cover how to select the best Virtual Office service provider for you.
Published: December 18, 2012
4365 Views