The idea that Macs are safer and less prone to viruses than Windows PCs has been around for as long as the internet itself. But just how much truth is there in this, particularly as it affects your small business?
Consider this somewhat ominous quote from Dennis Hughes of the FBI:
"The only secure computer is one that's unplugged, locked in a safe and buried 20 feet under the ground in a secret location… and I'm not even too sure about that one."
The point he was driving at was that all computers, no matter what underlying software or operating system they are using, are inherently susceptible to attack. One of the reasons for this is that all complex software, no matter how well written, will have weaknesses and vulnerabilities that the creators never intended for. Most often these flaws are expressed (or "vectored" to use the industry terminology) via email or web pages.
There are many myths about Apple products (see below); that they are easier to use, great for graphic designers, bad for gamers and that they cost a lot, but many of these myths have been dispelled.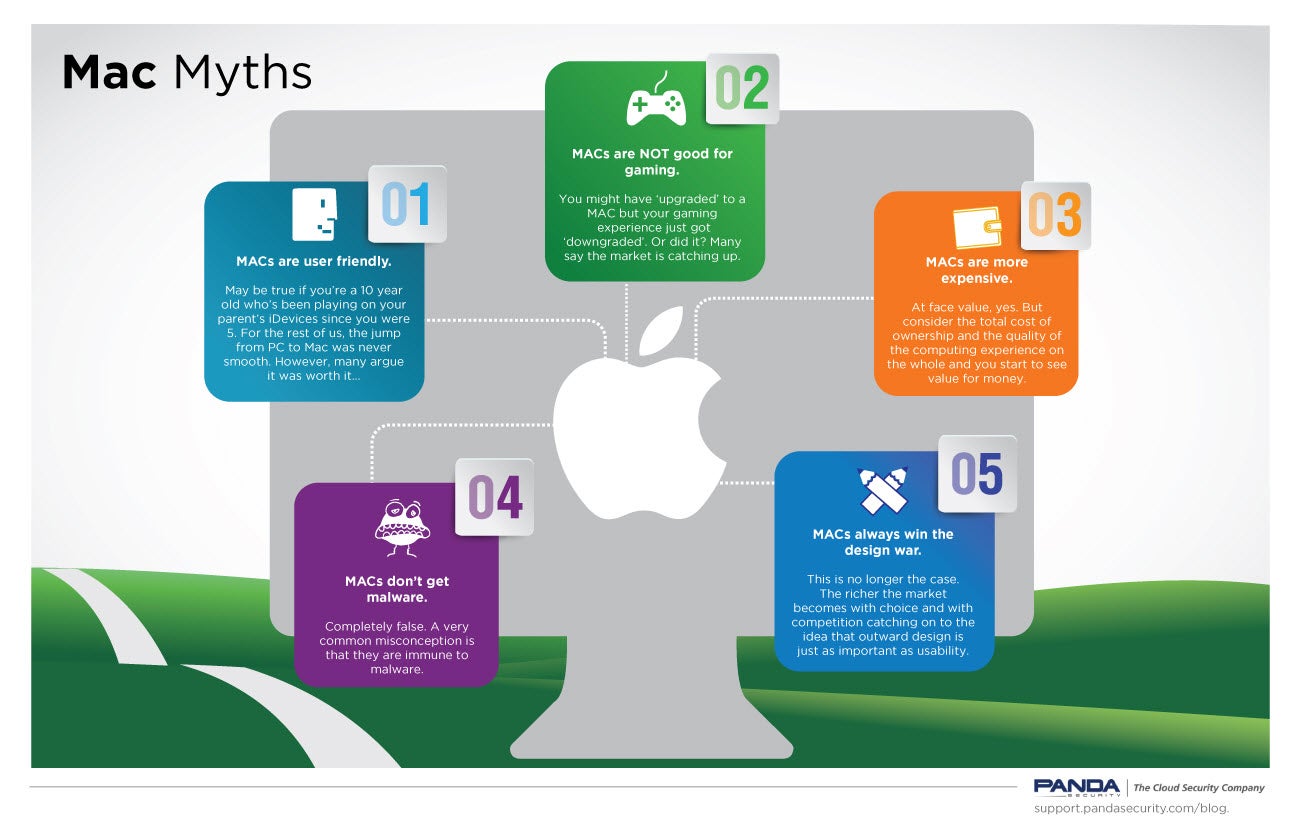 Infographic Source: Panda Security
Often at the top of the list of myths is the topic of malware.
Despite Macs enjoying their reputation of being largely unaffected by the vast majority of viruses and malware doing the rounds, there is no shortage of viruses that have targeted Macs.
In 2012 a "botnet" of over half a million Macs was discovered by German firm Dr Web. Was this outbreak a one off? Maybe so but, one thing is for sure, the once "malware free" Mac platform is now anything but.
2012 also saw a 30% increase in the number of Apple Mac malware signatures from some of the leading antivirus vendors. Add to this that an estimated 3% of all Macs now carry malware and it becomes clear that Macs are far from immune.
While the total number of exploitative software programs written for the PC completely eclipse the number written for Macs, it's still essential to keep all your Mac's security and anti-virus software up to date as well as remaining vigilant to bogus emails and online scams. User complacency is often a Mac's worst security flaw.
With that in mind let's look at some practical steps you can take to secure your computer, Apple or PC, from problems:
See an update? Get the update.
But only from the inbuilt update console for your device. Don't be fooled by websites flashing "we've got an update" ads at you.
Make sure you have an internet firewall.
Not just at home, when your internet router will most likely stop people getting in, but when out and about. You'll need some internet security software that includes a firewall for that.
Antivirus software is still an absolute must.
Getting some top antivirus software installed should be one of the first things you do after booting up your Mac for the first time.
Get used to doing a "double check" when you see an attachment or link in an email.
Do you know who it's from? Were you expecting it? If you're not sure, check with the sender that they really did send it. Remaining vigilant to phishing emails and online scams is just as important for Mac users as PC users. Complacency will only lead to your Mac getting infected.
For the time being, the statistics suggests that Macs are still less likely to become infected with malware, but Apple's rising user base means that Macs are becoming a bigger and bigger target for viruses and malware programmers. Remember the wise words of an FBI man, next time you switch your Mac on, 'the only secure computer is one that's unplugged.'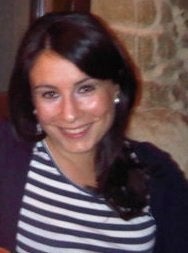 Author: Marta Lopez is an Antivirus and Internet Security Specialist at Panda Security, one of the world's leading creators and developers of anti-malware technology. You can connect with them on Twitter.