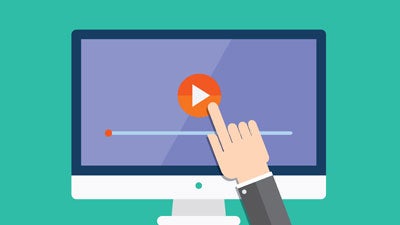 In the world of inbound marketing, landing pages are essentially the equivalent of your sales team. In the real world, you can improve your sales team by implementing training or performance-based bonuses. To make landing pages more effective at generating leads, you optimize. One of the best ways to do this is by incorporating video to increase customer engagement. Video is a great way to expand on landing pages that are primarily text based to turn more visitors into customers.
Psychologically speaking, visuals are processed 60,000 times faster by the brain than text. So, if you have a text-heavy landing page, you can communicate the same information a lot faster by making a video. In addition, the information is presented in a much more engaging manner. Videos are easy to consume, memorable, and entertaining. When you think about it that way, it makes sense that incorporating videos into landing pages increases conversions by up to 86%,
according to VidYard
.
Yet, if you do decide to implement video, how do you actually get people to watch it and convert? Read on.
Your video should be driving conversions, so make sure it's not buried in a pile of copy or placed too far down the page. Think about the user and make it as easy as possible for them to engage. Keep your page clean and put the video front and center so customers don't get confused or frustrated. Also, keep in mind that your landing page may be visited from a variety of different devices with screens of varying sizes. Make sure your video is the right size so that it looks good whether or not it's scaled down on mobile devices.
Choose the Right Thumbnail
The first thing visitors see is your video's thumbnail image. A thumbnail should accurately represent what the video is about, so choose carefully. If you have the wrong thumbnail, visitors may expect one thing but find another, which could cause them to leave the landing page and potentially your website all together.
Typically, customers respond negatively to videos that automatically start playing when they visit a page.
According to Crazy Egg
, autoplay enabled content makes users feel out of control and often leads to a bounce, however, it could also increase conversions as well. The best thing to do is test it. Autoplay isn't usually recommended, but if the customer is expecting it, it's not necessarily a bad move depending on the scenario. Overall, it's important to make sure your landing page content aligns with your customer's expectation.
In today's rapid fire world, attention spans are only getting shorter. Ideally, your video should get to the point in 60 seconds to two minutes at the most. Cut out any unnecessary content you can to make your video easy for customers to engage with and digest. Most likely, your video won't even be watched all the way through. That's why it's critical to put the most important part of your message near the beginning of your video.
There's no point to getting people to your site to watch your video if there's no way for them to convert. Providing a CTA is that critical piece of the conversion puzzle. Be sure to display a CTA at the end of your video that clearly shows tells the viewer what to do next. A CTA could tell someone to download an ebook, watch a demo, or move to a shopping cart. There are literally hundreds of possibilities when it comes to CTAs, but the most important thing is that you create one and remember to display it at the end of your video. A final note on CTAs: only certain video hosting services (such as Wistia) allow CTA embeds. Keep this in mind when choosing your hosting service.
If you feel like you've run out of options for improving conversion rates on your landing pages, it may be time for you to consider adding video. Video gets customers engaged fast and can help show your business' personality in a way that just isn't possible with text alone. To go a step further, make sure to look into your video's analytics to gain insights. Based on what you find, you can tweak your video content for greater success in the future.
This article was originally published by SyneCore