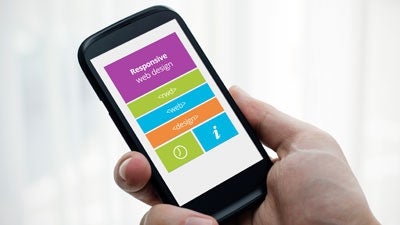 The number of mobile users surfing online is increasing exponentially. If the current trend continues, mobile users will soon be a majority online in just a few years. This is why it is critical that businesses optimize for mobile by converting their websites to responsive design.
Responsive Web Design,
according to the Neilsen Norman group
, is "a web development approach that creates dynamic changes to the appearance of a website, depending on the screen size and orientation of the device being used to view it. RWD is one approach to the problem of designing for the multitude of devices available to customers, ranging from tiny phones to huge desktop monitors."
Google released its own mobile configuration guide for website owners, which stated that RWD is the preferred configuration for optimized search relevance and SEO. More importantly, responsive websites achieve nearly an 11 percent higher visitor-to-buyer conversion rate increase over the course of a year, compared to non-responsive sites which only see a 2.7 percent increase on average.
Why Does RWD Lead to Higher Conversion Rates
A business' website must have clear conversion paths, and RWD websites provide them, regardless of which device the user is accessing the website from. RWD websites have a simple user-friendly layout that entices the buyer to continue his or her journey—not abandon it. For example, if smartphone users cannot navigate or access a website with ease because it is not optimized for mobile, more often than not, they simply leave and avoid the website in the future.
This is why non-responsive websites often have higher bounce rates. Visitors are more likely to stick around, explore your site, and hopefully convert to buyers if your site is fully navigable across all devices. Think about it this way, by switching to RWD, you are effectively making turning your business' online shopping experience into a fast and painless one for the buyer. Without RWD, buyers are far more likely end up frustrated and confused after visiting your website
Will a Responsive Website Cost Me More Money?
In the short term, RWD costs more money than solely having a desktop version of your website created, but it's far less expensive than having two versions of your site created for both desktop and mobile. Although RWD is compatible across all devices, only one website needs to be coded. There's no need to build a website for both mobile and desktop.
Nonprofits are leading the charge when it comes to RWD because they can't afford to miss out on potential donations due to having websites that are not user friendly. In an
article for NpEngage
, Brandon Granger researched 105 nonprofits, where 56 used RWD. He found that nonprofits without RWD had an average form conversion rate of 7.45 percent, while nonprofits with RWD websites had a rate of 10.09 percent. For a nonprofit on the edge of going under, this three percent can make all the difference in the world.
Is the Conversion Rate Increase Really Large Enough to be Worth It?
Econsultancy.com published a list
of company testimonials about how making the switch to RWD increased their conversion rates and some of the results are astonishing. Bench, an online bookkeeping service, enjoyed a conversion rate increase of 100 percent. State Farm increased their conversion rate across all devices by 56 percent. After switching to RWD, Baines & Ernst increased their mobile conversations by a whopping 51 percent. The list of success stories goes on and on. If anything, these stories are irrefutable proof that RWD is worth the time and money, and will increase your visitor to buyer conversion rate.
This article was originally published by SyneCore