7 Essential Tips for Starting Your eCommerce Business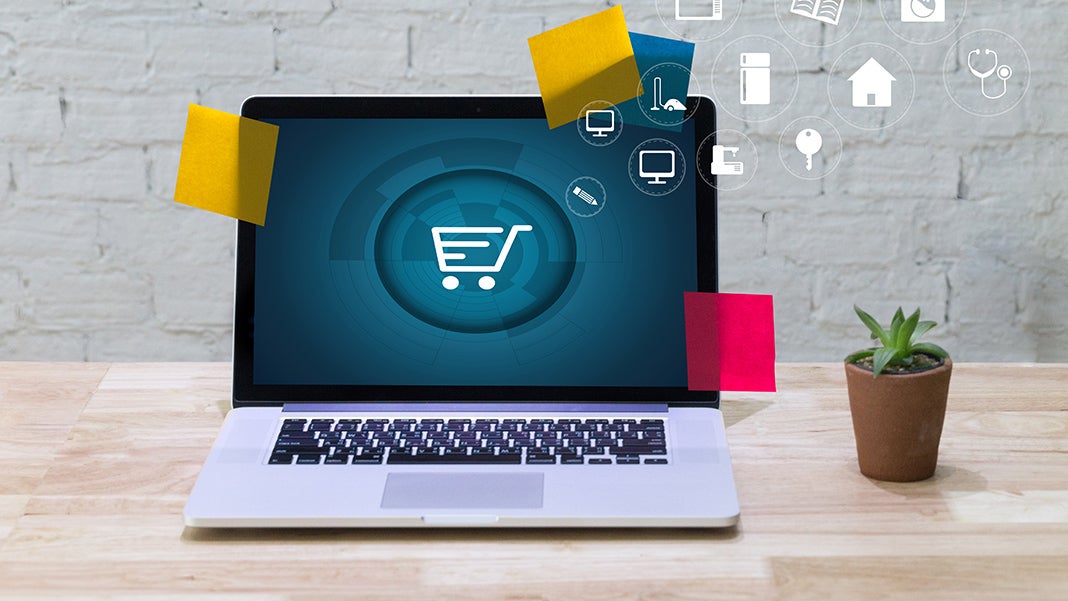 New e-commerce businesses are popping up in every corner of the Internet for a few reasons: They're simple to set up, they can be very inexpensive to create and maintain, it's possible to reach customers all over the country (or the world!), and online shopping is becoming more popular every year.
80% of people who use the Internet have made at least one purchase online, and US e-commerce sales are expected to grow to $523 billion in the next few years.
Those are exciting stats, but it doesn't mean that you'll become the next Amazon—plenty of e-commerce businesses never make significant profit. This can occur for a number of reasons, of course: the marketing is ineffective, the products aren't what people want, the business is run poorly—there are so many reasons businesses fail.
Savvy entrepreneurs can improve their chances for success, however, by planning the launch and beyond carefully. If you've got a great product line and you're getting ready to start an e-commerce business, consider following these 7 tips before you launch.
1. Research Your Target Market
This is an essential step of any business launch, but it's one that many e-commerce entrepreneurs neglect. Just because your products could theoretically reach every internet user in the world, the reality is that most of them won't want to buy your products. Trying to market to everyone is a recipe for disaster, so your first step should be determining that there's a market for your product—and then learn everything you can about that market.
2. Discover What Makes You Unique
Businesses that survive have identified their Unique Selling Proposition (USP). What's yours? Some companies are on a social mission, like TOMS, which has distributed over 60 million pairs of shoes in the last 10 years to needy children in countries all over the world. TOMS' USP is that they give away one pair of shoes for every pair they sell.
Apple is unique in that they maintain their own operating system and focus on design. Amazon's is that they offer fast shipping and everything a person might need in one place. Every successful company has a USP, even ecommerce sites.
3. Make It Convenient
No one wants to create yet another account or navigate through pages and pages of nonsense to get to the ultimate goal: buying something. Don't make it difficult for your customers to buy—help them! Make the checkout process as streamlined as possible. Default to the cheapest shipping option, allow guest checkout, and remove the pages that act as barriers to the sale.
4. Focus on the Launch
You only get one chance to launch, so spend some time planning that launch to ensure its success. You won't have absolutely everything set up from the very beginning, but the basics should be solid before you open up shop. Set up your automation and analytics, plan your initial launch marketing campaign and have processes in place before the launch—it will make everything much easier down the line.
5. Learn the Basics of Social Media and Marketing
65% of adults use social media, and it's one of the best tools available for advertising and building up brand awareness. Digital marketing will make or break an e-commerce business. Nobody has time for everything, yet one of the easiest ways to learn new skills and develop your business at the same time is signing up for an online MBA program, especially if it offers information technology courses. Some programs, such as Maryville University's Online MBA program, allow you to earn your MBA in as little as 12 months.
That said, just because you get a degree doesn't mean your business will boom right off the bat. You still have to put in the time and work spreading the world on social media through customer reviews and relevant blog content. No one will find your site unless you tell them about it, and you need to be prepared to jump in on social media, content, and other types of digital marketing. You can't afford to leave the all-important marketing to someone else without knowing how it works.
6. Optimize For Mobile
Mobile device usage is increasing rapidly, and no ecommerce site just launching can afford to ignore mobile optimization. It's not difficult to build a responsive website, but it's something you should think about before you launch.
7. Treat It as a Business
Because there's no physical storefront, no lease, and fewer risks than those associated with a brick-and-mortar location, many e-commerce entrepreneurs treat their business as a hobby. That's fine if you just want to see a product here and there, but if you really want to create a successful business, you need to treat it like one.
Have Patience and Tweak When Necessary
Launching your e-commerce site is exciting, but after the launch, it's easy to get discouraged by sluggish sales. Remember to have patience—building a successful business takes time! You also have to be willing to change your approach when necessary. Not everything is going to work, and you'll need to learn how to get a feel for when you need make some changes. Never stop learning and growing—the e-commerce industry isn't going to stay still.
Published: January 26, 2018