Extensive digital transformation has compelled entrepreneurs to embrace advanced technologies for empowering their employees and engaging with a global customer base. Intense competition is another factor which has given birth to modern tech tools that provide customers with personalized as well as on-demand services.
Every individual department operating under the roof of an organization has to be equipped with the best tech stack. And, marketing is the leading one to leverage automation and technology for helping marketers grab quality leads which can be easily converted. This is the major reason why a comprehensive marketing tech stack has become an integral asset for sellers.
As per Marketing Charts, the Data-Driven Marketing & Advertising Outlook survey (2019) performed by Adweek revealed some of the most popular tech platforms among B2B marketers. Let's have a look: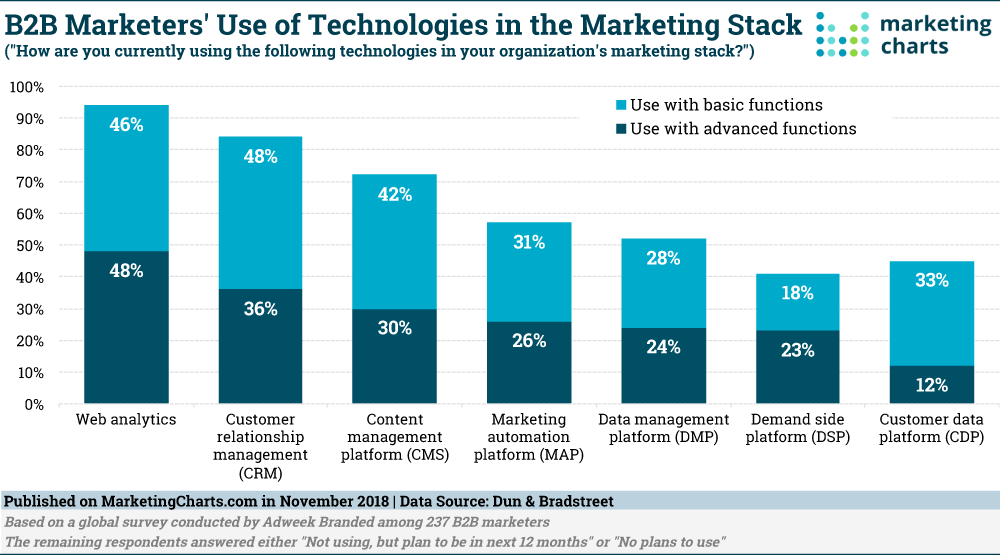 Image Source: MarketingCharts.com
The majority of the marketing pros are well-versed with the mar-tech platforms. But for those who aren't aware, let's look at the basics and explore the best ways for building a marketing tech stack to help you with building a sales pipeline for maximizing sales conversions.
What is a Marketing Tech Stack?
A marketing tech stack is simply a group of tech tools, customized software solutions, and platforms which marketing professionals use to carry out varied activities on multiple channels.
Analytics tools such as Google analytics, CRM solutions, email marketing platforms, Content Management Systems (CMS), etc. are some of the most integral elements of marketing tech stack. Sellers choose the best marketing tech stack which is appropriate in accordance with the specific size and requirements of their organizations.
1. A Responsive Web Portal as Well as an Intuitive Mobile App
In 2019, a business can't survive in the digital landscape without a robust web and mobile presence. Partnering with industry web experts and hiring app developers have become essential for entrepreneurs who can develop a product roadmap and create responsive and reliable digital products for their brands.
But it's not enough to launch these platforms you have to pay equal attention to their maintenance and up gradation. These tasks aren't easy so it's better to consult with a professional to come up with the efficient web and mobile platforms for your business.
2. Data Management Platforms (DMP) for Personalizing Customer Engagement
A DMP is required to keep all your customer-related data safe in one place. The data comprise both gathered from first as well as third-party resources. It can help you in refining and executing marketing strategies for providing customers with more personalized engagement.
Prompt customer support, profile structuring, customer grouping, seamless integration with CRM tools, ad, email, social platforms, etc. are a few of the most significant features you should look for before finalizing a DMP for your business.
3. Marketing Automation Platforms for Optimizing Promotional Campaigns & Activities
Automation and advanced technologies are penetrating each and every section of business and transforming the way in which it functions. For example, AI, ML, Big Data, Deep Learning are a few technologies which are revolutionizing the contemporary recruitment landscape. These tech tools are helping HR professionals in hunting, nurturing, and hiring the best talent for their organizations.
Similarly, marketing automation tools have become necessary for all organizations whether they are operating in the B2B or B2C space. You can use these platforms for automating various marketing activities such as optimizing website content or sending personalized emails.
4. Customer Relationship Management (CRM) Tools for Building & Maintaining Harmonious Relations with Prospects
CRM platforms help you in discovering as well as nurturing quality prospects at scale. Nowadays, it has become mandatory for every business to deploy one of the top CRM tools in order to store useful customer insights ad make well-informed decisions.
A CRM solution can keep a track of purchase history and issues which customers are experiencing and based on the evaluation you can formulate future marketing policies. But make sure before buying a CRM tool that it is blessed with an intuitive interface. Moreover, your CRM system must have the ability to integrate with other channels and generate valuable reports.
5. Social Media Management Tools for Monitoring & Streamlining Content Across Multiple Social Channels
As you know social media platforms have come into the mainstream and hence it's important for you to exploit these channels. Social media management tools allow understanding your prospects in a much better manner. Also, you can find out the most effective channel for your business and optimize your activities on that particular platform.
These platforms come with features such as competitor and sentiment analysis, social listening, data visualization reporting, etc. You can leverage these tools to join quality leads on social channels and provide them with unique content so that to increase the chance of a conversion.
These are a few basic tools which are a must for your marketing tech stack but in accordance with your specific business needs, there are some other tools as well. It's your wish to leverage these platforms, not a compulsion. Let's look at four of these optional solutions:
In case you are focusing on telesales or telemarketing then it's better for you to integrate a phone call tracking tool. It can help you in monitoring the quality of the call and identify the gaps which might be the reason to drive customers away.
If you have a web presence with heavy traffic then you might need SEO management & analysis tools. These platforms can help you in optimizing your keywords and backlinks in order to keep them in sync with the latest Google rules.
III. Ad tools only if you need to focus extensively on advertising to the targeted audience. But you don't need to worry for these tools if ad campaigns aren't the primary part of your marketing strategy.
Building an ideal marketing tech stack is definitely not easy but you can take the help of a professional who can help you with the tricky task. The right stack can act as a magic wand to streamline your sales funnel and maximize profit margins for taking your business to the peak.