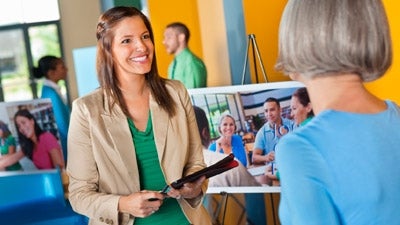 Trade shows are events that can help businesses gain new customers, connect with existing customers, and get the exposure that they need. In order to stand out from the crowd, there are many things you can do.
To draw in people and gain new customers, it sometimes helps to decorate your booth with bright colors. Also, everyone who is representing the company should wear promotional clothing that both stands out and is fun. These colors shouldn't be irritatingly bright or neon though; they should be positive, uplifting colors. To increase brand recognition, you could match the colors of your business logo to your booth and promotional clothing.
You will stand out at a trade show if you are generous. Give anyone who is checking out your booth promotional items such as bottled water, hats, pens, and other items. To really stand out, give your clients something useful and unusual like lotion or a paper fan. To properly market your business, make sure each one of these items has your company name, logo, or company information on it. This will help your company get more exposure, and people love goodies, so you will stand out more.
Another way to stand out is to play music at your booth. The music should be soft but noticeable. Don't have the music so loud that it drowns out people's voices. Music is an effective way to draw people to your booth, so take time to choose the best music possible.
To get people's attention and attract more customers, decorate your booth in an eye-catching manner. Place a colorful vase on your booth with flowers in it, or have some product samples for customers to try out. Product samples make your booth much more attractive, and people love to sample goods, so you'll make a lasting impression on clients.
People love to participate in contests where they have a chance of winning a prize such as a valuable item or cash. Hold a contest or a small event, and make it exciting. You could have people guess the singer of a song or try to figure out how many items are in a bowl.
To keep people's interest, try giving a presentation every so often. Don't let the presentations be boring, though. Make them interactive; include clients in the fun. Conduct a game show, or let people participate in a challenge or fun activity of some sort. Any of these ideas will help you not to bore clients.
Create a Professional Sign
Your booth needs a sign with the name of your business or its logo clearly printed on it. Don't let the font be hard to read, but also avoid fonts that are too boring. You need a sign that will attract customers; it should be pleasing to look at and professional.
Trade shows are a great opportunity for businesses to get the exposure they need and gain clients. To make the most of this event, try to stand out in every way possible.
Published: June 11, 2013
2347 Views