Why Print Marketing Materials are Still Important in 2015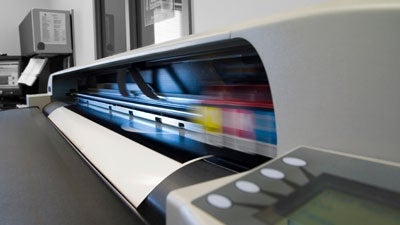 Print marketing materials? Remember those? The ones you can touch and feel?
Well, printed materials may have lost some luster since the advent of digital marketing, but, know this…. they are experiencing a resurgence. Marketers are realizing that branded print collateral can be an integral part of a sound marketing mix.
First of all, check out these surprising stats about print:
46% of U.S. Internet users said they only read printed books ("Do Readers Really Prefer Their Dusty Old Paperbacks To E-Books?" Forbes)
Print represents 15% share of US ad spend by media type in 2015 ("Long Live Print…in an Omnichannel Marketing Plan," ClickZ)
56% of all consumers trust print marketing more than any other advertising method. ("Print Marketing Is Still Not Dead," AllBusiness Networks)
70% of Americans report that they find direct mail advertising more personal than online ads. (Same as above)
More than 3 out of 4 small businesses use both print marketing and online efforts combined. This strategy usually offers the best return on investment and gets the best response rates. (Same as above)
56% of postcards are read by recipients, making them the direct mail piece most likely to be read. (2014 DMA Fact Book)
2.9 billion direct mail coupons were redeemed by customers in 2013. (Same as above)
Research shows that the average reader of a branded magazine will spend up to 20 to 25 minutes with it. "On the Web, you're hoping for two minutes, maybe. So if you're looking for engagement, a custom magazine can get you 25 minutes." ("Digital-First Content Marketing: The Return Of Print!" (CMO by Adobe)
Statistics show that direct mail is at the very least holding its own when it comes to return on investment. In fact, one recent DMA study found that $1 spent on direct mail yielded $12.57 in sales. ("Fine Print: Direct mail marketing is far from a dead letter," In Business magazine)
In addition, there are other good reasons why print has merit.
"When people access information over the Internet, many will print out lengthy or difficult reading material presented on their computer screens 'so they can read it' or so that they can 'understand it.' That is because computer screens cause a 'flicker' effect, making it more difficult for the brain to process information compared with print sources. We also read online text 25% more slowly than text on paper." ("
Three Reasons Why Print Collateral Remains Relevant
," my post at
MarketingProfs
)
If you're targeting specific demographics, get this… 15% of American adults do not use the Internet.
Only 56% of adults 65+ use a computer at workplace, school, home, or elsewhere. (Pew Research Center Internet Project Survey, 2014)
66% of adults with a high school education or less use a computer at workplace, school, home, or elsewhere.
71% of Hispanics and and 77% of African-Americans use a computer at workplace, school, home, or elsewhere.
Among adults who do not use the Internet, almost half said that the main reason they don't go online is because they don't think the Internet is relevant to them. ("
Broadband Technology Fact Sheet
," (Pew Research Center)
I hate to say, "I told you so," but I always felt like I was one of the only marketers left promoting print. I never gave up on it—and not because my company sells custom printing. We sell custom printing because I still believe it is a viable and valuable medium.
So, my advice? Do the due diligence and take a look at print when developing your marketing plan. If your audiences value it, it can pay off in the longrun.
Are you using print for your nonprofit or small business marketing campaigns?
Published: March 23, 2015
3457 Views