The Power of the "Bookbook": Why Print Marketing Still Matters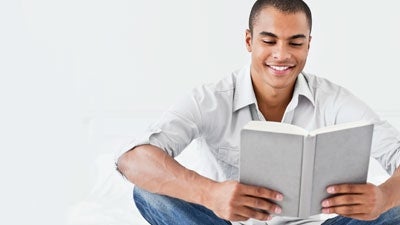 There has been discussion for a while now about "the death of print." This supposed extinction is due in large part to the overwhelming presence of all-things-Internet. And yet, in spite of these sweeping announcements and the surge in popularity of technology such as the Kindle, iPad, and marketing apps, print is still here. Books haven't gone away. In fact, they are thriving—especially among people who value literature. To some extent, they have developed a cult following—creating their own niche precisely because of their possible endangerment at the hands of the Internet.
A term has been invented to describe a regular, old-fashioned book: the "bookbook." As Christoph Sisson points out in
a recent blog post
, the "bookbook"—a term coined by Ikea's Jörgen Eghammer—is more than just funny. It's accessible to anyone, as opposed to an ebook or a Kindle book, which requires a sign-in user account or access to a computer. Sisson also points out the fact that print and digital marketing don't have to be competitors—they can work together in an integrated way, such as with the Ikea catalog and its digital counterpart that allows customers to enter codes from the catalog into an online virtual space in order to envision particular pieces of furniture in your living space.
Because of this evolution toward online communication, print marketing stands out even more. We've been immersed in the digital age for two decades—can you believe it? Amazingly, this means that enough time has passed that print has now become "
non-traditional
." That is, everyone markets their business online now. There are not as many businesses producing magazines, catalogs, and marketing flyers anymore. Therefore, your publication is more likely to be noticed and stand out from your competitors.
Rather than abandoning your online marketing strategies, it makes more sense to integrate your print and digital components as much as possible; use both, rather than one or the other. Embracing the online world, while offline, communicates to your readers that you are versatile, modern, and in the loop—as well as someone who thinks outside the box. Plus, the inclusion of social media and directives pointing toward brand-specific websites or blogs allows the opportunity for continued engagement once the customer is back online.
You may own a Kindle and an iPad, as well as the latest smartphone. However, it's nice to put your devices away when you need a break for your eyes after getting home from work, where you've just spent the majority of your day staring at a computer screen. Think about it: the last thing you want to do when you come home, after work, is to sift through more emails. You want to check the mail, go for a walk, or prepare dinner for the evening—anything that relaxes you. Hence the relevance of the "bookbook."
The digital world is not all—it is only one part of daily life. We still have the ability to read books and magazines, or to write our thoughts down in a journal. It makes sense, then, to target marketing efforts toward all parts of people's lives instead of a few; it's important to cover all your bases. In the marketing world, print should remain alive and well because it casts a wide enough net to cover all your bases—and then some. Sounds like a good approach to me.
Author: Dennis Styers enjoys sushi making, hiking, and freelance writing—as well as long drives following the sun into the mountains, above the inversion, each winter.
Published: February 25, 2015