In typical Google fashion, with no announcement or notification, a new feature may be available in some Google Ad accounts. Search Engine Journal recently reported on the discovery of a lead form extension for mobile search ads. Google Support has also published a page dedicated to the beta testing extension. If this makes it past the testing stage it will be a game changer for advertisers, allowing the customer to submit a lead directly from the search ad.
Similar to other extensions the advertiser can customize ad copy and the call-to-action. This essentially allows the user to by-pass a business's website while submitting a form directly. It was also reported that the new extension would have the capability to connect to certain CRM's in the future.
The look and feel is very similar to a Facebook form, including the ability to add an image at the header and customize the message once a form is submitted. The advertiser can also select the required fields, including name, phone number and email. The advertiser must also submit a privacy policy.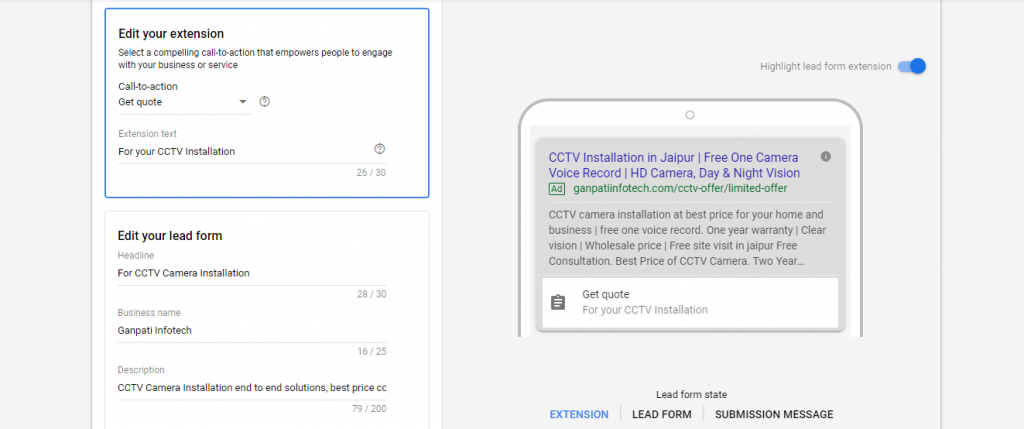 Google is constantly testing new features to help improve the customer's user experience and the effectiveness for the advertiser. A lead extension could improve conversion rates, primarily for businesses with websites that suffer from poor UX. White paper downloads and guides could also be a good use for the extension.
The real advantage would be for specific offers. Instead of using a discount or offer in an ads headline you could move it to the extension. This way the headline earns you a lead instead of a website visit. The new extension could be used successfully offering CTA's like "Get 10% Off Now" and "Save $100 On Your First Order."
The capability to get leads directly from ads will be enticing for many businesses, but the extension is likely to be limited to certain industries. Google identifies healthcare, alcohol, political, gambling and adult content as verticals that will not have access. A more intriguing requirement for the extension is labeled "Unavailable Offers." On Google's support page they state:
The information in the products or services that are advertised, and requested by the user, should be accurate and available. 
I interpret this as saying the offer cannot be exclusive to the ad and must also be made elsewhere, like the website. Until the extension is made widely available we'll have to speculate how this is monitored.
Cost will be another factor, with the submission of a lead being seen as more valuable than a click. While the website may be removed from the users experience I would expect it will still play an important role in the extensions performance and cost, with a focus on Keyword Quality Score and Ad Strength.
This extension seems like a long time coming and will change how advertisers promote products and services. This seems like a win-win for the consumer and advertiser. Consumers are offered a convent and quick way to submit details while advertisers have the opportunity to generate leads without worrying about website performance. At Adhere Creative we look forward to seeing the new feature in action and using it to produce results for our clients.
To learn more about what a PPC campaign could do for your business contact us today!