How Your B2B Business Can Appeal to Multiple Industries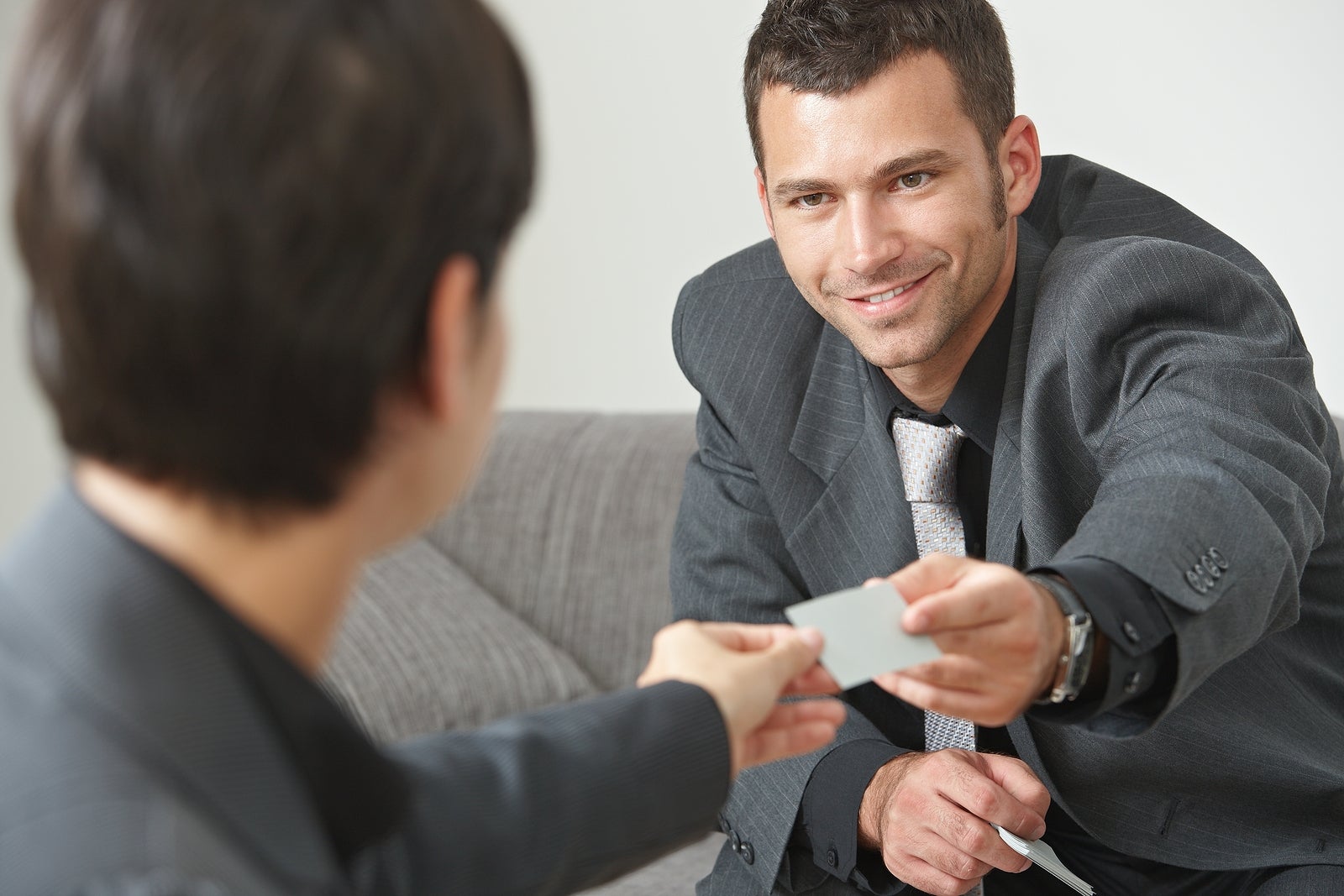 Business-to-business (B2B) companies face challenges that business-to-consumer (B2C) companies may not. Rather than serving a particular buyer persona or two, you may sell to various industries. Appealing to multiple client types isn't an easy task.
Forrester reports the B2B e-commerce sector alone will reach $1.8 trillion by 2023 and make up about 17% of total B2B sales. Your online presence will be a significant portion of what you do to reach a diverse customer base.
Depending on your product or service, you may serve local or regional customers more frequently than online ones. You still need a website to reach new clients and get the word out about your brand. Below, we'll focus on both real-world marketing efforts and digital options:
1. Keep Content General
If you serve a vast range of other industries, it may be difficult to add personalized messages to every field. Instead, you can keep your content more general to the business owner or manager.
When you reach out to leads, you can always personalize things more specifically for the particular industry the person works in. However, for your website and even your paid digital advertising, stick with general terms, such as "business owner."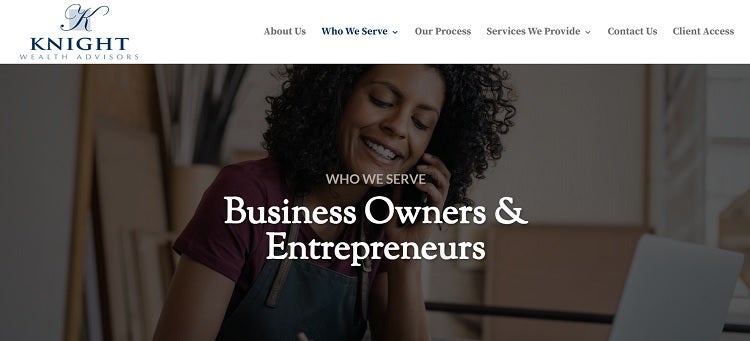 Knight Wealth Advisors addresses their landing page to "Business Owners & Entrepreneurs." By keeping their target audience wide, they cast a net that pulls in all industries. They don't limit themselves to just one business type. Creating a persona to encompass all their clients works well for the kind of service they provide.
2. Know Your Audience
As with any content, knowing your audience allows you to tailor your material to meet their needs. You should know the types of companies seeking what you provide and do a deep dive into the typical CEO of such organizations.
There may be generational differences in how you market to a millennial entrepreneur versus a Gen X business owner. Know what's important to the demographic in general and then seek ways to meet their expectations.
3. Name Specific Industries
For some B2B companies, you'll work with similar business types repeatedly. If you find yourself frequently taking on clients who are tech startups or any other type of business, go ahead and name them specifically on your page.
Showing who you've worked with previously allows potential clients to see that you understand their business type and have experience in the sector.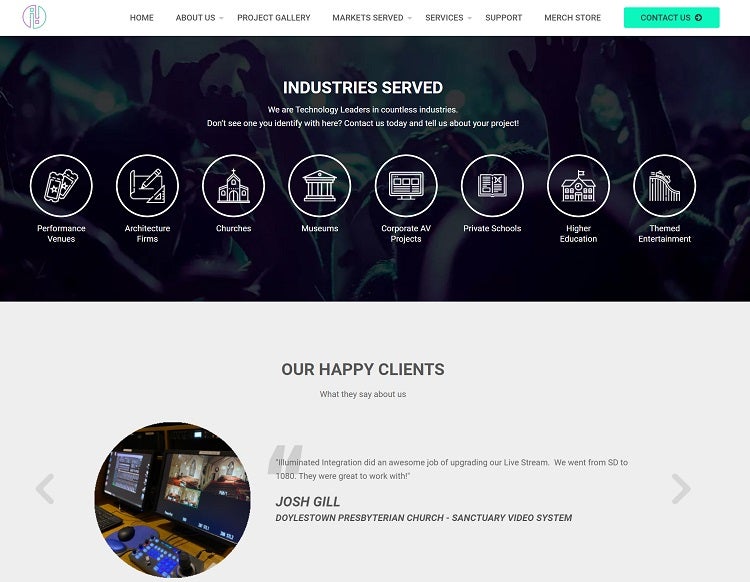 Illuminated Integration offers lighting, sound and stage equipment for different events. While they clearly will work with anyone who requires their services, they devote some website real estate to showcasing industries they've worked with before.
The headline reads, "Industries Served." They then use icons and list some of their typical clients, such as performance venues, architecture firms, churches, museums and higher education. They also include a few testimonials from these industries.
4. Focus on Aesthetics
No matter what type of industries you serve, everyone likes a visually pleasing website. However, you can take your design a step further by looking at the overall tone and trendiness of your customers' websites.
If you handle customers in the entertainment industry, they may have videos, animations and other trends you wouldn't see on a platform like a financial site. Look at the designs your clients use and follow their lead to home in on their tastes.
5. Highlight Your Clients
One of the simplest ways to show the range of areas you work with is sharing who your clients are. If you provide services to big names in any industry, they'll be instantly recognizable to other potential customers in the field.
Sharing your clients' names or logos is another way of stating you have experience in a particular area. It also lends a level of credibility to your work when site visitors see you work with well-known names.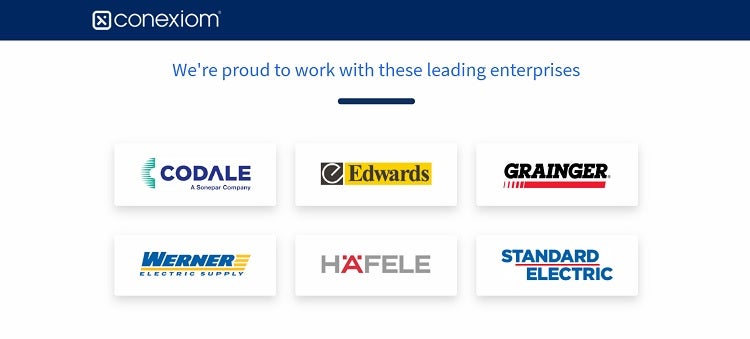 Conexiom shares some of their top clients' logos to show the range of industries they can serve. Their service is automating data entry, so they serve every type of business from warehouses to utility companies.
6. Personalize the User Experience (UX)
What kind of experience do customers have when they land on your website or social media pages? How can you ensure you're creating excellent UX no matter what field the other business owner is in?
Part of the process involves customizing the experience for each user. Track them with cookies and have some buyer personas for your typical customers. Once they've visited your site, try to greet them with appropriate return messages.
If they share any information, such as a name and email, research them and reach out with customized messages. Business owners are much more likely to respond to an email with their name and a note about how you can specifically help their company than a generic response.
7. Showcase Benefits of Your Business
Highlight the benefits to each business type. When you share the benefits, it should be from the client's viewpoint. How can you specifically help them in their particular industry?
By listing the benefits, you also show you understand their field and needs. Don't just throw out things such as fast service. Be highly specific in how you help business owners.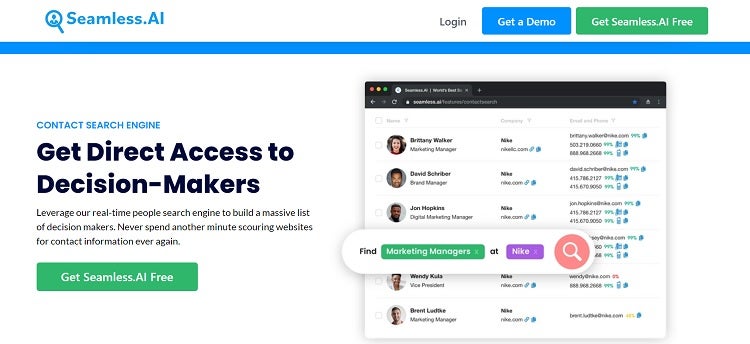 Seamless AI focuses on a specific pain point of their customers in the sales industry. They highlight how they fix the issue of gathering information on decision-makers. As you scroll down the page, you see other solutions to problems their clients face.
Test Frequently
As you get to know your customers better, you'll see areas where you can improve. With each change, run A/B tests to see how your site visitors respond to the modifications. Ideally, you'll create a more personalized experience until your conversion rates increase.
Published: January 8, 2021
2328 Views