In the 21st century, we are all virtual entrepreneurs so we should have a digital or virtual business card!
Many of the Cash Flow Show fans have asked me about the digital business card provided by Shuffle. There has been some concern by many regarding the possible conflict with your policy guidelines.
It is always important to check your specific company's rules but this is my take on the electronic business card that Shuffle provides.
Use Virtual Business Card to Connect
In a world of online and digital marketing it is essential that an entrepreneur stays connected using all resources available to them!
I have done some investigation regarding Shuffle's virtual business card and this is what I have found:
When you send it out it is basically like sending a text message with your contact information or an email with a link to your website or posting your store link online. In no way does the Shuffle card change or modify your website so it is basically a fancy way to get your information onto your client's phone rather than a business card in their trash can.
There is a referral option on the business card, so that if another direct seller buys a card after clicking on yours then you would get a referral payment. If you do not want that because of a concern for conflict of interest with your company guidelines, then you just leave the button off for 'referral payments'.
Shuffle is NOT a direct sales company, so it will not affect any non-compete guidelines in your company policies.
Check out mine—just a quickie I made to show you – try the free version or the PRO for 14 days free.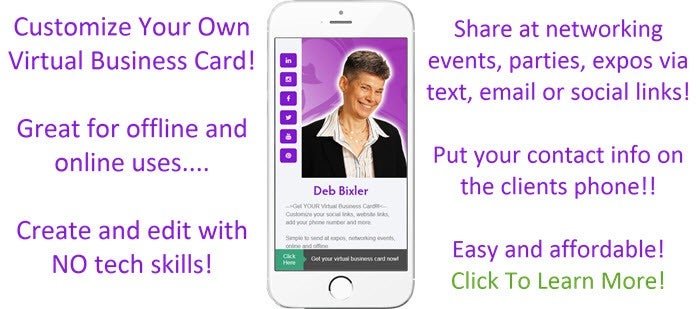 This really IS a great tool for all direct sales reps in the 21st century.
If I was in the field I would definitely have one of these! (I do not give out my cell number for business purposes, so this is really just a demo for you.)
How to Use a Digital Business Card
How would you use it?
Create a couple of templates in your phone so that you can send it on the fly. You may have one to use at parties, one for friends and family, one for vendor events, one for networking situations, etc.
There are hundreds of applications to use your virtual business card. A few examples are:
Start with friends and family: As soon as you get your business card link practice using your template by sending a text to your close friends and family. Ask them to take a look at it and give you some feedback.
At a LIVE party: Offer a free e-book of value and have your guests text you for your electronic card that includes a link to your ebook.
At a vendor event, do the same thing or something else!
When networking at business events, hand your phone to a contact with whom you are exchanging business cards and ask them to type in their number so you can send your online business card.
Share the link in your social groups online: Facebook business page, profile and groups, Twitter, LinkedIn, Pinterest, Google+, YouTube (make a video) and any other social site…
Use it in online and virtual parties!
The day after I wrote this article, I saw this on Facebook! It speaks for itself!
Like a real card, the catalog or any other business tool you must proactively use the virtual business card to make it work for you!