You've probably been to your local fast food chain and noticed that they've switched to digital signage for displaying their featured menu items. And if you stop by big stores, you would notice that most of them have replaced their cardboard or paper signs with TV screens displaying their latest offers and deals.
If you're a small business owner, it's probably time you follow the crowd and start using digital signage to entice your customers. Here are some of the ways in which you can use digital signage in your small business:
Use it as a Menu Board
One of the most popular uses of digital signage is for displaying menu items. If you own a restaurant or a café, this would be an excellent way to start using digital signage. Not only are digital menu boards attractive, they're also more convenient for you as you can easily update the display according to any changes you've made in the menu. This means you won't have to replace the entire sign just because of one item in the menu.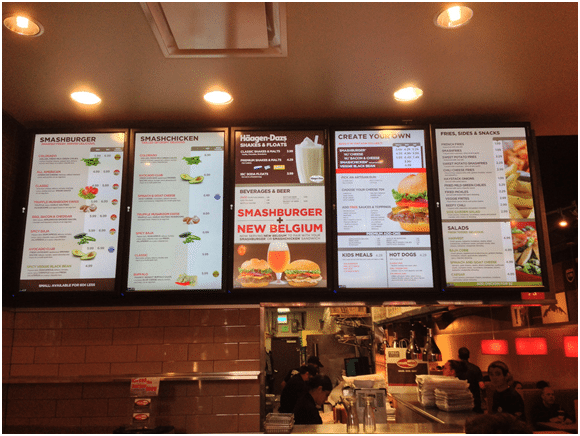 Image Credit: Wesley Fryer on Flickr
Additionally, using digital signage to display your menu could improve your chances of driving sales. For Prime Burger, a U.K.-based burger chain, switching to digital menu boards resulted in a 50% increase in like-for-like sales. This clearly proves that your small business could significantly benefit from using digital signage as your menu board.
Promote Upcoming Events
Maybe you plan to have a special promotion in the coming days. Or you're having a big event to promote the launch of a new product in your store. You can use digital signage to promote the event and remind customers about it. This improves your chances of driving traffic to your event.
Promote Your Specials
Does your restaurant have a special item or combo meal for the day? Or is your business giving a special deal for a holiday? Digital signage can be an excellent way to promote these specials. Your customers may not necessarily be aware of the offer but with a big bright screen showing it off, they could easily take note of it and grab the deal before it's too late.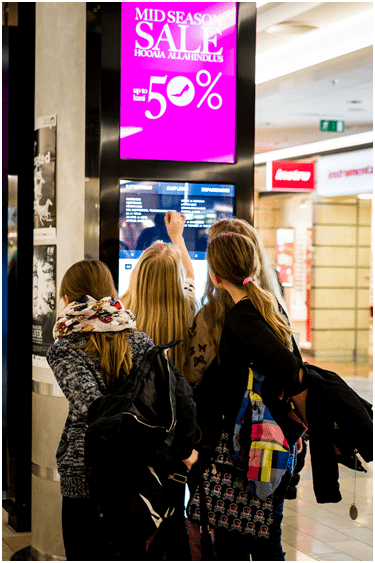 Image Credit: Till Carlos on Flickr
Show Off Your Awards/Recognitions
If you've recently received an award, you could share the news with your customers using your digital signage. Instead of simply saying that you have won an award, you could thank your customers for their support to make the award happen. By showing off your awards, you're also telling new customers that you've been deemed worthy of recognition for your work.
Entertain Your Customers
Digital signage also gives you the opportunity to entertain people who visit your store, making sure they have a better customer experience. You could display promotional videos or photos to entertain customers while educating them about the products or services you offer. Or you could display photos and videos of a recent company event.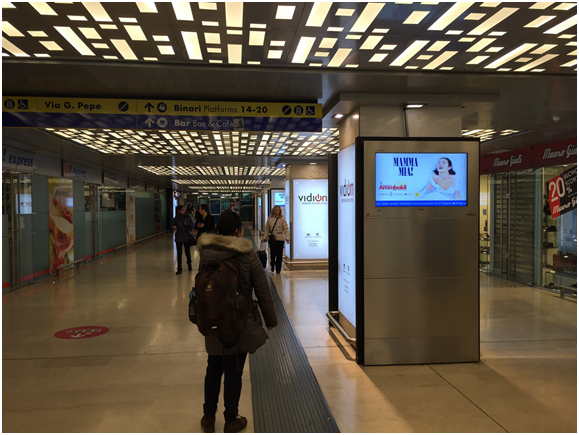 Image Credit: Till Carlos on Flickr
Viewing these videos and photos could make waiting less annoying for your customers as digital signage is known to reduce perceived wait time. So using a digital signage is a must especially if your business involves long wait time for customers. For example, travel agencies could display promotional videos about a certain holiday destination, which customers can watch while they wait for the agents to finish dealing with other customers.
Inform Your Customers
Besides providing entertainment, digital signage can be an excellent way to provide useful information to your customers. Maybe you could display some local news to help customers keep track of what's going on in the community. You could provide them with news about the weather. You could also display the date and time at the bottom of your screen to keep customers informed.
Another way to use your digital signage for providing informational content to your customers is by displaying answers to frequently asked questions. You could compile a list of the most common questions people have when they visit your store and display these on a screen along with answers to help customers. In a way, this would be like a self-help display for your customers.
Display Your Schedule
Digital signage is an excellent way to properly display your business hours so that customers take note of it. If you're closing up during a certain holiday, make sure you flash the news so customers don't get disappointed when they try to visit you on those days. If you're closing early on a certain day, make sure you display it in the sign so people can plan their visits accordingly.
These are seven of the best ways in which your small business can use digital signage to interact with customers. As you can see, there are endless opportunities for you and you could easily adapt your usage according to your needs. Which of these options will you try first? Let us know in the comments below.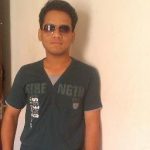 Author: Nitish Sharma is an Inbound Consultant at On Hold Marketing, an on hold messaging company. He has great passion for writing about small business, music and audio marketing. He loves travelling and exploring new things in life. You can find him on Twitter and Facebook.