Digital media has emerged as a great marketing platform for small businesses. It has made it possible for small and medium-size businesses to spread the word about their products and services in a cost-effective manner. Email marketing, social media marketing, paid online ads—small business today have a plethora of options to market their products and services. However, email marketing has faced flak in the recent past from consumers who often complain that their inbox is flooded with too many emails and offers. Owing to high number of emails that consumers receive on a daily basis, it has become very difficult for a business to stand out from the rest and connect with its potential customer.
Direct Mail in Digital Era
While there's no denying the fact that online marketing is the future for small and medium-size businesses, direct mail still remains a credible marketing platform. It is effective in generating leads and acquiring new customers. If executed correctly, direct mail can introduce the right customers to your business and contribute to more sales. But as is the case with email marketing, incorporating direct mail into your marketing strategy without creating a robust strategy won't bring in the desired results. For your direct mail marketing to succeed, you need to diligently research your target audience and create interesting content that leaves an indelible impression on them. Mentioned below are 5 tips that will help you get started.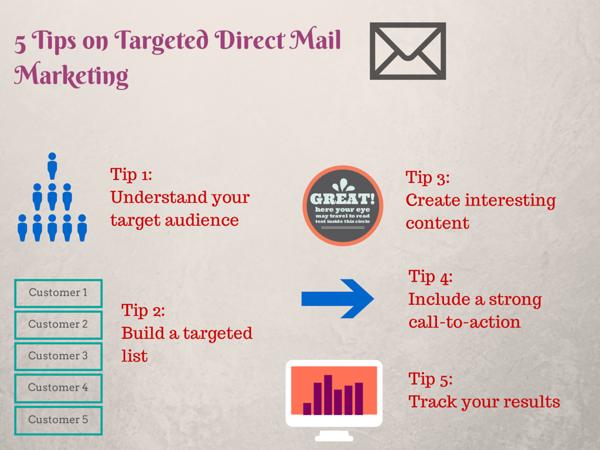 Understand Your Target Audience
Before you spend your hard-earned dollars on a direct mail campaign, it's important you thoroughly research who your target audience is. If you have the time and resources, you can do the research on your own; otherwise, you can seek hire a reputed mailing list broker to created well-targeted mailing lists. It is important to identify the people who will be interested in your products and services. If you send your direct mail to all and sundry, not only will it cost you more, but the return of investment (ROI) will also be insignificant. So, the first step for small business owners is to work towards identifying their target audience.
To build a well-targeted list, you will need to understand the tastes and preferences of your audience. As a business owner, understanding the demographics of your target audience can help a great deal in creating a well-targeted mailing list. If you are going to hire a mailing list provider, it's important you understand the methodology that was used to create the lists. You need to ensure that the names in your list are those who are most favourable to associate with your brand.
Create Interesting Content
Creating interesting, useful content is an important component of an effective direct mail marketing campaign. You should look to create engaging content that grabs the attention of your audience. Including something that is beneficial to them can also help develop engagement with your target audience. Also, personalizing your mail can also help develop rapport with your prospects. For example, instead of addressing the prospect as "Dear Consumer," it's advisable to use "Dear William."
Include a Strong Call-to-Action
Along with creating brand awareness and reaching out to your audience, direct mail is also a great platform for lead generation. Therefore, it's pertinent to include a strong call-to-action in your direct mail. You need to ensure that it is fairly easy for your target audience to get in touch with you. Your contact information, such as your phone number or email address should be easy to spot for your prospects.
It's important that you consistently track the results of your direct mail campaign. Having a tracking system in place can give you crucial information of what's working and what's not. It can also help you make any strategic changes to adjust with the changes preferences of your target audience.
Author: Crystal Allen writes for Macromark.com, which helps small business owners connect with their target audience. When done correctly, it can not only lead to more sales but also better customer engagement and branding.