Who is the right candidate?
Finding the perfect candidate for a new business is a difficult task and will often times take a good deal of trial and error. For a startup, hiring the right talent out of the gate is crucial for building a cultural foundation for the company. In addition to your new responsibility of being in charge of another person's livelihood, there is a huge amount of risk involved for both you and your new hire. The potential candidate has made the decision to take a leap of faith to help expand your new business. Choosing this person wisely is one of the most important actions you can take in your startup. Here are answers to some the biggest questions involved in making this decision:
When is it time to hire?
Finding the right time to hire can be a difference maker in the success of your new enterprise. Hiring prematurely can result in lack to work for the new hire which can create cash flow problems. However, hiring too late could cause you to miss the crucial marketing moment to release your startup.
Truth is, it will more than likely be tight no matter when you hire a new worker. It is crucial to examine and assess your current workload and how an additional hand can share the legwork. For example, if projects are taking weeks but could be done in days with an extra person, this is a good sign it is time to bring on additional support. Be sure the tasks the new hire will perform will generate revenue.
When is it not time to hire?
It is extremely important to step back and critically decide whether it is or isn't time for a new hire. A lot of new business owners make the mistake of hiring when they are desperate. They get stuck in the heat of the moment and make an impulse decision which results in cash flow, or workload problems down the line. In the midst of a stressful situation, take a step back and assess what you can realistically handle. After examining the situation, it is helpful to write a detailed list of what exactly the new hire would be doing and if this will keep them consistently busy.
Do you want an employee or a co-founder?
When it is time to branch out and from being a solo entrepreneur, hiring another set of hands is a crucial decision.  Before you do, ask yourself this question do I want an employee or a co-founder? Is the need you have best filled by solving a discrete problem, plugging a hole in process or production? Hire an employee.  Is expert guidance, or a highly advanced skill set needed? Maybe you need a co-founder. An employee you will have to pay each week, although they may also ask for a small share of the company. A co-founder will most likely want an equity share in the business, but may not require a salary right away. Make sure to clearly communicate their status as they come on board to avoid any confusion.
What criteria should be used to select them?
Knowing exactly what to look for in a new hire is key to finding and filtering until you find the perfect match. Make sure the potential new hire shares your vision and values. This will help to establish a common thread in your business while working toward the same goals.
Startups are tough and require a lot of hard work and diligence. Be sure the candidate possesses the drive and energy to the best work possible, even in the most stressful of times. You want someone who will be there and ready to make things happen through thick and thin.
In most cases, starting a new business requires more than working 9-5 Monday through Friday. In the early stages, there will most likely be a lot of early mornings, late nights, and work on the weekends. When making the first hire, it is important that the candidate is 100% devoted to the project and is flexible with timing. A startup requires everyone involved to invest a good chunk of their time to get tasks done.
Most importantly, the characteristic new hires need to possess is honesty. You will be a working as a team and you need someone you can trust who will not make up excuses. Honestly is a virtue and in a startup, there can be no issues early on.
How can you retain them and avoid turnover?
So you are about to make a big transition from working alone to having a team member. The key to keeping a new hire around is being open-minded and making sure they know their opinions matter. If the new hire feels like their voice is not being heard, they will lose satisfaction in their work and be more likely to leave.
How do you project their career trajectory?
When bringing in a new hire, be sure you have a good idea of their career trajectory. You probably asked them where they see themselves in five years, but where do you see them in five years? Have a good sense of whether they are promotable and how they can add to the innovation of your new business. The career trajectory will become more apparent the longer they work for you. It is crucial to recognize the strengths they offer and shape their career accordingly.
Conclusion
The first hire in your new business is a huge decision. Being in tune with what your business stands for and knowing what qualities are needed in a candidate is key to building your brand's foundation. When you start contemplating bringing on a new set of hands, ask yourself these questions and answer them critically to be sure you are making the right choice.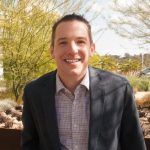 Author: Rick Sliter is the President and CEO of BioClarity a wholly-owned subsidiary of Adigica Health.  Rick was also the Chief Brand Management Officer at Provide Commerce and the Senior Vice President of Marketing Services at Provide. Mr. Sliter holds an MBA from The Anderson School at UCLA, where he was awarded the Patrick J. Welsh Fellowship, and a BA in Quantitative Economics and Decision Studies, with distinction, from The University of California at San Diego.