People often confuse siloed ways of working with being self-reliant. But this notion cannot be farther from the truth. One could be even more fiercely independent through collaboration, ideation, brainstorming, and sharing of more meaningful thoughts.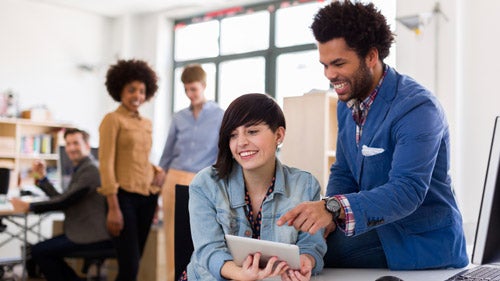 In today's competitive environment, for any organization to succeed, a culture of collaborative behavior among its employees is an absolute necessity. Research has found that companies that foster collaboration and transparent communication among their workforce are 4.5 times more successful in arresting attrition in their organization. Also, 86 percent of the employees attribute ineffective communication and lack of team collaboration to failures happening at the workplace.
So here is a rundown on the benefits of social collaboration – team collaboration that we shall discuss in this article.
What are the benefits of social collaboration?
Promotes a deeper understanding across projects
Any organization has projects running where several teams work towards the same goal. But if the teams do not work in tandem, the outcome may be hugely disappointing. For example, the designing team may come up with a logo that is exceptionally brilliant. But if they do this without consulting the content or the sales team, the logo may fall significantly short of reflecting the brand's value, resulting in zero conversions. So team collaboration goes a long way in achieving the desired results and giving employees an idea about the bigger picture.
Provides an impetus for growth
The benefits of social collaboration – team collaboration lead to the improvement in employee efficiency, productivity, and knowledge management. As the internal network of a company keeps expanding, the employees find it easier to reach out to experts. These erudite people can then offer their learned opinions and valued guidance in several areas, resulting in more pronounced outcomes.
This cross-functional collaboration can help, say, for example, a technical writer, seeking guidance from an (SME) subject expert in accomplishing the assigned task. These important pieces of shared knowledge are then preserved at a place in the internal company network. Employees can access them as and when required.
Provides easy transfer of knowledge
When there is an environment of cooperation and collaboration in the company, knowledge and skill transfer become easier. For example, the finance team may be using a tool for the first time, which the sales and marketing team is already familiar with. If someone from the sales and marketing team can guide the finance people on how to use the tool, the process can become quicker, easier, and more streamlined. And whenever the finance team has any queries, they can contact the sales team and get their issues resolved at the earliest.
Encourages innovation
When employees share ideas through social collaboration, it sets the ground for innovation. As more thoughts start circulating, it leads to the emergence of communities within the organization that become the bedrock of best practices, shared interests, and expert opinions. These valuable pieces of knowledge can help employees keep themselves abreast of the latest developments taking place in different departments and areas of technology in the organization.
This, in turn, can help make their tasks easier and streamline processes as they incorporate the various tools, techniques, and methodologies shared through these communities into their daily assignments. With advanced knowledge sharing, the products and services become more innovative allowing the company to chart a clear path to success.
Reduces company expenditure
Social collaboration can help reduce costs to the company. With stored knowledge, the dependence on employee training comes down significantly. New joiners or even old employees can access important pieces of information at the click of a mouse without having to travel to different locations for face-to-face meetings or training programs.
Promotes overall well-being of employees
When employees are allowed to share knowledge across departments which are then preserved for future use, it instills a feeling of satisfaction among them. They feel appreciated and commended for their efforts which motivate them to perform with more intensity and enthusiasm going forward. This is a step in the right direction as it benefits both the company and its employees. Social collaboration has also been found to reduce absenteeism, attrition, and employee disengagement rate.
Eliminates hierarchy
The vertical hierarchy was a problem earlier as employees found it difficult to approach senior managers and those who held positions of importance in the company. But with social collaboration, there is greater accessibility. The common platforms open opportunities for more employees to exchange thoughts and ideas. And apart from expressing views, one can also express concerns, ask questions to the senior managers and find solutions to their problems. When collaboration becomes the foundation of an organization, making one's voice heard to the top management is no longer a matter of concern.
Reduces fear of failure
Social collaboration fosters team spirit that leads to collective responsibility. Employees are not afraid of failures anymore because every project is a shared responsibility. Additionally, there are also fewer chances of failure as every product goes through several rounds of review. Getting others to review one's work, also mitigates the chances of potential risks and helps improve the product quality.
Conclusion
For companies that do not already have a proper organizational structure encouraging a collaborative work culture, it is time for them to restructure themselves. Because the more they foster an inclusive culture, the more gratifying the results will be.