Making Business a Game: How to Play It Well with Enterprise Gamification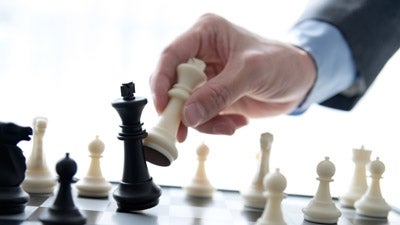 Business is a game and whether you think it's like poker or chess, one thing is clear—new developments in management will soon take this statement to the next level. Gamification—the application of game mechanisms into a non-gaming context—is something more than another fleeting fashion and today can be traced even in the mainstream of corporate management. Gamification is a strategy used by coaches, recruiters, project managers and marketers and it works great in those areas where engagement matters most. Here's a quick gamification guide with a few practical examples of its application in business.
The main purpose of gamification is to foster engagement and boost the motivation of employees and customers alike. Project managers can use its tactics to improve productivity or overcome challenges. Using gamification, companies can source talent and train employees through game-like rewards such as points, badges, levels or leaderboards.
Games trigger our competitive nature, which in the context of business drives productivity and provides a great incentive for action. But gamification is also about collaboration—social gamification, for instance, can be used to foster collaboration between team members and overcome certain communication problems.
Whether it's competition or collaboration, every game includes an element of risk. If badly designed or poorly conducted, games won't bring desired results and might even negatively affect the team. Before applying enterprise gamification, it's therefore best to consult with trained coaches or have a company design games for them to achieve defined goals.
Experts agree that in order for gamification to be a safe practice, feedback needs to be provided in real-time, progress tracking process should be transparent and talented employees recognized and justly awarded.
Game Strategy for Recruitment & Training
Every recruiter needs to make sure new employees are productive, competent and fit into company's culture. In a recruitment process, gamification has two main benefits—it makes the process of candidate elimination faster and helps hiring managers to test skills, which cannot be easily tested in traditional settings.
Gamification brings forward lots of valuable information about the character, behavior and professional approach of the candidates, as well as their problem solving capabilities, ability to apply knowledge gained in training and potential for driving innovation.
The integration of games in the recruitment process is really attractive to talented candidates and can work great for sectors where the demand for highly skilled workers is high, but the supply relatively low. Additionally, a gamified recruitment process has a marketing value—many software developers still remember famous hiring events, such as Google Code Jam or Facebook Hacker Cup.
Project Management—Motivate and Engage Your Team
Project managers use the dynamics of gamification to help workers regain their focus when completing repetitive tasks, maintain a defined process of project development and foster employee motivation and engagement.
In the gaming context, accomplishments are recognized by means of tangible game props—the constant awareness and the transparency of the process provide incentive for action and make the goals clear to everyone. Millennials really appreciate this kind of professional approach—they were brought up playing interactive games and are now eager to apply the logic of games onto other areas of life.
If you're looking for new methods to motivate and engage your team, gamification can serve you well—here's how you can gamify tasks in your team management:
Give points for every task that needs to be completed;
Set up a level system for repetitive tasks that quickly get boring;
Define rewards given out after the completion of a level (badges or stars);
Always reward workers in real-time;
Recognize the most talented workers on a leaderboard.
Motivation and engagement count a lot not only in a company's internal structure, but also in its relations with the market and consumers. Gamified marketing strategies have for the last few years been appreciated by companies in stimulating customer interest and driving specific consumer behaviors.
Think about last year's M&M's Pretzel campaign, a part of which consisted in a simple eye-spy game. Consumers were given a large M&M's graphic design, among which there was one small pretzel. The task was simple—find the pretzel. The effects of this small, cheap game were immense—the post gained over 25,000 likes, more than 6,000 shares and around 10,000 comments.
A tiny section of a massive, incredibly expensive marketing campaign, the eye-spy game offered a new fun way to engage with the company's product and additionally spread the word about it all over social media.
Be it for marketing, recruitment or project management, gamification strategies are only beginning to be appreciated on a larger scale, but soon might become a new industry standard.
Author: Monica Wells writes for http://www.bizdb.co.uk/. Monica Wells is a passionate educator lecturing on leveraging the potential of the Internet and New Technologies for business development.
Published: October 3, 2014