6 Tips for Creating a Professional Work Environment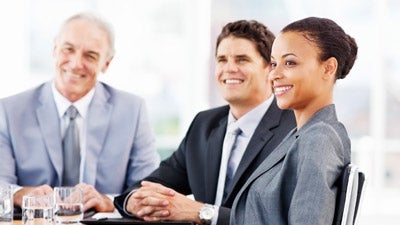 It's no surprise that an employee's attitude can make a huge difference on his or her work. As a manager and leader, you should strive for a positive work environment while helping your employees develop into essential components of the overall team. However, many managers find themselves walking a very fine line between too lax and too strict, meaning their employees are either frustrated or don't have enough guidelines.
Just because you want a
positive work environment
does not mean it can't be professional as well. Enforcing a few set rules can help set the tone at work so your employees can be at their most productive.
Set a Good Example
In all businesses, the upper management sets the tone for the employees. So before you tell your employees to act professional, they should see that you are a professional. It's important to lead by example.
Remember—even if you are on good terms with your employees, during working hours you are their boss, not their friend. Avoid conversations about relationships, alcohol or anything else that could be misconstrued. Additionally, make sure to complete your work in a timely manner and set reasonable deadlines for your employees to follow.
If you can't act professional, why should your employees?
Enforce a Business Dress Code
Everyone loves casual Fridays or jean days in the office. However, if you want your employees to act professional, they should look the part during working hours.
The mantra "dress for success" isn't just some silly phrase—when you're dressed better, you feel more confident and ready to take on the day. Wearing business-casual attire or something nicer shows that you take your job seriously and you're ready to meet with any potential clients or upper management that could be in the building that day.
Separate the Break Area from the Work Area
Breaks are a normal aspect of the work day—there is no way your employees are going to work eight hours straight for five days a week. You should let your employees take 10- to 15-minute breaks as needed.
However, you should remind your employees that if they want to take a break, it should be in an area away from where everyone else is working. Having a small break room or allowing employees to go outside can serve many functions—the employee can get away from work for a little bit and the rest of your employees won't get distracted by the person who isn't working.
Let work get done in the work area and let your employees relax in the break area.
Read more on remote working.
Set Team Goals
There's nothing worse than feeling like you've spent the day doing nothing, especially if you're in the office. Having set goals gives your employees something to strive for each day. Planning objectives for the day or the week will give them something to work for, rather than sitting around waiting to be told to complete something.
Not only will setting goals keep your employees busy, it will also force them to keep a professional attitude during the day. Instead of goofing off because there's nothing to do, they can complete work and be more valuable to the company.
Encourage Communication
While you and your employees should not be discussing personal information—such as salary, relationships and anything else that could be deemed inappropriate – you should still encourage your employees to communicate if there are problems or if they have questions about something. Addressing issues is all part of being a professional adult, and it's up to management to explain how to do that.
Read more on IVR (Professional Communication Tools)
You want to explain that it's important to discuss problems, but you don't necessarily want to encourage them to create false whistleblower claims of insignificant issues. Use your best discretion and advise your employees to do the same.
Have a Positive and Professional Attitude
At the end of the day, you are the one who can set the tone at the office. If you can show your employees how to be both positive and professional, they can follow suit. Encourage your employees and let them know when they've done a good job, but don't be afraid to sit them down if there are things that need to be improved. It only takes one person to make a difference.
Published: December 11, 2014
23504 Views