Green Business Standards and Certifications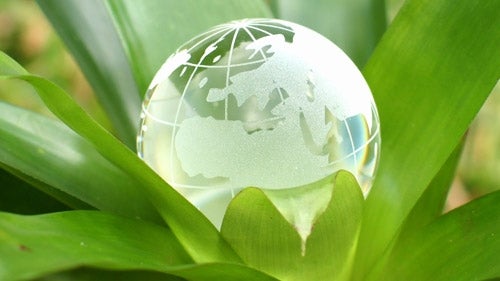 As more business owners and consumers factor
green living and environmental concerns
into their decisions, we naturally need more information to make those decisions. We need to know what products are environmentally friendly, and how to compare products from one to another. Simply put, we need standards.
Standards and certifications give all of us a point of comparison to make our decisions, whether in a business-to-consumer context or a business-to-business context. But there are a lot of standards out there, too. Here are a few of the best, most reputable standards and certifications that you should look for or strive to obtain for your business (depending on your situation).
Global Organic Textile Standard: The Global Organic Textile Standard, overseen by the International Working Group, is "the world's leading processing standard for textiles made from organic fibres. It defines high-level environmental criteria along the entire organic textiles supply chain and requires compliance with social criteria as well," as its website attests. As you might expect, the standard is designed for products such as clothes, yarns, and home textiles, based on the entire production process from manufacturing to distribution. To obtain the "made with organic" label, products must be at least 70 percent certified organic natural fibers, while products hitting the 95 percent mark carry the "organic" label.
Green Seal: Green Seal is a non-profit organization offering standards and certifications for products and services in hundreds of categories, from construction materials to paper products to cleaning services to even hotel and lodging properties. Green Seal has developed a number of standards (more than 30 at the moment) to measure different categories, and they test products against the appropriate standards. They can even certify an entire company! All standards are scientifically based, and the certifications of products that pass are verified by third parties. The Green Seal standard is recognized by the U.S. government, and works especially closely with the hotel industry to provide environmentally friendly and sustainable products. The certification process takes around six months.
Cradle to Cradle: Cradle to Cradle is a newer, elite certification provider run by the Cradle to Cradle Products Innovation institute. Their rating system measures products on five criteria: renewable energy and carbon management, water stewardship, material health, social fairness, and material reutilization. They describe their mission as looking for products that do "more good" instead of just being "less bad." They offer five levels of certification, Basic, Bronze, Silver, Gold, and Platinum, based on your lowest score among the five criteria.
LEED: LEED, which stands for Leadership in Energy and Environmental Design, is a certification established by the United States Green Building Council. LEED certifies for environmentally friendly building and construction. You can apply for certification for new constructions, major renovations, commercial interiors, retail, schools, homes, neighborhood development—almost anything. When you apply, you are judged on a number of categories, including sustainable sites, water efficiency, energy and atmosphere, materials and resources, and indoor environmental quality. You'll get a numerical score in each category, and depending on your total, could end up as either LEED Certified, LEED Silver, LEED Gold, or LEED Platinum.
Energy Star: One of the most well-known green standards is Energy Star, operated by the Environmental Protection Agency and the Department of Energy. The Energy Star certification is commonly sought by consumers looking for energy-efficient products, but it is also useful for businesses. The EPA will measure energy efficiency for buildings and award the Energy Star certification to top performers, and offer suggested solutions for saving energy and money.
Published: December 18, 2012
3759 Views