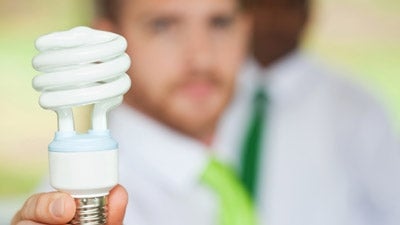 There are a number of reasons for your business to pursue green initiatives. Not only will they save you money when it comes to overhead, but they will promote your company as a business that cares about the world it operates in, which goes a long way to impress your environmentally-conscious prospects and customers. Here are a few ways that your business can establish itself as a green company that's equipped for the future:
Lights
You can save a lot of money on your energy bill and a lot of waste for the environment by economizing the use of lights in your office. 
Make sure that you not only turn off the lights at night once you leave the office but that you turn off any lights that are not being used during the day.
It may be a good investment to purchase automated lighting sensors, which will save energy in spaces that don't always need light throughout the day such as bathrooms, elevators, and outdoor patios.
Make use of natural light if your office receives sunlight during the day.
Be careful not to over-light your office to conserve energy. Too much light has also been proven to cause health issues.
Be conscious of the light bulbs that are used in your office. The value of a compact fluorescent bulb is evident when it lasts 10 times longer than your normal bulb.
Air
If you're not careful with how you regulate temperature in your office, cooling and heating can be the largest energy expense for your business. 
If there are windows in your office that receive direct exposure to sunlight during the day, make sure that the blinds or shutters are open during the winter and closed during the summer.
As heat rises, ceiling fans can help pull the warmer air down to the floor during the winter or push it higher during the summer.
Set a timer to turn down your heating or cooling when your office is empty or remember to adjust the temperature when you leave the office.
Tune-up your HVAC system before every summer and winter to maximize efficiency.
Electronics
With so many electronic devices being used in the workplace, there are many ways to avoid wasting valuable watts of energy. 
Turn off all electronic devices at the end of a work day, which you probably already do. But remember that even if a device is turned off, it still consumes energy as long as it is plugged in, so either the device should be unplugged or the power shut off to conserve maximum energy.
When it comes time to replace your existing products, be sure to review the list of Energy Star qualified products which are labeled as such for their superior energy efficiency.
Published: July 10, 2013
7548 Views