People today expect transparency from brands. Adding a price list to your website can help consumers make the final decision to go ahead and give your product or service a try. You'll disqualify some people, but this will save you time and effort.
Consumers are also reluctant to share personal data without having a ballpark estimate of how much signing up might cost them. They don't want to be hounded with phone calls and emails if it isn't in their budget.
Why does transparency matter so much? The public faced breaches in trust in the last year that made them desire authenticity and facts. From health information about the pandemic that turned out to be incorrect to data breaches, public trust shattered on multiple fronts.
Protecting personal information is more critical than ever before to prevent details from getting into the wrong hands. Gartner predicts 65% of the world will fall under data privacy laws by 2023. Sharing price lists before collecting information ensures you follow regulations and set consumer fears at ease.
Here are some ideas for the best ways to design a high-converting price list on your website. We will also look at some examples of excellent use of pricing.
1. Keep Language Clear and Simple
Don't try to get cutesy with your pricing list. Keep the details as basic as possible. Your user should never have to guess what you mean or ask questions to understand what they get with any package.
Put yourself in the shoes of your average customer. What are the elements they care most about? How can you list the solutions to the exact issues they wish to solve?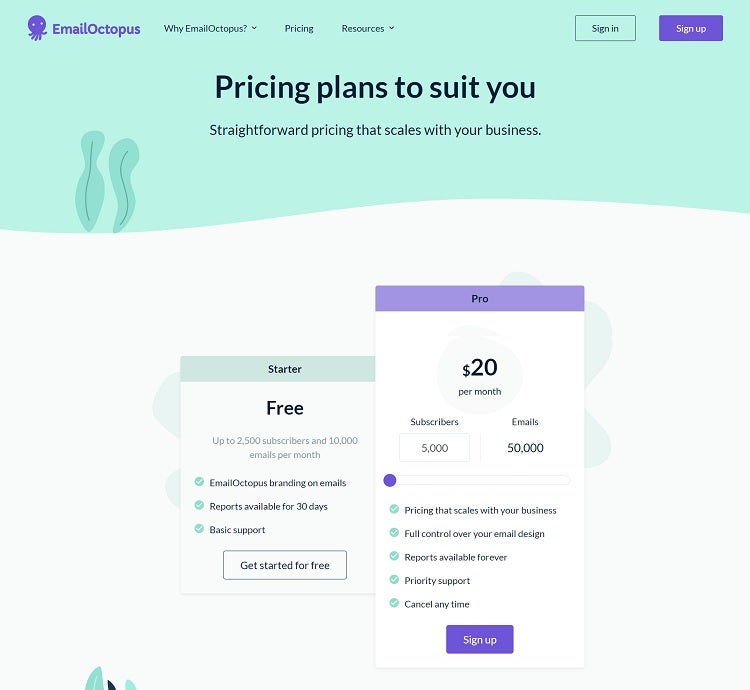 Octopus is an alternative to Mailchimp. They have two price structures listed on their pricing page. They include precisely what you get for each package. The free option allows you to have up to 2,500 subscribers and send 10,000 emails a month. The $20 per month package gives you up to 5,000 subscribers and 50,000 emails per month.
2. Remove Friction Points
Every person who lands on your page has some fear or reluctance to take the next step. Think through your target audience and what their friction points might be. How can you reassure them or remove the worries?
Some things you can easily address with information. Focus on the benefits of signing up or share customer testimonials of positive results. Other things are more subject and may require a bit more work on your part.
Talk to those who convert and ask what the deciding factor was and what doubts they had. Any fear you can remove ups your chances of gaining new customers.
3. Highlight the Benefits
People often choose one brand over another because of the perceived advantages. One way of gaining new leads is by showing them just what pros come with each package. Think about the pain points your typical customer faces. What services help solve those issues?
Make sure the text is easy to skim over. People are in a hurry. They want just the facts in a concise manner.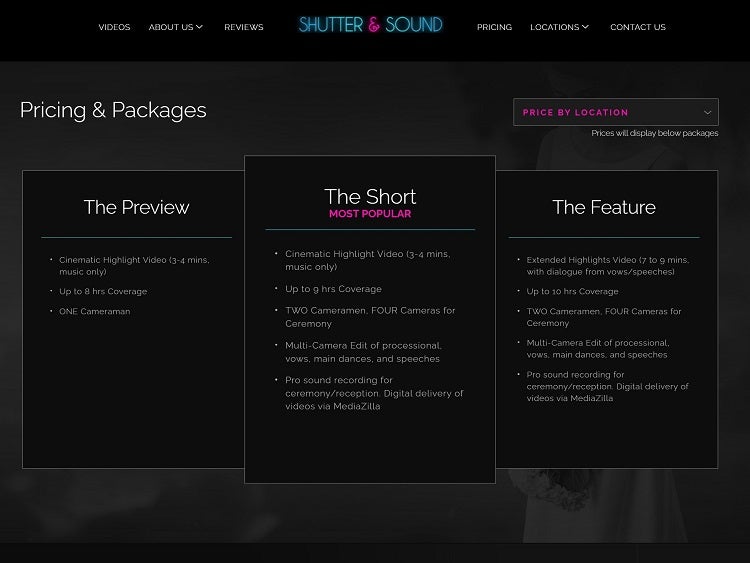 Shutter and Sound lists the benefits of each of three packages. They even highlight which option most users choose. Note how they list the benefits under bullet points for easy scanning. You can see the pros of each option clearly and compare across the page.
4. Show Other Currencies
If you offer software as a service (SaaS), then make sure you include the cost in other currencies. The marketplace is more global than ever before. No matter where you're located, you're likely to have at least a few clients from all over the globe.
You can add options to convert prices quickly or list the price for a few popular locations regularly landing on your page. Analytics are your best friend in figuring out where traffic comes from.
5. Encourage Longer Terms
Many companies offer an incentive to sign up for a more extended contract or pay in advance. Make sure you share the discounts. You might increase the bottom line for most of your orders.
If someone signs up for a year instead of a month, you have a chance to show them what you can do for them. You also get more cash upfront, which helps with your company's cash flow.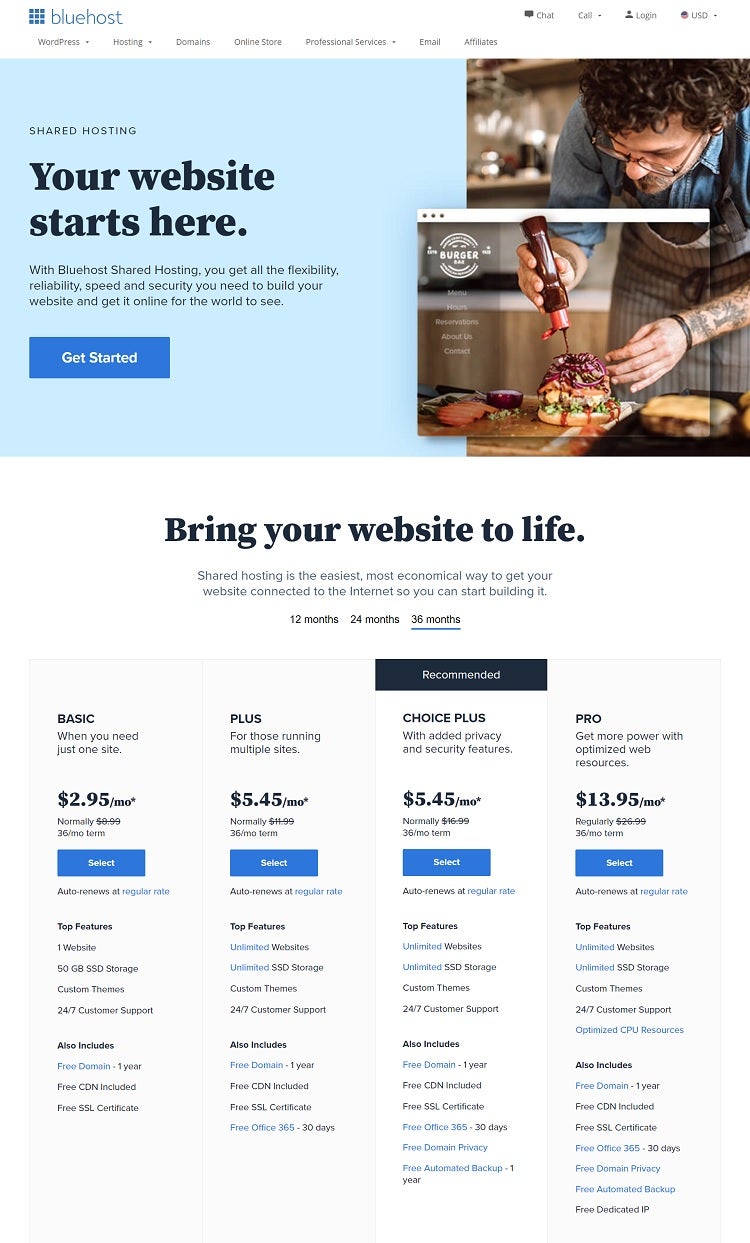 Bluehost shows just how low your output is if you pay in advance. They list the prices for a 36-month term. They also list how much the package costs typically. For some packages, the price is about two-thirds less by signing up for 36 months.
6. Use Price Anchoring
There is a tactic where you place a product next to something more costly. Seeing a higher priced choice makes the other item seem less expensive to users. So, if you have a $20 per month package, place it next to a $100 per month one. By comparison, $20 seems cheap.
You can also highlight what a great value your starter packages are by showcasing the cost difference between levels.
Provide Options
Make sure you give users enough options without distracting them. You can offer a custom quote, which helps you gather details from your leads and shows you can offer personalized services.
Many of your new clients will fall into one of your ready-made packages. However, offering customizations allows you to meet the needs of those who don't fit into a box.
Make sure each element on your pricing page works together. With a few tweaks, you should see more conversions.