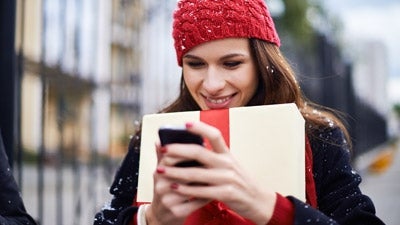 Aside from watching Europeans landing space probes on comets, I can think of nothing more enjoyable than poring over holiday season mobile device usage data. I was given an opportunity to do the latter thanks to a
new study
conducted by
Burst Media
and
Rhythm NewMedia
that focuses on how consumers use mobile devices while shopping within brick-and-mortar store locations. Aside from being a cracking good read, the study offers direct and anecdotal evidence of the growing connection between mobile usage and purchase intent among US consumers. Let's dig in…
Most Shoppers Digital; Desktop Usage Down, Mobile Usage Up
First and foremost, the study's findings provide further anecdotal evidence that the vast majority of US consumers have become digital holiday shoppers. In fact, fully 85.7% of respondents report using digital channels to research and/or shop for holiday products and gifts; among these, nearly three-quarters (77.4%) will end up making a holiday purchase online. So it looks like US consumers are going digital for the holidays. But are they going mobile?
The answer is a resounding yes.
Over half (53.4%) of respondents say they will use a tablet and/or smartphone to go online and research and/or purchase products this holiday season, while more than one-third (34.2%) of respondents who use a smartphone and/or tablet to shop expect to use their mobile devices more this holiday season than last.
Perhaps most significantly, fully one third (33.3%) of these mobile shoppers will make holiday gift purchases directly on their mobile devices. There also seems to be a close correlation between mobile shopping and higher income, with fully 70.3% of respondents reporting household income of over $100,000 planning on using a mobile device to do their holiday shopping.
While laptop usage remains strong at 45.1%, use of desktop for holiday shopping is expected to drop sharply from 2013 levels, with only 32.7% of survey respondents reporting that they plan on using desktops for online holiday shopping, as compared to 47.8% in 2013. It's probably safe to assume this decline will continue in years to come, especially when you consider that only 23.2% of 18-34 year-olds report using desktops for online holiday shopping.
The Connection between Mobile Use and Purchase Intent
For me, the most interesting aspect of the study is the data that helps us better understand what shoppers are actually doing on their mobile devices while in store. So what are they doing? Apparently, all kinds of actions that directly or indirectly relate to purchase intent:
Access coupons/promotions – 34% of men and 60% of women. Come on, gents, let's get couponing! This info correlates well with the loyalty account data (below).
Research/compare brand prices – 47% of men; 41% of women.
Research/compare features – 51% of men; 35% of women.
Research/compare reviews – 50% of men; 34% of women. Along with the "research/compare features" stat above, this one surprised me a bit. As a rule, I've always considered men to me more impulsive shoppers than women.
Access loyalty account – 14% of men, 30% of women- I don't know whether this suggests that we men are merely lazy, or that women tend to be more loyal than men, at least when it comes to brands. Perhaps both.
Access social media – 6% of men 8% of women. This one surprised me a bit; I would've thought this to be a much higher number. Not sure what's going on here.
Use digital payment – 14% of men; 11% of women. These low numbers may have more to do with spotty merchant adoption of contactless mobile payments more than anything else. Hard to say.
Overall, the study found that roughly half (50.1%) of men and women (50.6%) use mobile devices inside physical retail locations to help make purchasing decisions. Not surprisingly, this number jumps to 58% of respondents who report a household income of $100,000 or more.
NB Retailers: Push Notifications Work
I've often wondered about the effectiveness of in-store push notifications. According to this study at least, push notifications received in physical retail locations actually do drive retail purchases. Over three-quarters (76.8%) of respondents who report receiving mobile push notifications for in-store promotions read them, and fully 67.2% redeem them. Interestingly, the study found that men are more likely than women (74.8% vs. 63.6%) to redeem these incentives or act on special offers or deals. This couldn't be further from the truth in my house…
The Burst Media/Rhythem NewMedia study concludes with a number of useful recommendations for brands trying to connect with mobile holiday shoppers, ranging from the implementation of mobile-optimized websites and mobile apps to mobile advertising and location-based targeting efforts that utilize technologies like geofencing and in-store beacons.
Though these are all useful tactics and tools, the most fundamental element of a mobile-facing, integrated digital marketing strategy is having a mobile-optimized business website. To connect with and convert today's multi-device, multi-channel consumers, your business website must provide visitors a seamless user experience regardless of the device and platform they are on. Responsive Web Design (RWD) does this, eliminating the need for a separate mobile site. With RWD, you can maintain brand integrity by delivering a consistent message to any web user; you can provide a cohesive user experience that focuses on people rather than on devices.
With evidence pointing to the increasingly mobile-leaning shopping behavior of holiday consumers, optimizing your website for all devices might not be such a bad idea after all.
This article was originally published by SyneCore
Published: December 1, 2014
1675 Views