The beginning of the year is an opportune time for many small businesses to re-evaluate their eCommerce strategies for the year ahead. Contrary to popular belief, a
big budget
is not required for successful eCommerce solutions. Several new tools have emerged that help small businesses sell their products online in an easy, non-invasive manner. Whether you're selling products via your own website or
using a service
like Big Cartel, the tips below will help small businesses hone in on successful eCommerce strategies for 2014.
Oversee a Prominent Mobile Presence
Most smartphones today can access web content in an instant. Accessing the web via a mobile device is a trend that isn't going away anytime soon. In fact, the International Data Corporation predicts that mobile web usage will outpace PC web usage by 2015. Regardless of when this does take place, mobile dominance is imminent. Because of this trend, businesses should start establishing their presence on mobile devices immediately.
First of all, your business's
website should be mobile-friendly
. If your site is hosted on WordPress, there are plenty of mobile-friendly themes available on sites like Theme Forest, which has a section devoted to eCommerce themes with mobile support. While it would be useful, it's not feasible for every small business to develop a mobile app. Still, there's no excuse for a business website to not be easily accessible on a mobile device. If a business's website isn't mobile-friendly, it will lose customers and leads, plain and simple.
Experiment with Social Media Advertising and Digital Couponing
Advertising on social media is still a relatively new endeavor, so small businesses are understandably cautious about devoting some of their marketing budget toward it. But there's no doubt that some social media giants are here to stay. Thus there's little harm in playing around with advertising on Facebook and Twitter, especially for new businesses seeking a following of any kind.
Facebook Advertising
offers significant versatility compared to traditional ad formats. With Facebook Advertising, businesses can target specific demographics with a variety of content, from pictures to video. Perhaps the best feature of Facebook Advertising from an eCommerce perspective is Facebook Offers, a digital couponing service of sorts that allows a business's social media followers to claim special offers. This will drive attention to any business, with an influx of both new and current prospects.
A great example of digital couponing is executing this on our own website. For example, on the eCommerce store for Havahart, we notice the following application on their
small traps
section: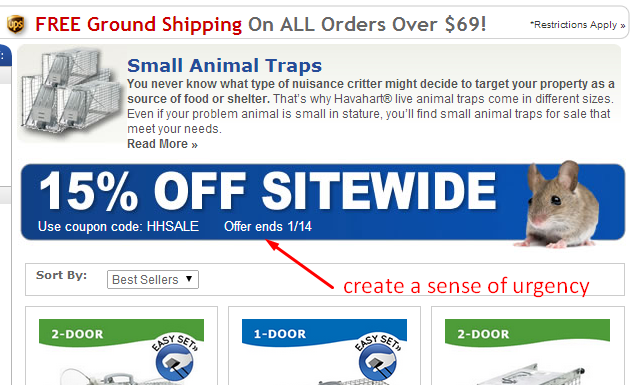 By stating everything clearly in a non-intrusive manner, visitors are more likely to interact with the coupon. The "offer ends 1/14" creates a sense of urgency as well, encouraging more visitors to redeem the coupon and make a purchase.
Create and Market Videos with Viral Potential
Any eCommerce endeavor needs to have a marketing plan in place. With video content at an all-time high the past year due to the emergence of video mobile apps like Vine, small businesses should wisely start devising marketing plans around
video content
.
It may be difficult to have a video go viral, but with a multi-channel reach and production catered to each individual format it's possible for any business to accomplish.
Even a business without tangible or deliverable products can still be classified as eCommerce, thus broadening the application of this strategy. For example, a recovery center like
12 Keys Rehab
employs the use of infographics and videos as a way to build up viral potential, increase awareness, and reach targeted demographics.
Using videos to host contests or other calls to action can also be highly beneficial for small businesses. Explaining the contest on a video leaves room for plugs about a business's products or services, further incentivizing viewers to act.
Avoid an infomercial-like approach on your business's videos and instead strive for a more immersive call to action that prompts viewers to do something more than watching and forgetting.
Inspire Customer Loyalty via Opt-In Deals
Sending out a newsletter can be a great way to keep customers informed about your business's latest products or services. The tricky part is actually getting people to sign up for the newsletter. Incentivize newsletter sign-ups by offering a discount to those who sign up, or mention how you will enter all newsletter registrants into a pool for a prize or discount. Not only will this increase customer engagement, but it will also keep them coming back for more. Even if they do not win a prize, they will already be signed up for the newsletter or mailing list, which means that it's up to the business at this point to get their attention.
The emergence of mobile accessibility, digital couponing and online video content has made the eCommerce landscape a relatively new one. By keeping in tune with these recent trends and continuing to execute on previously successful strategies, small businesses can nurture successful eCommerce solutions for the year ahead.